Before talking about Youtube Ads, Do you know that the YouTube you watch every day has become the world's second largest search engine? When you are planning the trip to Osaka, you probably will Google "Osaka Hotel", read the travel blogs and watch the Vlog in YouTube as well.
There are billions of videos in YouTube and the number is increasing every day. You may now spend more time on YouTube rather than reading blogs or browsing websites. Youtube is no longer only a entertainment Platform, It can serve as a problem-solving platform as well.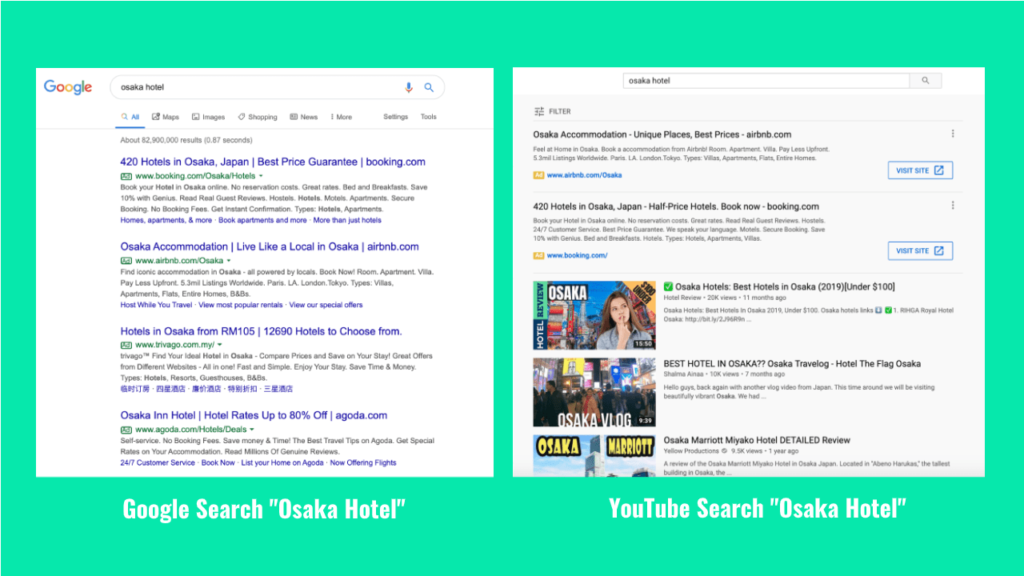 YouTube vs. Traditional TV
I have written an article about Youtube Ads and indicated YouTube and TV channels can complement each other four years ago. However, when I look into it again today, the video platforms such as YouTube﹑and Facebook have greatly eroded the TV market. If your product targets the young people, then YouTube and Facebook would be your first choice. (Actually, I would doubt if you will still place advertisements on TVB today if your targeted customers are the young generation. Anyway I hate TVB!)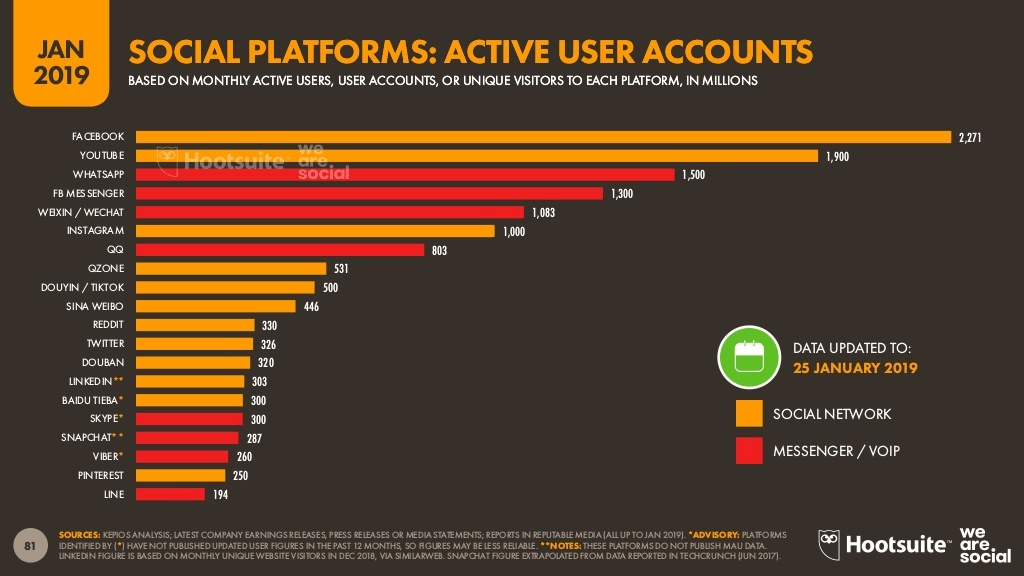 The Active users of YouTube is just second to Facebook
YouTube ads vs traditional TV ads
Still comparing the pros and cons of YouTube ads and traditional TV ads in 2020? I believe every one of you has already known the advantages of YouTube ads. But let me do a quick comparison recap for YouTube ads and traditional TV ads.
You only need to pay for the ads when the video is watched for 30s
Let me tell you once again that how YouTube charges you. You pay when a viewer watches for at least 30 seconds or to the end of the video (whichever is shorter) or clicks on a card or other elements of your in-stream creative. Generally speaking, if viewers are willing to watch your video for more than 30 seconds, they are the audience with interest. As the advertising fee model of YouTube is Cost Per TrueView, thus you only need to pay for the ads when the video is watched for 30s by an interested viewer.
Low cost per view
Many may say most of the ads they watch on YouTube are from the large enterprises. Thus, they think it would be expensive to place ads on YouTube. This is absolutely wrong! The cost of each 30-second viewing is only about HK $ 0.3-HK $ 0.4. That is to say, if you have an advertising budget of HK $ 20,000, your ad can be viewed 66,667 times. Assuming the View Rate is 25%, the total impression of your ads is about 266,668, so the cost per view is very low. The entry threshold is not high at all.
Target the Right Audience
As we all know, the advantage of TV advertising is the large reach. It can reach to all ages of audience as everyone can watch TV. Thus, the threshold for TV ads is very high. But you need to be aware that the clients who place TV ads generally are the big players. Their goal is to become a well-known brand, so they don't emphasize the audience positioning. However, if you only have stretched  budget and you already know your customer base, you can definitely target the right audience precisely in YouTube. How to find your target customers? The YouTube system has classified every audience. For example, if you set you are 26 years old and female in Google account, and you watch a lot of videos about makeup and beauty promotion, and subscribe the relevant channels, then you are classified as a "Beauty Mavens" by Google / YouTube.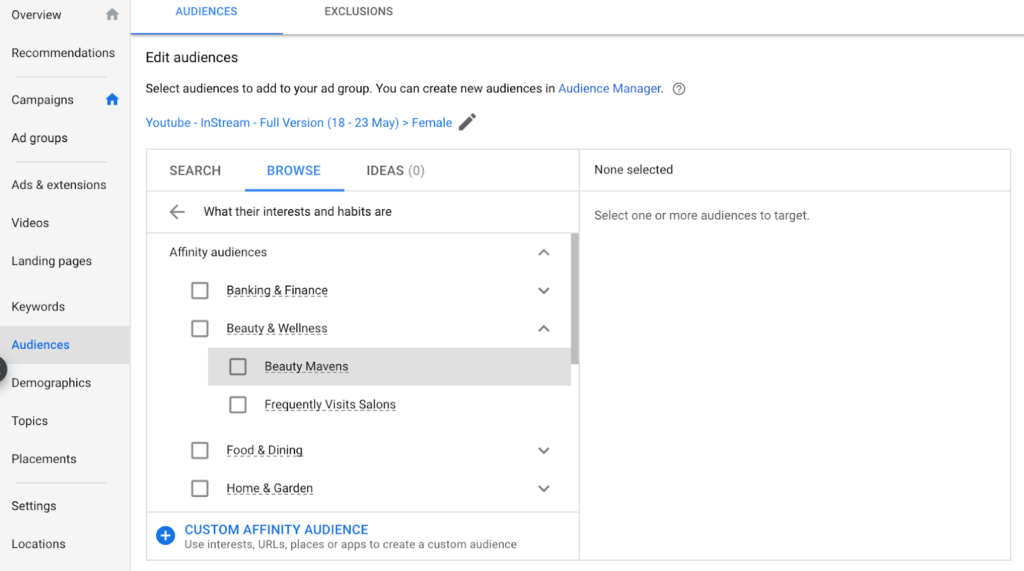 Suppose a new beauty brand wants to find the Beauty Mavens like you, advertisers just need to add the required conditions directly to "Targeting", then system will automatically find the relevant target customer base. Therefore, compared to traditional TV ads, YouTube ads can more accurately hit your target audience.
Detailed reports allow you to understand the customer behavior better
The biggest difference between the traditional advertising and online advertising is that you are passive in knowing the results. You don't have the data and you can only wait for the customers to come. The great thing about YouTube ads is that you can read the analyzing report instantly. You will know the background of the viewers in terms of their age and gender. You will know which videos your ads are placed. Whether the YouTube users have watched your ads and how long it is watched. When you have sufficient data, you can understand the customer behavior better. For example, if you placed 2 video ads at the same time, one is about direct discount, and the other one is a sale in storytelling, then you will be able to know which performs better and attracts the customers by having the data and gaining the insight.
YouTube ads formats
TrueView In-stream Video Ad
If you watch YouTube every day, you will be familiar with the following format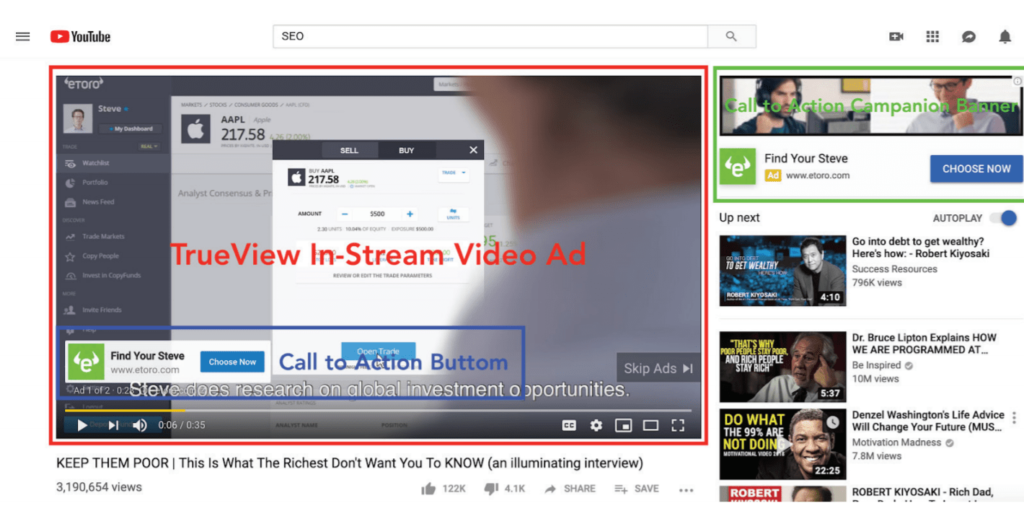 The red one is YouTube In-Stream Skippable Video Ad. It can only be skipped after 5 seconds, and the advertising fee is charged after watching for 30 seconds.
The blue one is the Call-to-Action button, which takes us to the Landing Page when we click on it.
The green one is the Companion Banner, which will remain on the top right corner of the video even the ad ends.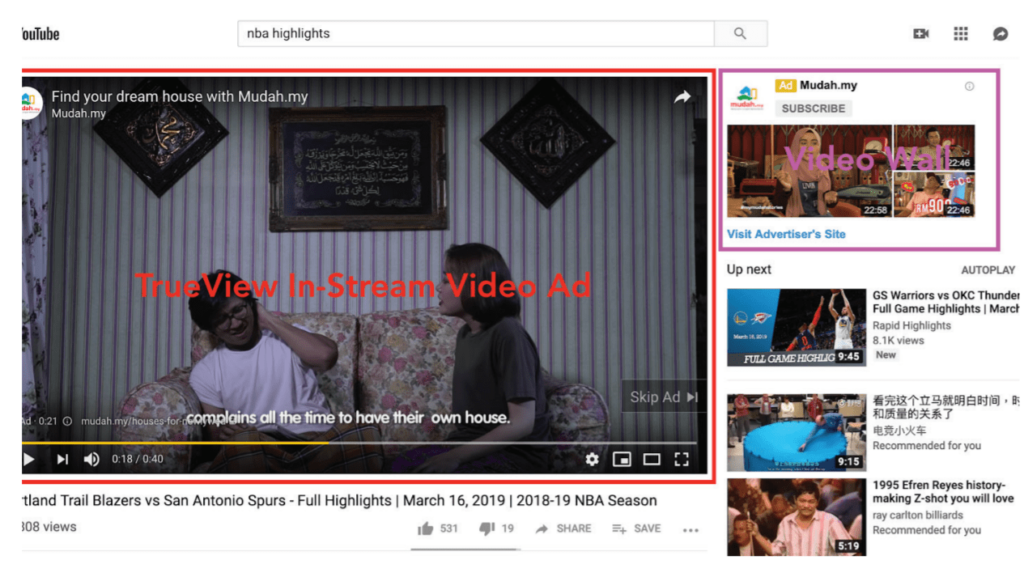 The purple one is the Video Wall. If you don't upload the Companion Banner, Google will automatically find the video in YouTube Channel and convert it to Video Wall. It will remain on the top right even the video is end.
Uses: Mainly for Brand Awareness, but can be used as Lead Generation in some industries.
TrueView Discovery Video Ad

Ads appear similar to SEM. When we search for something in YouTube, Discovery Video Ad will appear as Suggested Video and display higher than Organic Search Video.
Bumper Ad / Non-Skippable In-Stream Video Ad
If you've watched some video ads but you can't click Skip Ad, they are the Non-Skippable Ads. If the ad is 6 seconds, it's Bumper Ads. Since 2019, we can also run Non-Skippable video ads with Google Ads (you need to purchase and reserve it from a Google sales representative in the past). The ads limit is 15 seconds, and the charge model is CPM (counted in thousand times of impression.)

15 seconds Non-skippable In-Stream Ad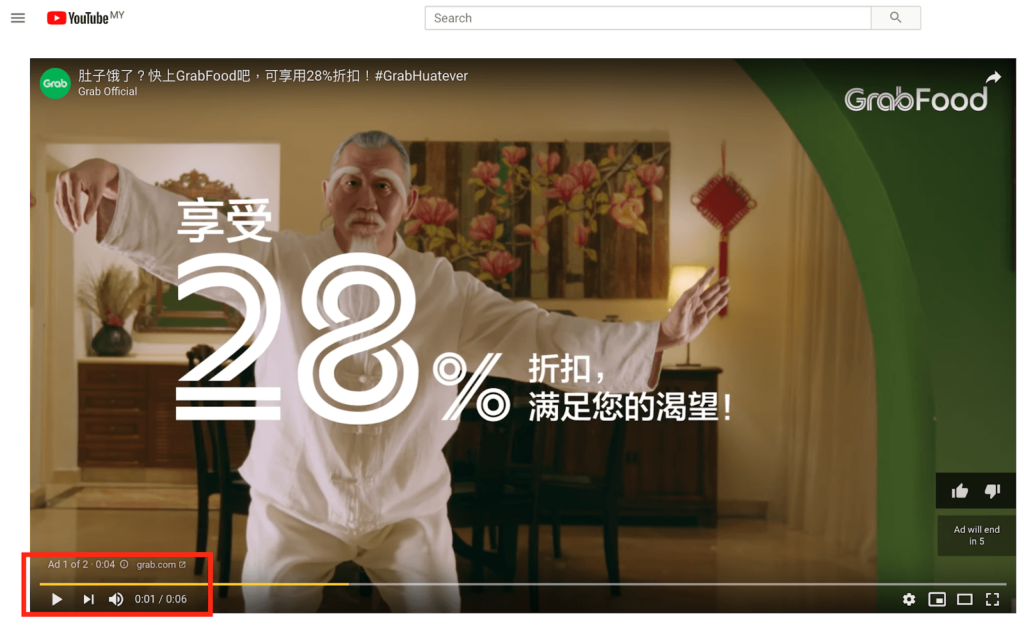 6 seconds Non-skippable Bumper Ad
Use: Mainly used for Brand Recall. If you are after the number of Impressions, it is a good choice. Meanwhile, YouTube claims it has a positive effect on Brand Lifting.
YouTube Masthead
The last YouTube ad type is YouTube Masthead. You will see it on the homepage of YouTube when you use desktop version. You need to buy it from a Google sales representative, and it has Minimum Buy. As far as I know, the price of YouTube Masthead in 2019 is HK $ 133,000 per day, which can generate an impression rate of about 14M-16M per day.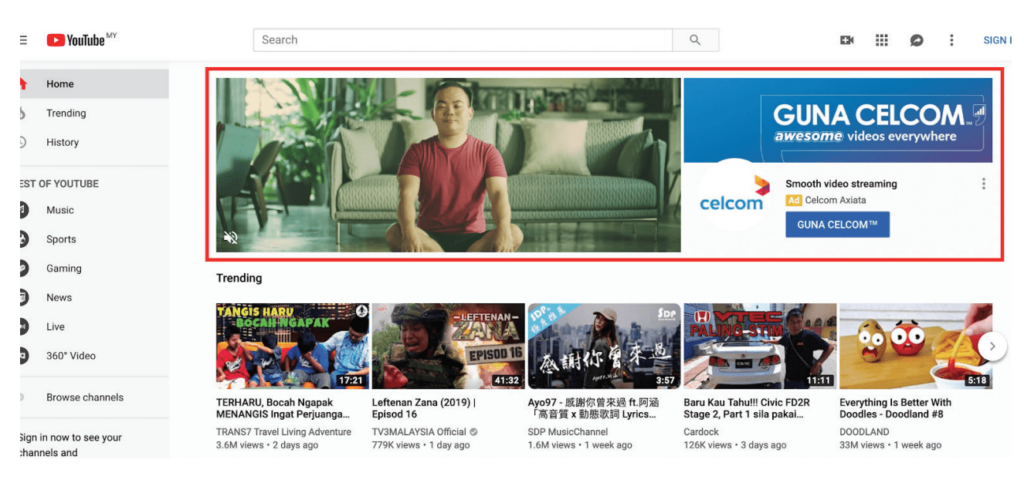 Use: Eye-catching!
Can Youtube Ads Bring Conversions/Leads?
For most advertisers, YouTube ads are only used for brand effects or brand recalls. It is undoubtedly making full use of the advantages of YouTube as a video platform. However, we are trying to take YouTube advertising usage to the next level. We want to use YouTube ads to get guests' email addresses. Is it easy? You can take a look at our example below!
Lead Generation Process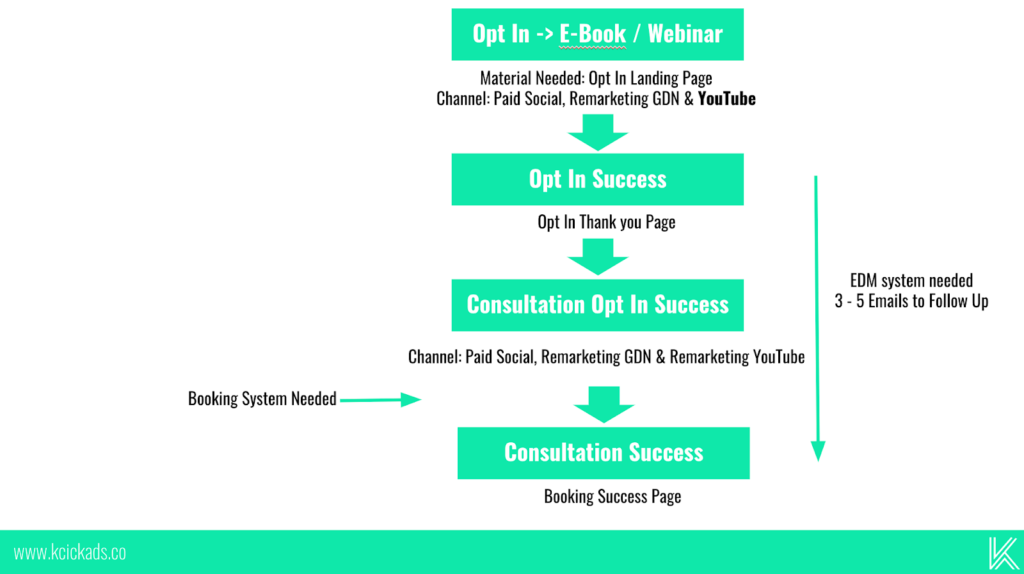 We classified Lead into two types throughout the Lead Generation process. One is E-Book Opt-In lead, which means that you only need to provide your name and e-mail address in exchange for myEbook; and the second one is a Lead that people booked for a free consultation. That is, you filled out the registration forms providing the details of your company, budget and objectives. We used YouTube ads as a prospecting effect to find new audiences to download this E-Book (pictured below). The results are beyond our expectations.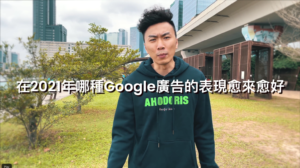 YouTube ads vs Facebook ads
We thought that YouTube ads were only for brand effect, and Facebook ads was the channel for Lead before. In this E-Book experiment, we put YouTube ads as the first layer of Lead Generation and ran with Facebook ads to see the differences. The results are as follows.


We randomly extract one week data for demonstration. We got 363 contacts from Facebook Ads. Cost Per Lead is HK $ 7.65. And we got 29 contacts from YouTube Ads. The Cost Per Lead is HK$20.69! This broke our misunderstanding about YouTube advertising. We used to think that YouTube advertising was only used by Branding and could not get Conversion. You can still get contacts from Facebook Ads at lower Cost Per Lead. But don't forget to use YouTube Ads to expand your advertising channels. However, for SMEs, the best way to use YouTube Ads is to do remarketing.
How to do YouTube Ads better?
You can optimize Youtube Ads in two ways, Targeting Level and Content Level. The following will show you how to make YouTube advertising better.
Targeting optimization
YouTube video ads and GDN or REMARKETING GDN have similar targeting methods. You can categorize your ads based on different video themes, YouTube Channel, YouTube search keywords, and viewers 'interests, and then place your ads on viewers who are watching related videos with relevant interests. For how to set and optimize in actual operation, you can refer to this article "The Complete Guide to the Google Display Network (GDN)", as the logic and theory of the two are the same! Note: For SMEs, the biggest use of YouTube ads is remarketing, which means that when people go to your website without purchase, they will see your ads on YouTube. The details and settings are the same as GDN. You can Refer to this article 《GDN REMARKETING廣告教學| 設定、原理及好處》(Currently only have Chinese Version).
Video Content Optimization
Apart from Targeting, video content is another critical element that must be considered for optimization. After all, no matter how accurate your targeting is, if your videos are not fun and meaningless, it is just a waste of effort. We summarized 3 elements to make your Video ads get the maximum effect.
Mention your company's name and your company's uniqueness within the first 5 seconds of the video
Since most YouTube ads are skippable In-stream video ad, that is, ads that can be skipped after 5 seconds, so if you want your audience to remember your company, grab the first 5 seconds in the video! For this reason, many videos make full use of the first 5 seconds to attract viewers and shout out the brand name or key message from the beginning.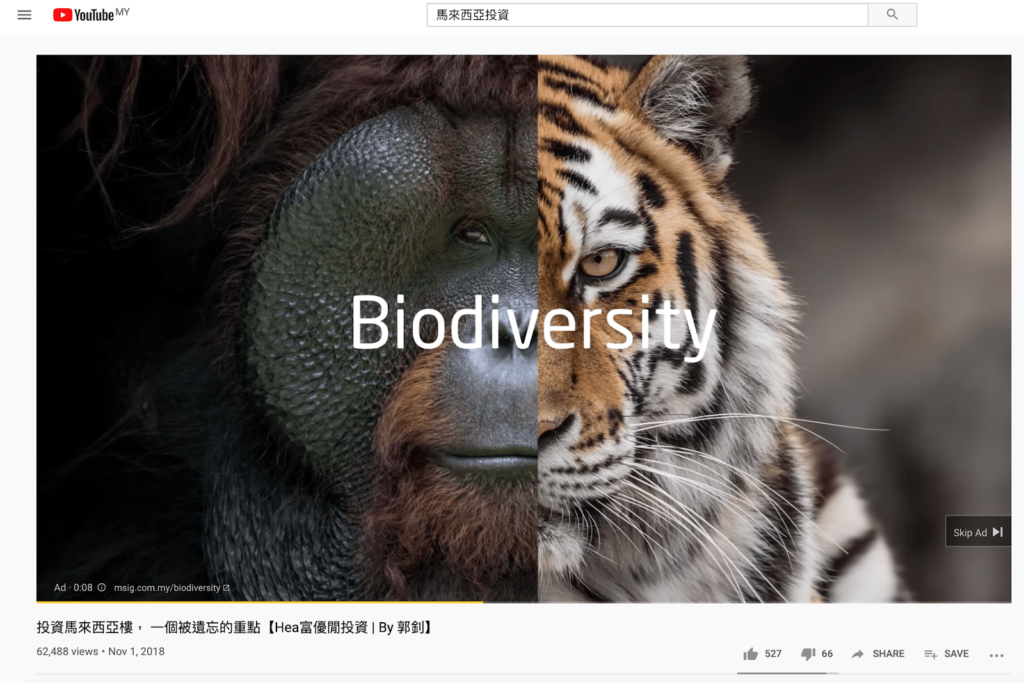 The above example is a MSIG insurance company's video ad. The first 5 seconds of the video bring out the main values of MSIG -Biodiversity.
15-30 seconds is the suitable video length
Every time when I suggest my clients to do a YouTube ad, they will ask me how long the ad should be. Let me show you the Google data in 2016.
Google in 2016 indicated that a short video (15 seconds) has a higher Ad Recall (also known as brand memory, or commonly known as brainwashing ability).  And a long video (2 minutes) could change the mind of your audience and made them have more positive image about your brand! Do these still apply in 2020?
I don't think being "fast" is sufficient in the era since people now have higher requirements for speed. Similarly, if your video is too long, you can hardly keep the audience. Therefore, it is more suitable to keep the YouTube advertising videos in 15-30 seconds and in line with the first point, to show the company name and Key Message in first 5 seconds.
Don't spend too much time on post-production. Try to attract the audience with dialogue in the beginning.
I believe you have been targeted by Wix, Monday.com and even Etoro, right?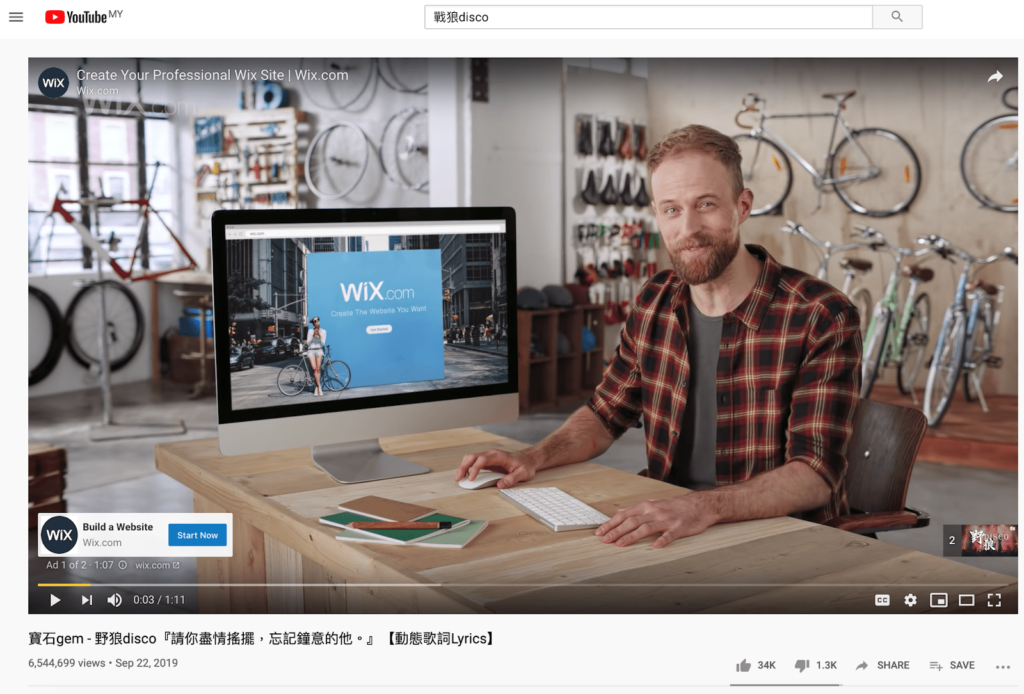 Wix.com YouTube Advertising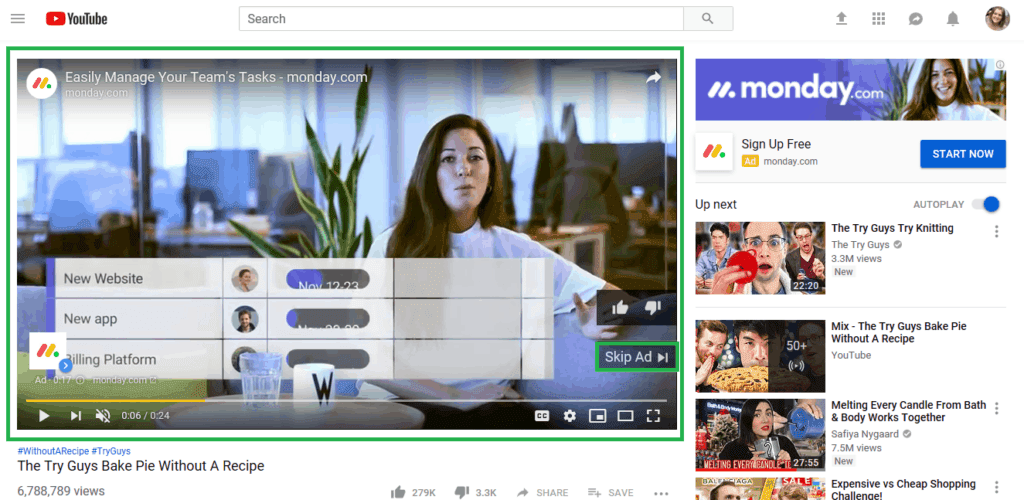 Monday.com YouTube Advertising
If you have watched the two YouTube ads above, you will find that they are similar. Both ads are in the form of dialogue and express how their products can help you straight to the point. Hey I 've just created a professional wixsite for my business (ads from wix.com) or If you manage a team, you have to try monday.com (ads from monday.com). Simple, straightforward and clear-cut. This is the general direction of Video advertising in 2020!
Is there a low-cost way to make Videos?
I believe that many of you may be worried about the video making. What if I don't have a video team, low budget and no experience in making videos? There are some tools for making movies online, and even templates for you to edit directly, but these tools aren't usually free to use. The good news is that Google will officially launch YouTube Video Builder for everyone to use for free soon.  (However, it is still in the Beta version. Kick Ads was lucky to have the chance try the YouTube Video Builder.)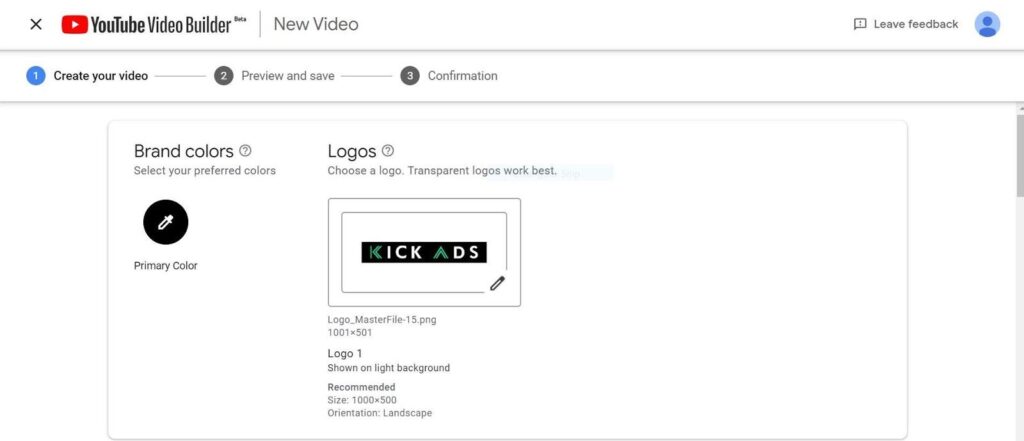 At first, you can select the template of the video. Then upload your company logo and brand color.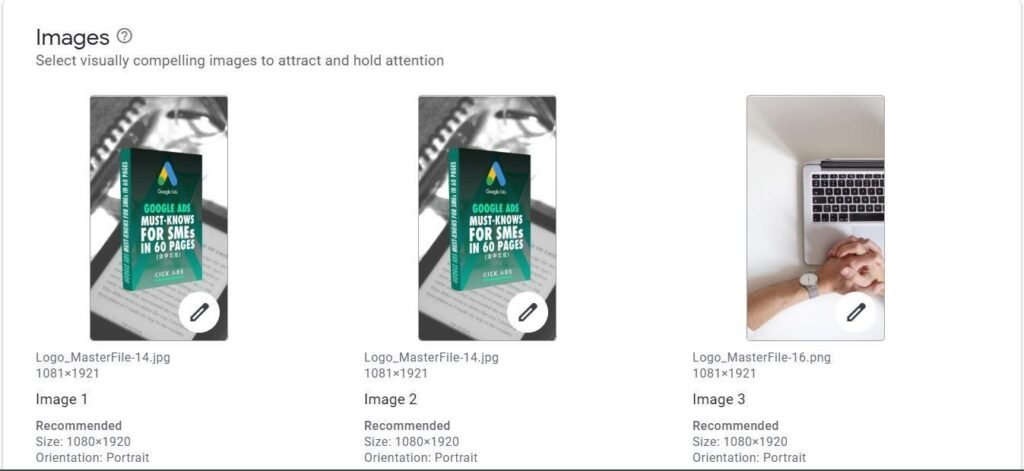 The next step is to upload the required image based on the template you selected. The recommended image size is showed.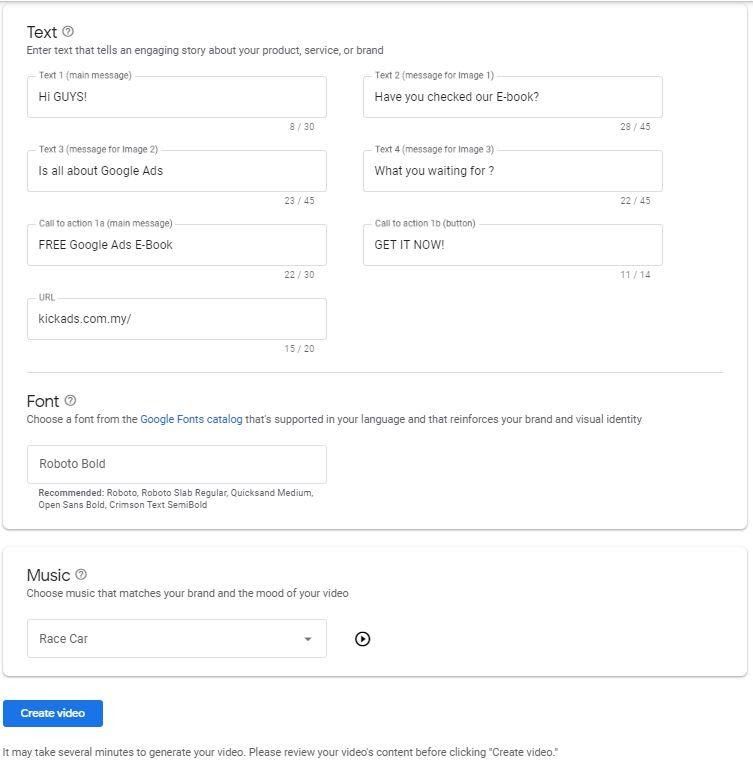 Then enter the text according to the desired text position and length. Select the font and music. A YouTube advertising video is completed.
Set up your YouTube advertising video ad
Step 1: Create a Video Campaign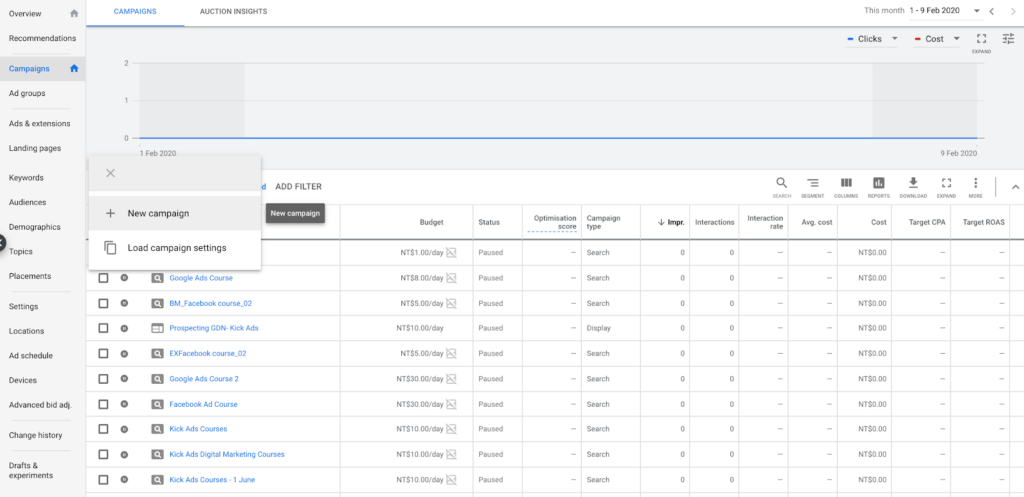 Just like the usual way to create a Campaign, click the blue "+" from Campaign. Then click "+ New Campaign ".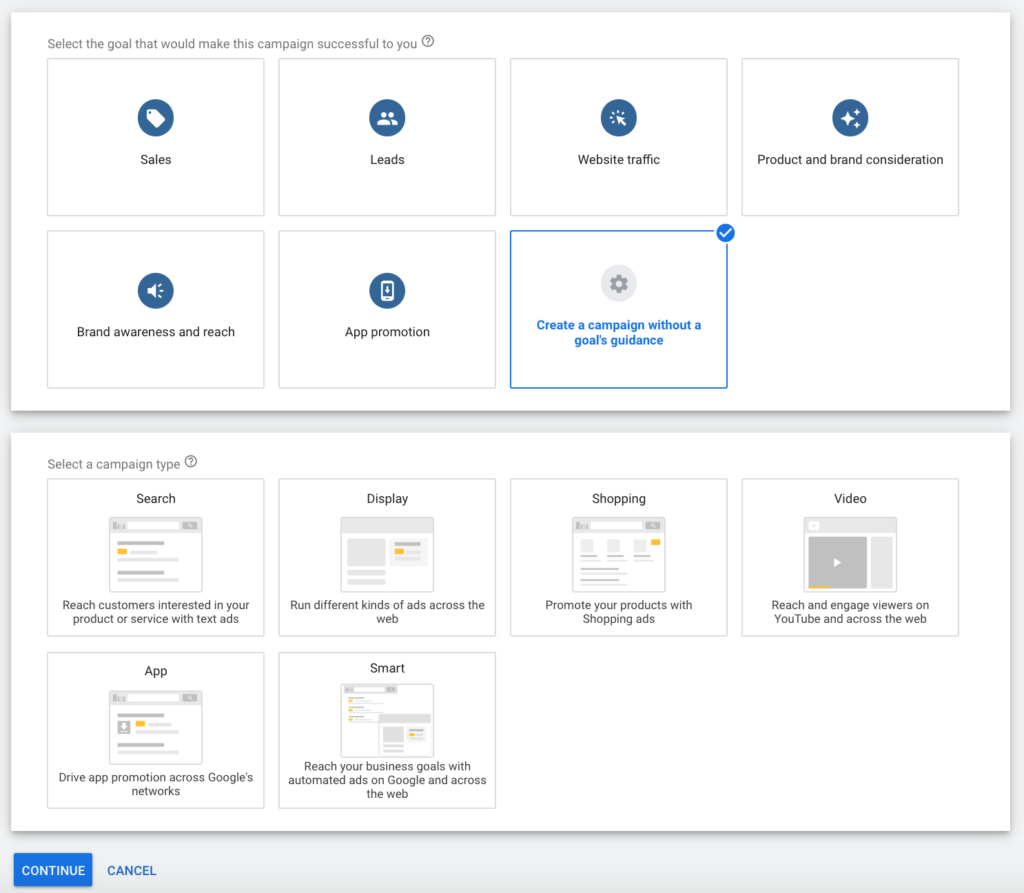 Then click "Create a campaign without a goal's guidance" and click "Video".
Step 2: Select Subtype for Video Campaign
You will see 6 subtypes after selecting the Video Campaign. These 6 subtypes are preset advertising goals in Google Ads system. Google will automatically select the placement and video ad formats based on the subtype you selected. I will explain more about the differences between different subtypes below.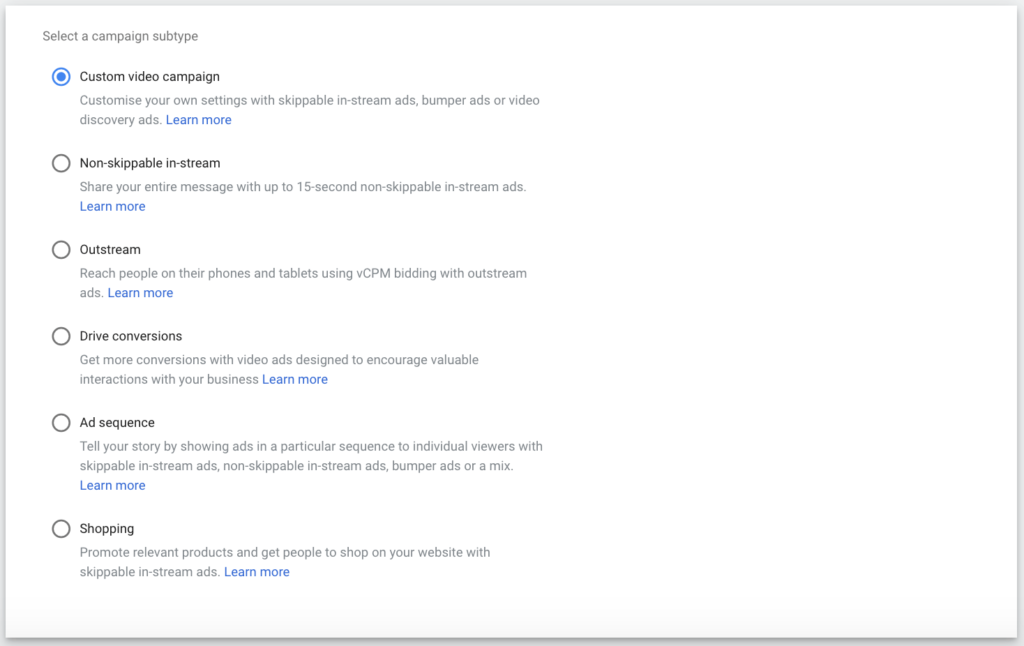 Custom Video Campaign
You can choose 3 types of ads in this subtype, namely in-stream ad, discovery ad and bumper ad.
Non-skippable In-stream
You can choose to publish Non-Skippable in-stream video ad with a video length of 7-15 seconds in this subtype. This type of video ads cannot be skipped (not skipped ads).
Outstream
In this subtype, you can choose to place the video ads in the Google Display Network. You cannot see the video ads in YouTube. Your video ads will only appear on Tablet and Mobile, as shown below.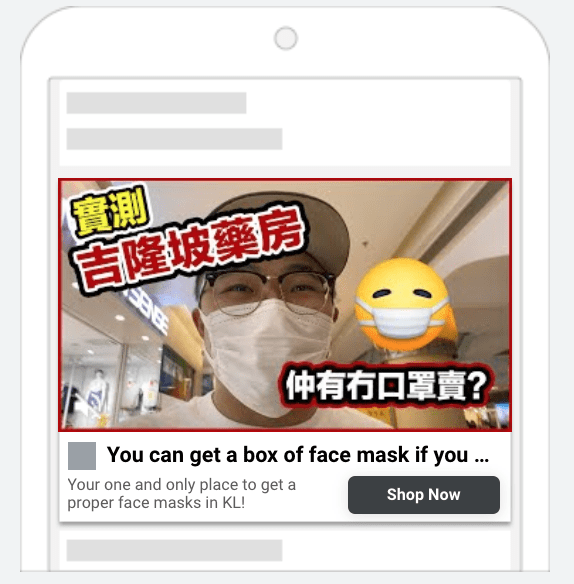 Drive Conversion
You must set the Conversion in order to use this subtype. After selecting the conversion of this ad, you can only use Target CPA or Maximize Conversion in Bidding Strategy, and you can only use skippable in-stream ad as an advertising form.
Ad Sequence
In this subtype, you can share your ads in a story-like form to your audience, as shown below. The first video appears in Step 1. If the audience does not watch the video (skip), we can assign the Step 2 Video ad to the audience who skipped the Step 1 ad. Similarly, if the audience watches the Step 1 Video Ad for 30 seconds, we can assign the Step 2 Video ad to the audience who watched the Step 1 ad for 30 seconds, and so on. Remember, your YouTube Channel must be linked to a Google Ads account before it can be used.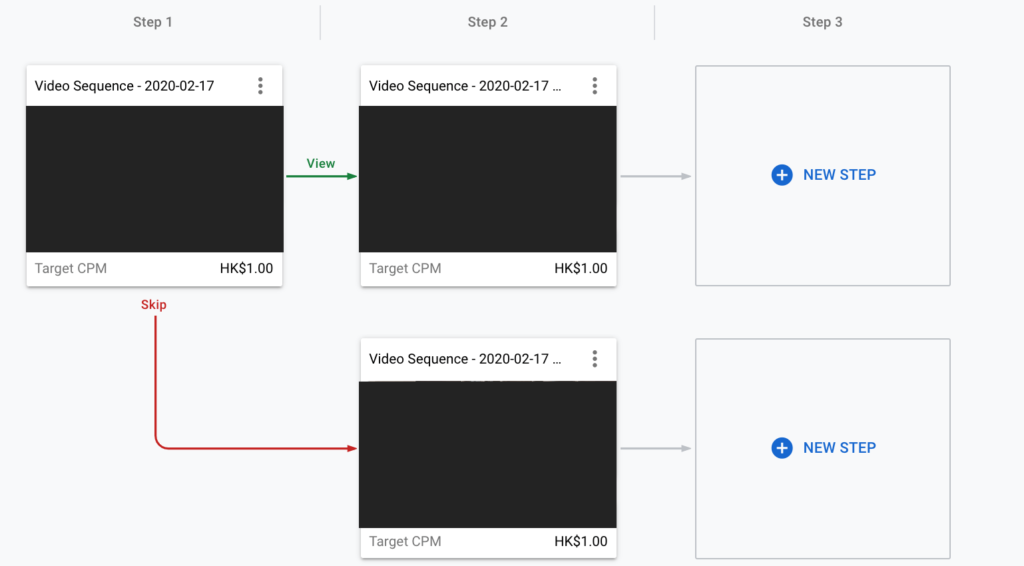 Shopping
The primary requirement for using this subtype is that your Google Merchant Center and Google Ads must be linked. Because the hybrid of YouTube and Shopping allows you to show the product while audience watch the YouTube Video ads and bring the audience to the product link, as shown below.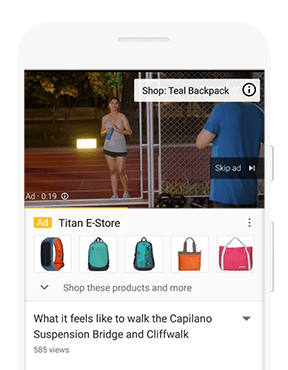 Step 3: Video Campaign Settings
After choosing the subtype (Custom Video campaign), the next step is to set the Video Campaign. Similar to other Google Ads campaign settings, change the Campaign name first. If this Video Campaign targets the new audience, you can set the name to Prospecting – (Video Ad Name).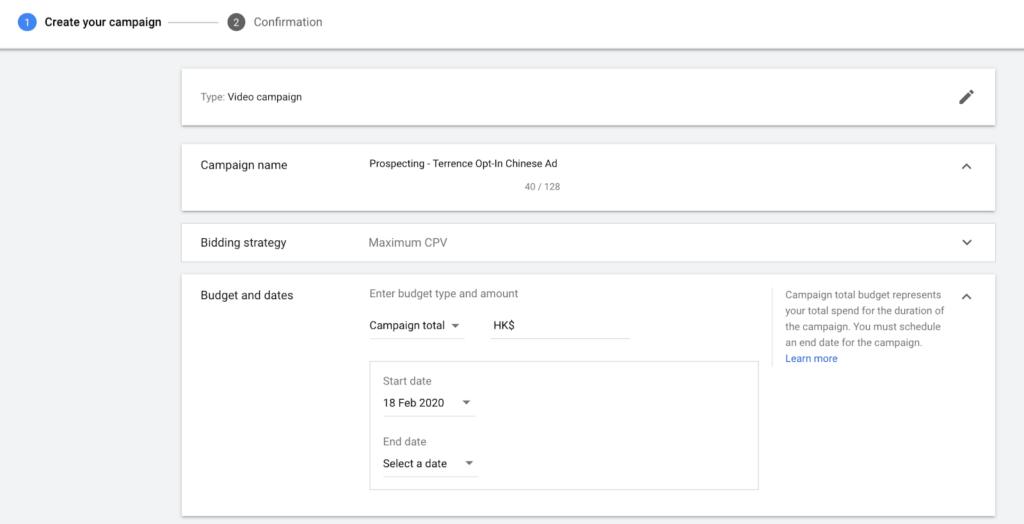 Bidding Strategy
-Maximum CPV (Cost-per-view): the highest price you are willing to pay for each True view
-Target CPM (Cost Per 1000 impression): The price you are willing to pay for each 1000 Impression
It is recommended to choose the Maximum CPV, and the CPV setting is around HK $ 0.3.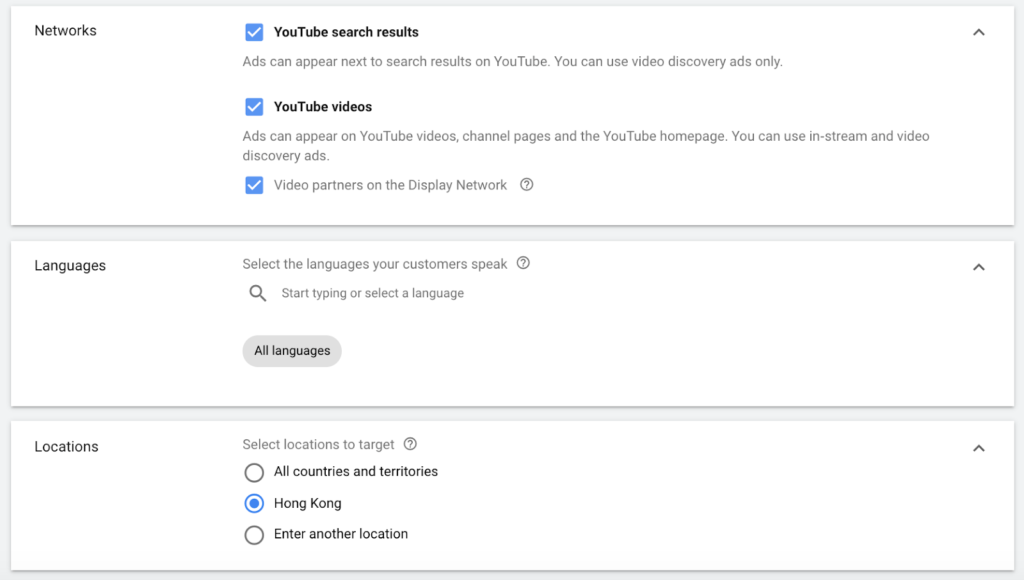 In terms of Video Network, YouTube search results is the appearance of the so-called Video Discovery Ad on the YouTube Search Result Page. YouTube video is just the usual YouTube Video. The following video partner on the display network refers to some GDN with video placements. Daily Motion is the best example. Since the example is about setting up an In-Stream ad, you should click YouTube video. I personally also recommend Video Partner on the Display Network.
In terms of language and region, choose the region and language you are targeting.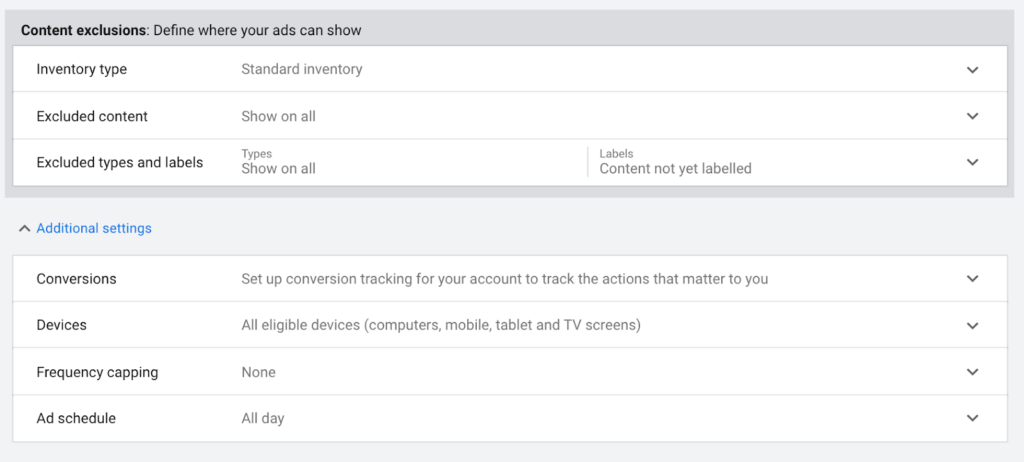 As for Inventory Type, we will choose Standard Iventory. This is the scale of your video ad. Under Standard Iventory, your ads will not appear on videos that are nude or violent. Similarly, excluded content also has the same meaning.
Step 4: Video Ad Group Settings
Set the name of the Ad Group. I used to enter the targeting method name of the Ad Group as the name.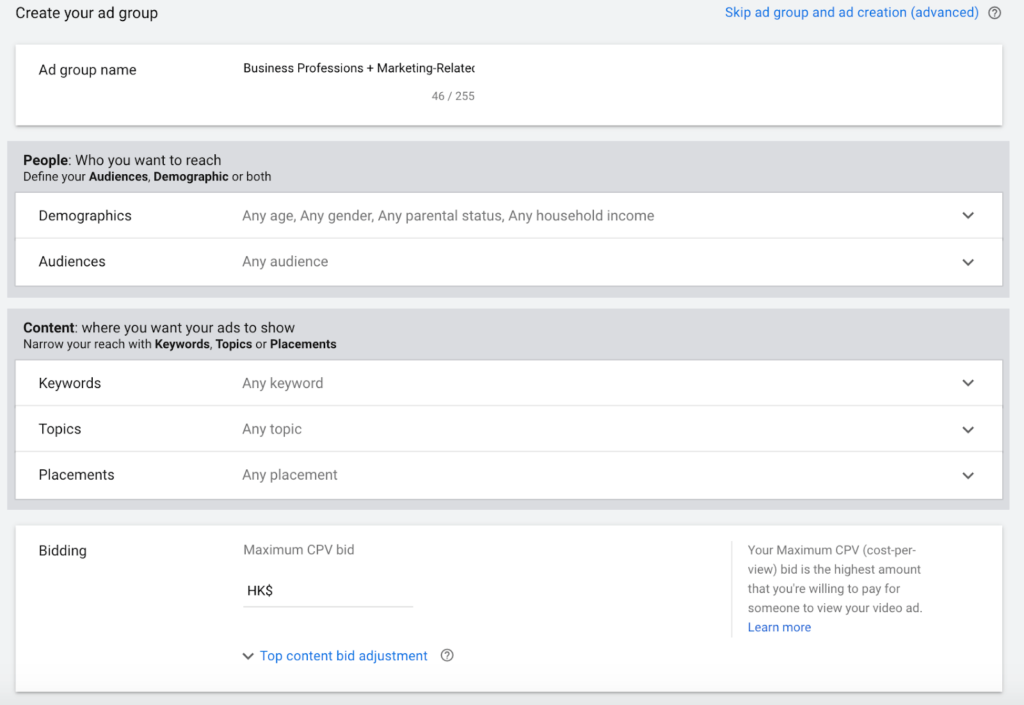 The targeting method is similar to GDN. You can refer to "The Complete Guide to the Google Display Network (GDN)". In fact, you should understand who your target audience is. For example, if you are selling beauty products aiming at women and between 24-45 years old, you can choose Beauty Products & Services or Make-up & cosmetics in Audience. In terms of Content, you can choose Beauty & Fitness. That is to say, when a 24- to 45-year-old woman who watches the beauty related videos, your ad will have a chance to appear.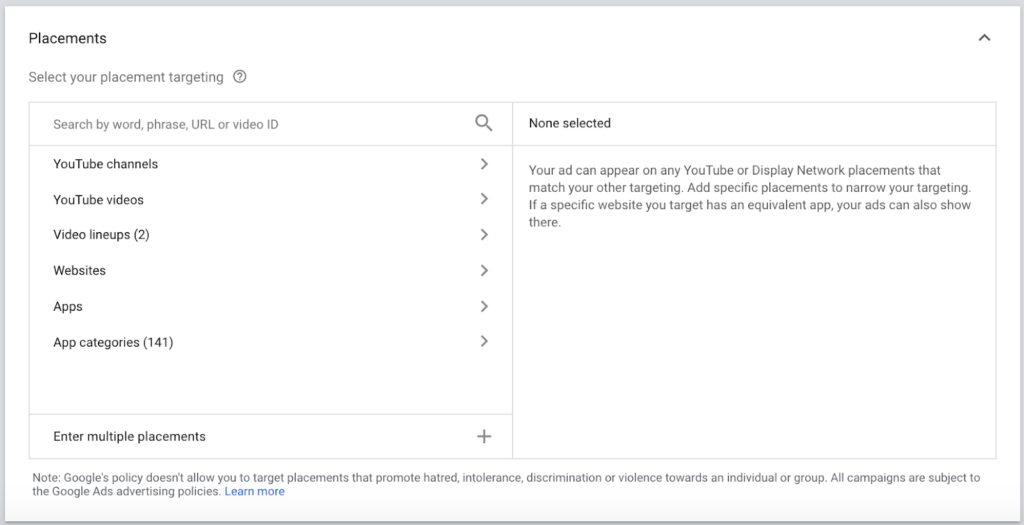 In Placement, you can choose a specific YouTube Channel / Video to place you YouTube ad. Simply select YouTube Channel or YouTube Video and search for the relevant Channel / Video.
YouTube Video Ads Remarketing
Kick Ads often advocates that SMEs to consider using Video Ad for remarketing. What should they do?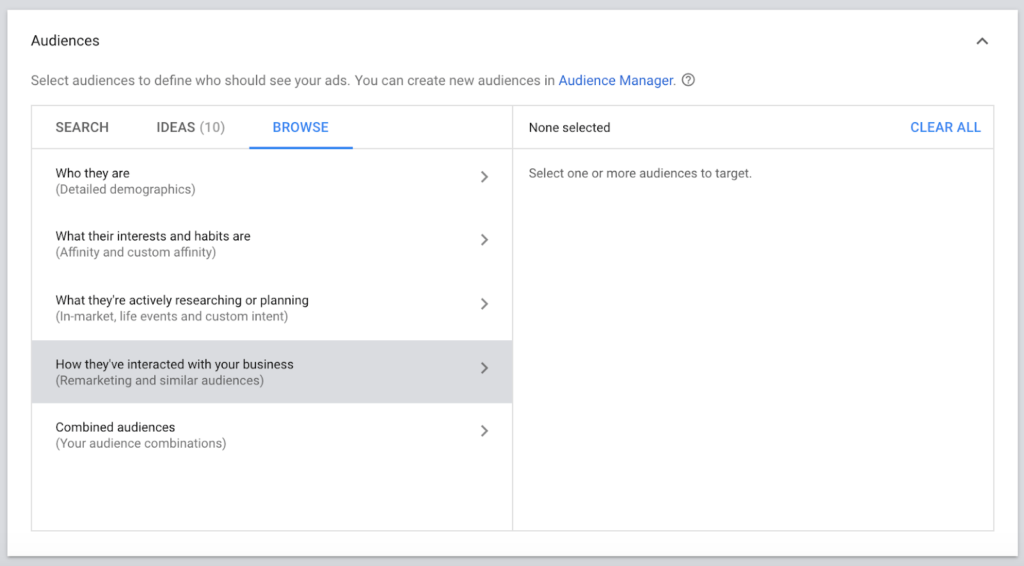 Select Remarketing and similar audiences under Audiences. Select the Audience List (Website Visitor) you set earlier, and you can place YouTube ads (also known as YouTube Remarketing Ad) on those visitors who have visited your website. If you want to learn more about the basic concepts and settings of remarketing, I highly recommend reading  《GDN REMARKETING廣告教學| 設定、原理及好處》(Currently only have Chinese Version).
Step 5: Video Ad Settings
The next step is to set the timing of the video ad. First, your video must be uploaded to YouTube. Then you can paste the URL on the YouTube video link and set it as an ad.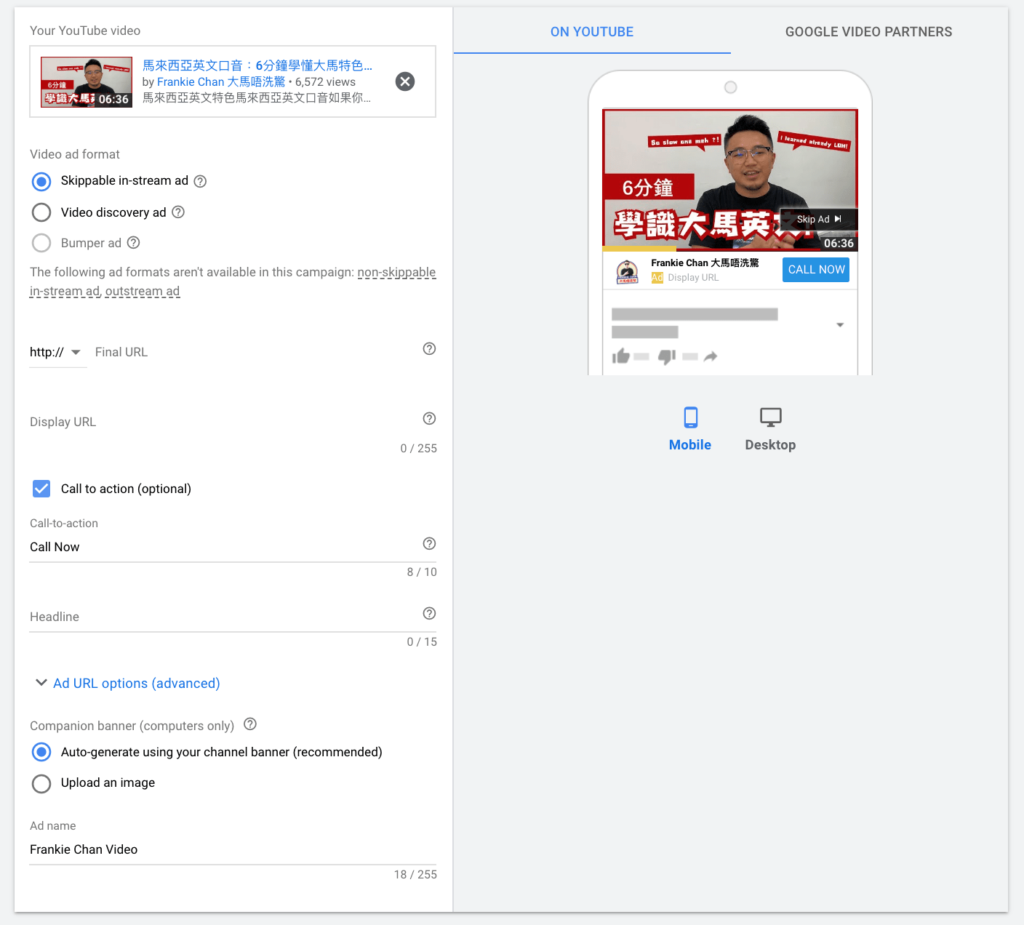 Once you find your video, set it to Skippable in-stream ad and set the Landing Page. Add a Call to action button to call the audience directly to the Landing Page. In addition, for desktop version YouTube video ad, you can upload a Companion Banner for it. This Banner will remain at the upper right corner of YouTube even after the video ad is end.
This is the guide to setting a YouTube video ad. I hope it can help you better understand the logic of YouTube ads and the steps in settings. If you want to learn more about how Kick Ads can help you find more business with Google Ads, book a free 20-minute digital marketing strategy consultation now!