Regardless of the size or capacity of your firm, either it's a gigantic firm or a SME entity, there are some vital advertisements which must be done especially in this era where E-Commerce is gradually becoming more common. Perhaps you have literally zero knowledge about online advertising, and have always entrusted this on the hands of professional agency, or maybe you have conducted an extremely precise Facebook Boosting and take pride in the enticing content of both your Facebook post and advertisement. Please allow us to share with you 4 imperative advertisements that must be implemented in every E-commerce store. Join us as we showcase you what these 4 advertisements entails, and how can it help elevate your company's online presence and sales' results.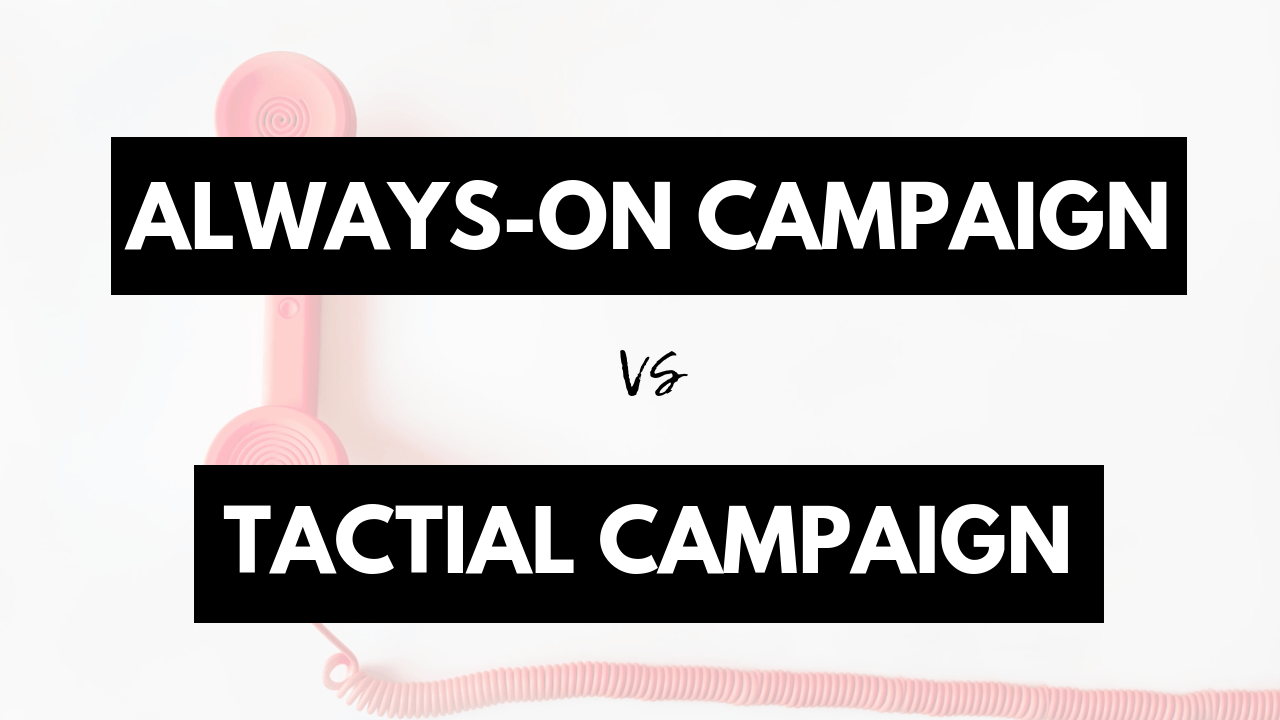 Always-on Campaign vs Tactical Campaign
As far as any ad agency worth their salt is concerned, there are only 2 types of ad campaign. The first one is Always-On Campaign, meaning this ad will be online 24/7 365 days throughout the year without any end date; the second one is referred to as Tactical Campaign (also known as Event-Oriented), in which the ad campaign will only be viable for festive promotions during certain festive seasons, the inauguration of new products (otherwise known as Product Launch Ad/ Teaser Ad), store-wide sales of various E-commerce store, crossover of assorted brands, etc. In short, if the sole reason of the particular ad campaign is only to promote a specific event or entity, then it all falls under Tactical Campaign.
Why do we have to introduce the type of campaign?
The below 4 ads campaigns are all Always-On Campaign, this is due to the fact that Always-On campaign should always be conducted if the ROI rate reflects positivity and Always-On campaign is primarily used to generate sales and procure online transaction.
4 types of Always-on Ads
Paid Search (Search Ads + RLSA)
I am sure that everyone here who browse through our blog regularly knows what SEM represents, otherwise known as Search Engine Marketing. Within Search Engine Marketing, it includes SEO and Paid Search. However, during the initial launching of websites or online stores, it's more reasonable to exclude SEO and focus solely on PAID SEARCH (Please be noted here that the usual SEM we practiced refers to Paid Search
How Paid Search helps elevate the effectiveness of online Sales?
In this digitally bugged era, there is no targeting method which is more productive than running your own search. For Paid Search, there are three crucial keywords that we will purchase- BRAND, GENERIC/PRODUCTS, COMPETITORS. The examples are as shown below:
Brands- The combination of all things associated to your Brand Name
Generic/Product- The combination of all things associated to your service/product/problem (NMD R1)
Competitors – The combination of all things associated to your competitors (nike)
The most exceptional aspect of Paid Search is that it allows your ad to appear at the correct timing to the correct audience, directly landing your potential customers on to your product page. Which is why among so many advertisement channels, Paid Search is the easiest choice to secure direct response.
However, due to the fact that key word's advertisement is becoming more frequent in marketing, causing the increase of cost for each click. For those E-commerce entities with least solid branding effect, they can rely on Generic Keyword to gain access to their clients because the cost will only get higher with the growth of CPA (cost conversion). Yes that's right, this is a criticism of Paid Search because a decent ad agency will only present you with the facts.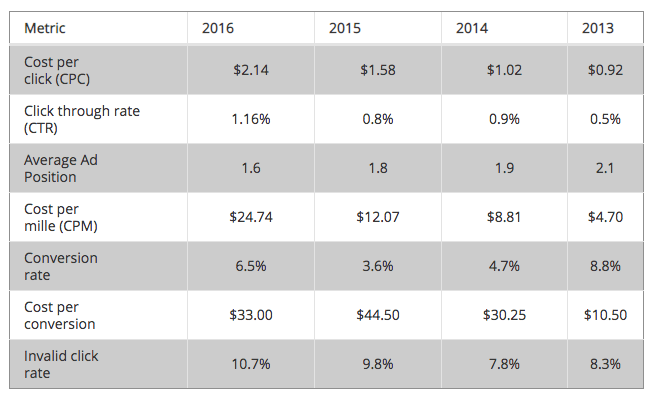 Undeniably the option of Pay Per Click is getting more expensive, but this doesn't mean that we should excuse ourselves from using it. Instead it indicates that we should exert more control over each click which is why it is pivotal to set up RLSA-> Remarketing List for Search Ads, adding Remarketing into your search settings, giving yourself more control over CPC.
RLSA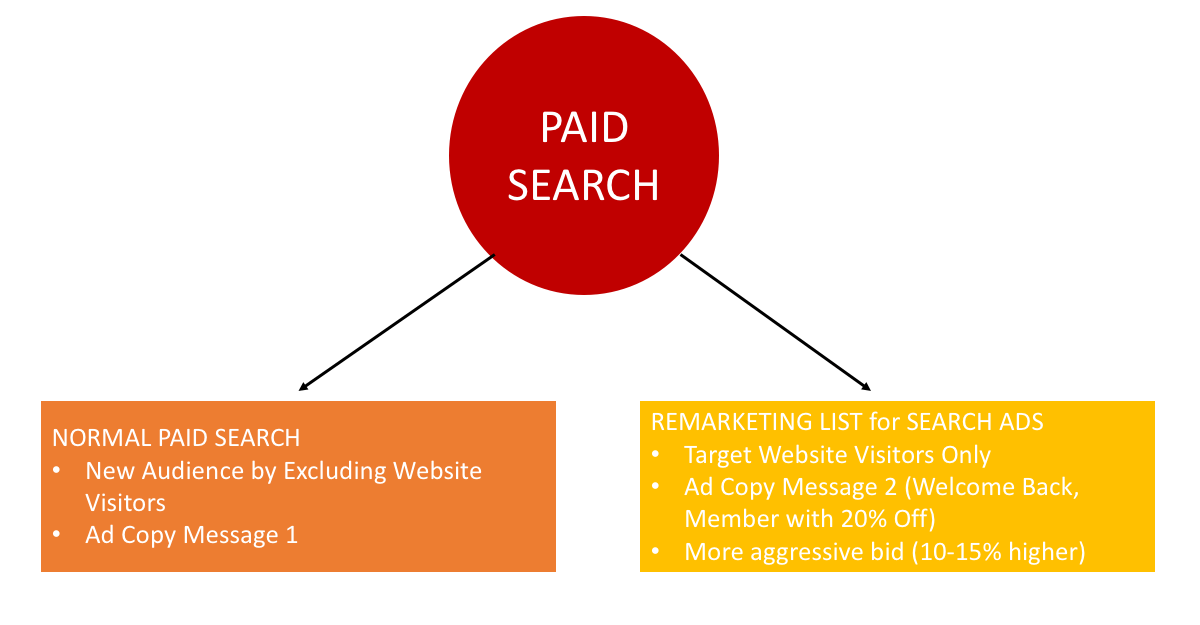 Recently, we have tried launching RLSA among a few of our clients and implant Remarketing onto Paid Search. As shown by the image above, you will be guided to Normal Paid Search and Message 1 would be visible if you never visited that particular website before; If you did visit that particular website before, then it will guide you to Remarketing List for Search Ads, a more delightful version of the advertisement (assuming you have a certain degree of recollection of our brand) and will be shown Message 2.
The Data shown below is all the proof you need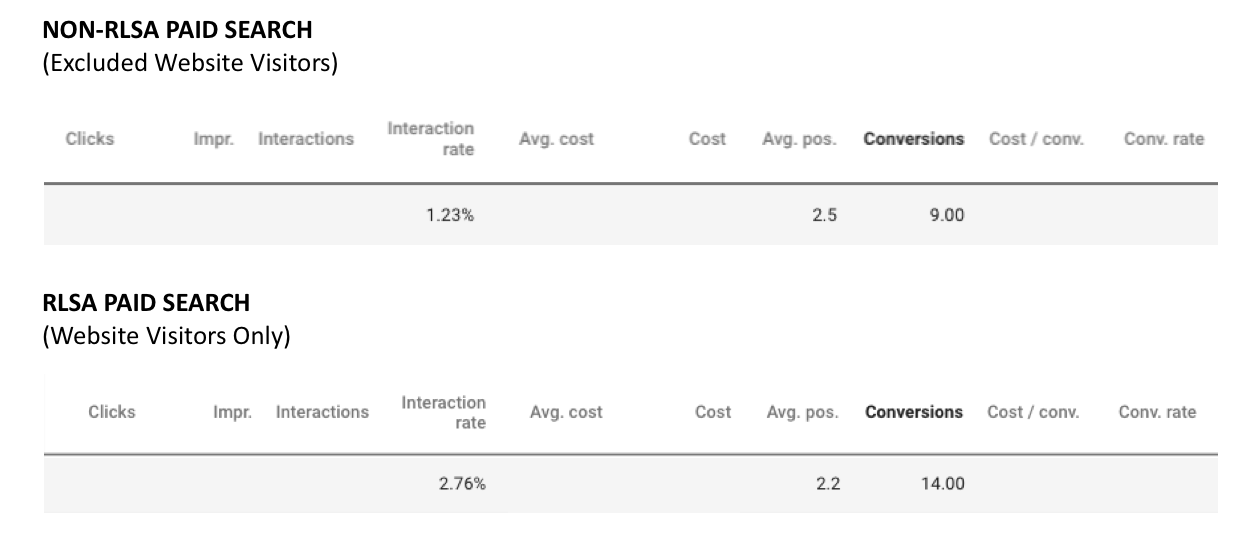 As expected, RLSA has a higher level of CTR (Click-through rate) and Conversions (As we need to protect our client's privacy, please forgive us for hiding and concealing all sensitive information)
Dynamic Remarketing Banner on GDN
I am sure all of us here are extremely familiar with the term of Remarketing, however what exactly does the term of Dynamic Remarketing entails? Actually, the concept of remarketing is extremely straightforward and I am sure that everyone here would encounter daily. One of the most obvious occasion is once you been on Booking.com to check out hotels yet did not place any booking, then you will start to notice all these hotels you checked out previously start to follow you and appear everywhere, similar to the examples below: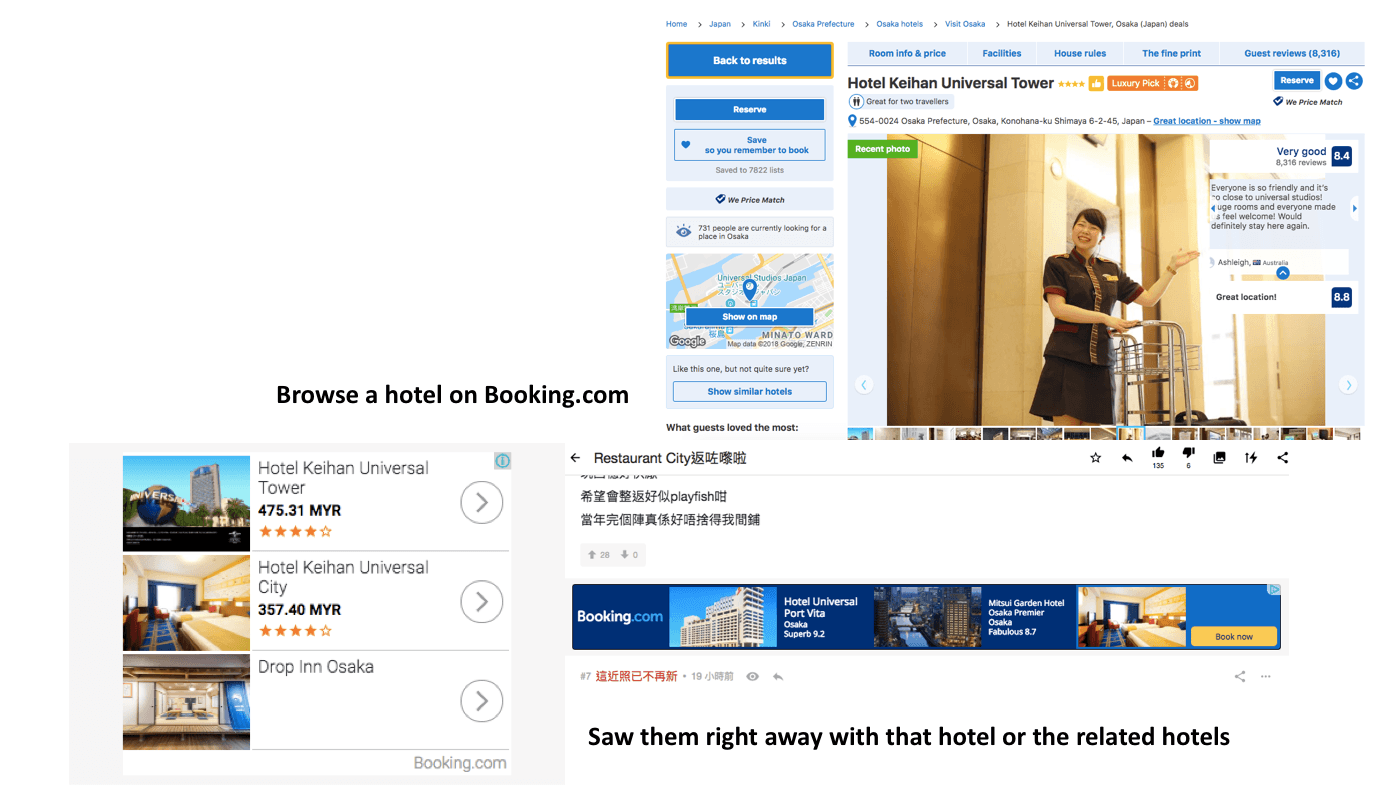 Now the obvious merit is you can increase your CTR (Click-through rate) and Conversation Rate, with very simple reasons as to why in which I am sure everyone can also comprehend why the rate will be higher. But the down side is that it might annoy your potential customers, hence we need to insert exclusion for Converted Customer, while simultaneously lay down the use of Frequency Capping.
Dynamic Remarketing? Why does it seem like a back-breaking task?
A few years ago when we started using Google Ads, all the dynamic settings for ad was indeed troublesome because we need to insert a lot of customize code inside the webpage. With the advancement of numerous website builder and more unfolding of Google's capability, dynamic remarketing has become a lot easier. In short, I will walk you through the simple steps of dynamic remarketing via the pictures below
Simple set-up Steps of Dynamic Remarketing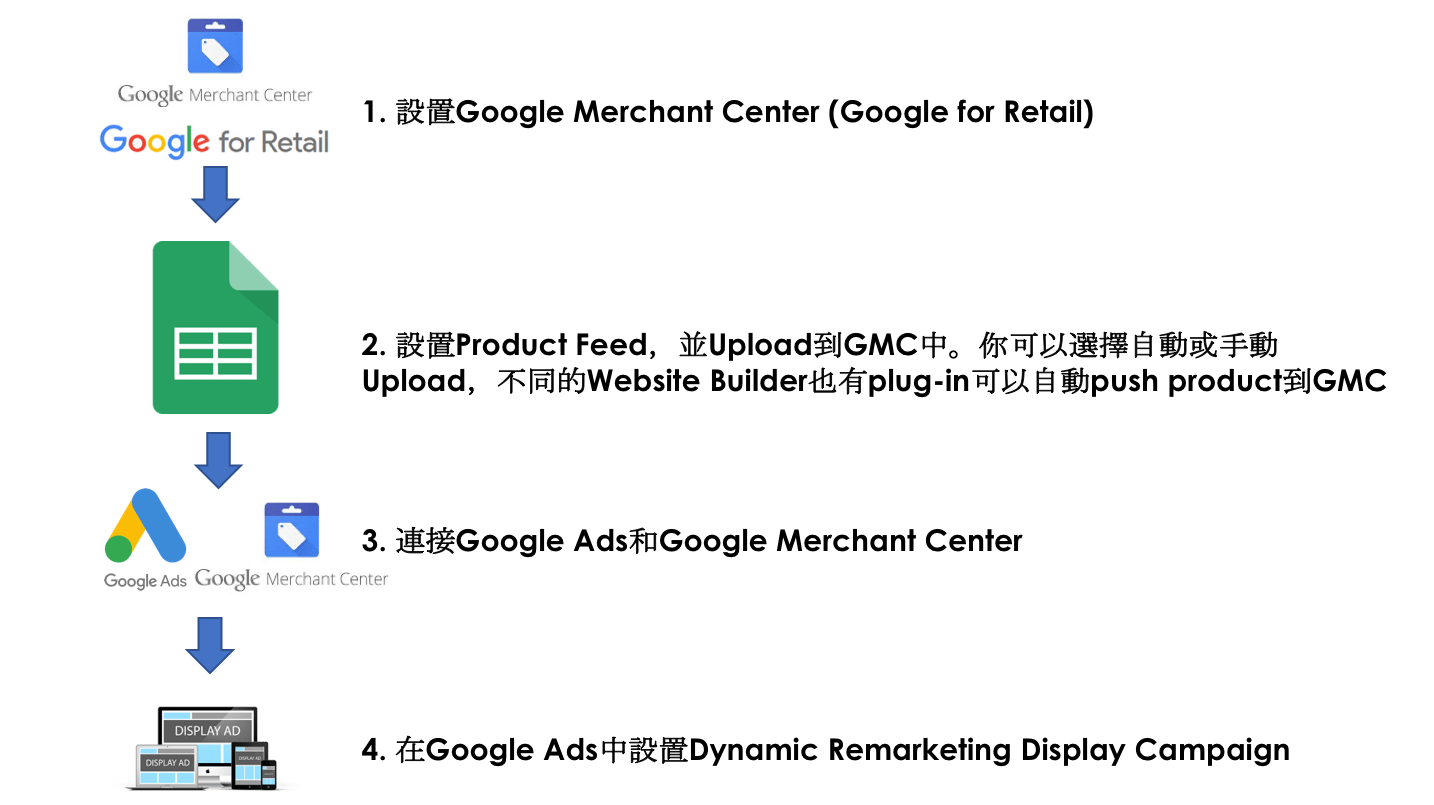 Since the main purpose of this article is not to introduce Dynamic Remarketing or the settings and optimization of Product Feed, hence there will not be a lengthy explanation regarding it. However do bear in mind that Dynamic Remarketing Ads assuredly helps a lot on E-Commerce.
Shopping Campaign
Once you set-up Product Feed on your Google Merchant Center, apart from Dynamic Remarketing, you might want to consider adding on something known as Shopping Campaign because this is another type of advertisement that E-Commerce stores need to consider. To be frank, we have been introducing Google Shopping for quite a few times, perhaps the reason everyone thinks that it's not effective is because you feel that only sizeable E-commerce stores use Google Shopping?  (As shown below)
Yes it's true that the websites of large E-commerce stores tend to dominate the shopping listing, however under the model of CPC even if your products did show up, you don't have to pay for it if there is no click into it. Alternatively, if someone did click into it and ended up didn't buy it, that's when your Dynamic Remarketing comes in handy. Hence in many occasions, shopping and dynamic remarketing work the best when they are performed together. In addition, the CPC for Shopping Campaign is actually quite affordable (refer to the picture below), hence you should fully utilized it before it becomes too popular!

Facebook Dynamic Remarketing
Apart from launching the Dynamic Remarketing Ads on Google Display Network, Facebook is another platform you will need to follow up on. This goes without saying but I am sure that almost 99% of our friends are inseparable from these two platforms (Obviously duh), which is why you either go all in for remarketing ads or you don't go in at all. However please don't be terrified by the dynamic aspect of it because the settings are almost identical to Google's remarketing, in which I will demonstrate the entire process flow.
Setup of Facebook Dynamic Remarketing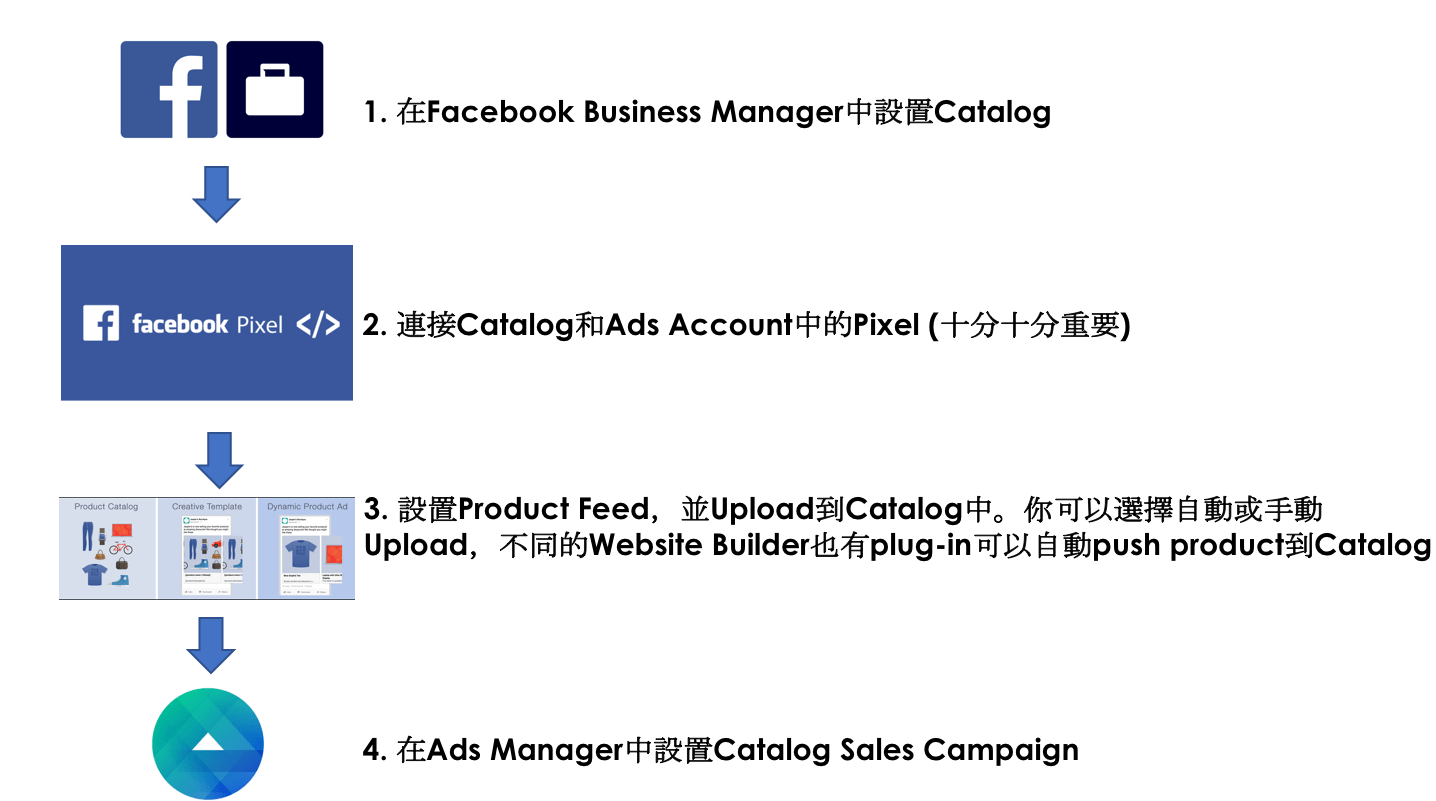 Facebook Dynamic Remarketing greatly reduces CPA
In an E-Commerce Store that we used to operate in Malaysia, we compared the data between an ordinary Remarketing Campaign and a Dynamic Remarketing Campaign in which evidently the advertisement fee for Dynamic Remarketing is lesser. Its CPA amounts to almost 3 times cheaper than the general remarketing advertisement fee!

The above four items are the kind of Always-On ads that an E-Commerce store should run. If you are not sure on how to operate, please feel free to ask us on Facebook at any time. If you want to inquire on how Kick Ads can assist in expanding your E-Commerce Store, do not hesitate to leave down your information for enquiries.