Webinar has become one of the most trending terms in the year of 2020. I am betting you had at least attended 1 webinar with no doubt. Under the pandemic, seminars are transformed into webinars and people are getting used to it. Someone said, digital transformations are not led by your CEO or CTO, but the COVID-19, sad but true. Under the overwhelming free webinars online, we helped a Malaysian client to build an automated flow of paid webinar lately. In this article, we are not discussing how to do free webinar as there are tons of ready-to-use materials available online. Instead, we would like to demonstrate how to do paid webinar. If you are about to host a webinar and planning to make it paid, you should check out this article!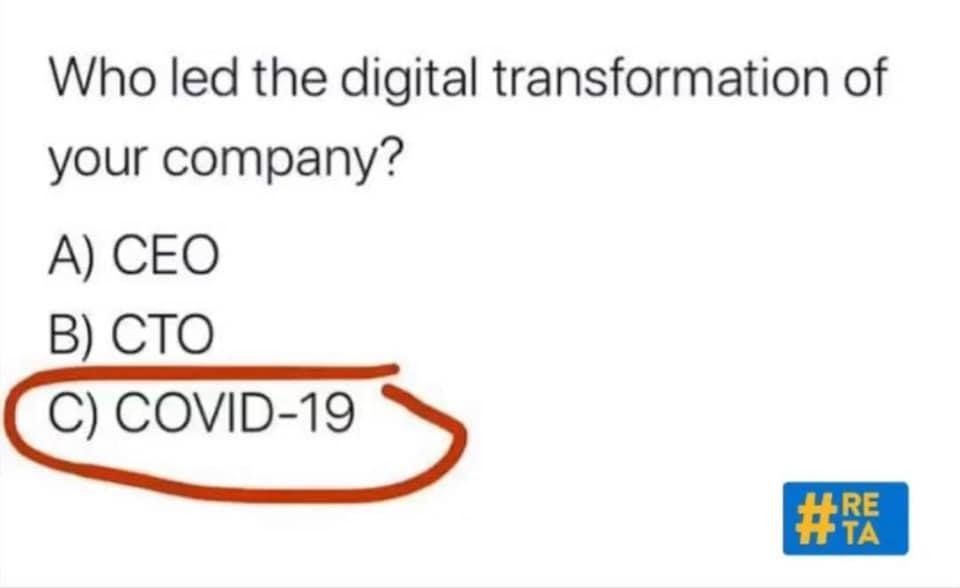 Problem you may encounter…
There are lots of paid tools that can host webinars easily. Zoom, Webinarninja, Demio, you name it. However, there are some pain points when we are using those webinar systems. Below are the pain points that you are going to experience:
1. Currency Problem
If you are using Zoom paid webinar plan, the good things are the popularity and seamless integration. By what it means, people are used to doing Zoom meetings so Zoom webinar is pretty much very similar and easy to use. Plus, they have PayPal integrations and it can direct you to Paypal payment gateway so you can set up a paid webinar. However, for hosts in Malaysia PayPal is a bit troublesome. PayPal is not allowed to do transactions in RINGGIT. They will convert to USD for both buyers and sellers so there is another exchange rate that you will have to calculate into your price, and I bet it is not friendly enough for Malaysian audiences also.
2. Boring Landing Page
Zoom and Demio offer landing pages for registration and you can "so called" customize the page. However, it is not very informative and convincing even though you try your best to "customize it", especially if you are doing a paid webinar that requires you to put a lot of useful information and components into the registration page. Below are the registration page of Zoom and Demio: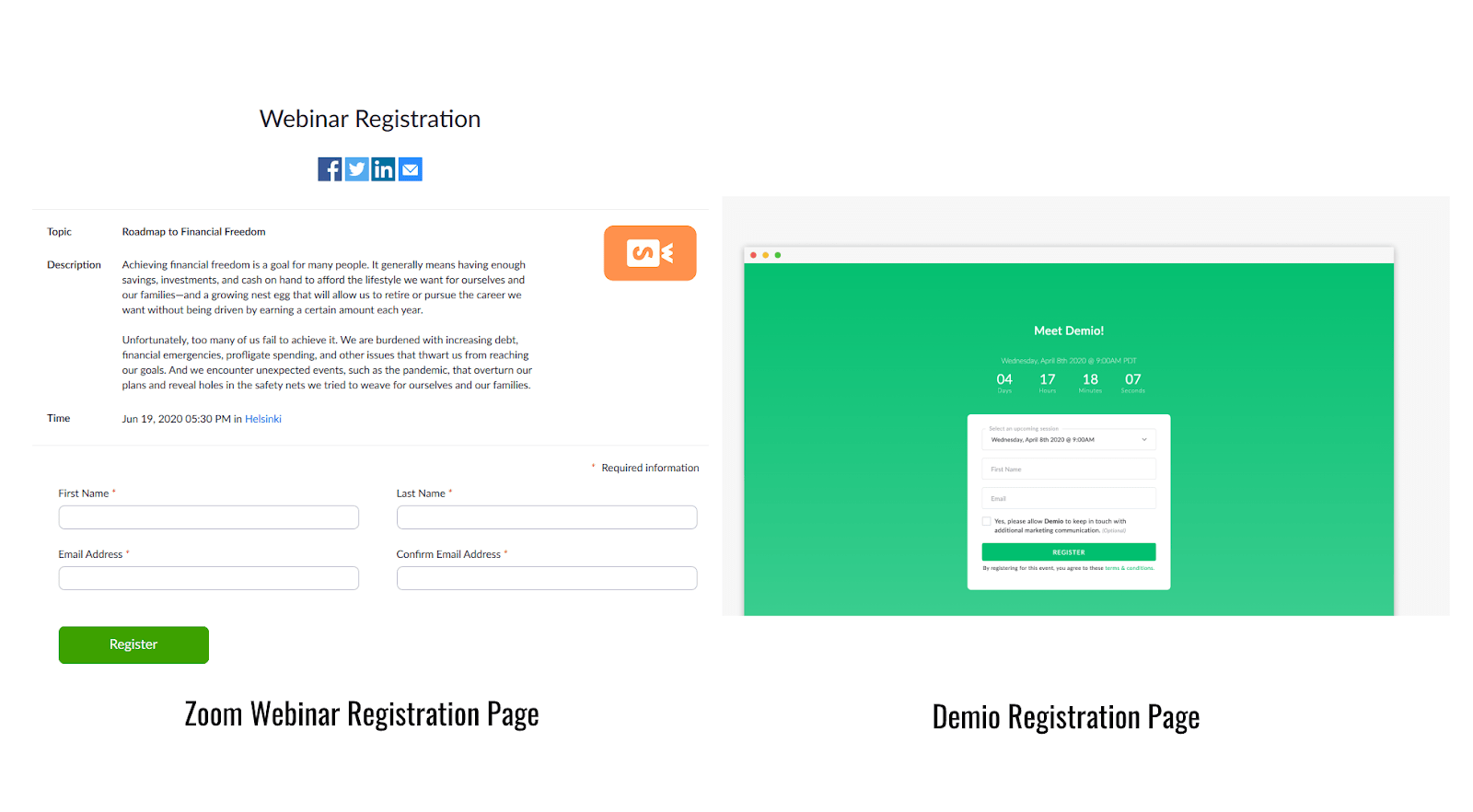 It is very likely that your audiences are not convinced by this type of landing page right? No video, no CTA, not much information, right? It is not convincing for a free webinar even. It is the second problem that you may encounter.
3. Active webcams availability
The third problem is more relevant to those hosts who are doing fireside. If you are hosting a fireside chat with 1 moderator and a few panelists, you will need to show multiple faces right? Take a note that there are some webinar tools not supporting multiple webcams. For example, Demio doesn't allow more than 3 active webcams to be shown at the same time. Below is the screenshot that we were doing a test run before the registration was live. You do not want to experience this, I am sure. Do check over the webinar tool if they are able to support multiple simultaneous webcams available before you subscribe.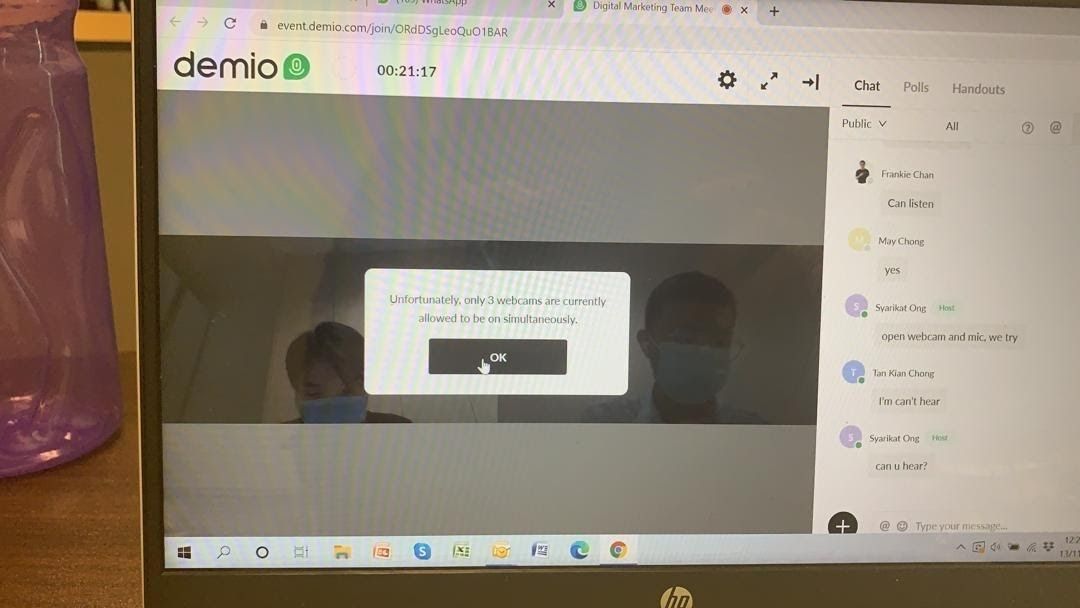 Building an amazing Paid Webinar funnel
Basically, what we need for this paid webinar are a great landing page, a Malaysia Ringgit supported payment gateway and a multiple active webcams supported webinar tool. Sounds complicated? Actually we used the tools below to conduct this paid webinar. Let's check these out!
Tool 1: Leadpages

There are loads of landing page creation tools available online. We need a seamless payment gateway integrated with this landing page tool, plus we have experiences on creating beautiful and responsive landing pages with Leadpages. The reasonable price, US$59 is another factor that we had chosen Leadpages, plus a 14 day free trial.
Since this article is not a tutorial about how to create a landing page, and there is tons of ready material online, PLUS it is very easy to use. Drag and drop what you want, change header, adjust mobile version of the site and create the social thumbnail and meta title. Then you are good to launch.
Quick Video to demonstrate how easy to use: Click here!
Tool 2: Stripe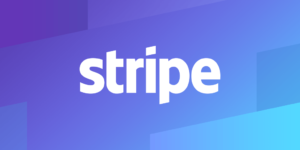 Payment gateway was very complicated for Malaysians until recently Stripe expanded to Malaysia. Allow me to explain briefly how much time it saves. Over the years, you have Razer (formerly known as MolPay) and Ipay88 in Malaysia. The transaction fee is low but it takes time to apply PLUS not many international website builders accept Malaysian local payment gateway. You can go for Paypal but they don't accept Malaysian Ringgit so everytime it has to convert to USD. Until Oct 2019, Stripe expanded to Malaysia and MYR was accepted finally, and most importantly majority of website builders have seamless integration with Stripe. What you have to do is a few clicks to connect your Stripe account and website builder, and DONE!
If you are using HKD as your transaction currency, Paypal and Stripe are good for you and I bet there are not many problems, except the high transaction fees……
Tool 3: Zoom

Like what I have mentioned above, we explored Livestorm, Demio, Webinerninja and some more webinar tools. Eventually, we picked Zoom because of ease of use and multiple camera support (Up to 100). Price is very reasonable and stability is high. We wanted to try some new tools but the features of Zoom are unbeaten. Take a look here for the full price list and features for Zoom Webinar Plan.
One gentle reminder that I guess you won't forget is do send instant confirmation email and 1 day and 1 hour in-advance reminder emails. 
Plus, redirect the audience to the thankyou page to remind them the webinar access links are sent to your mailbox already.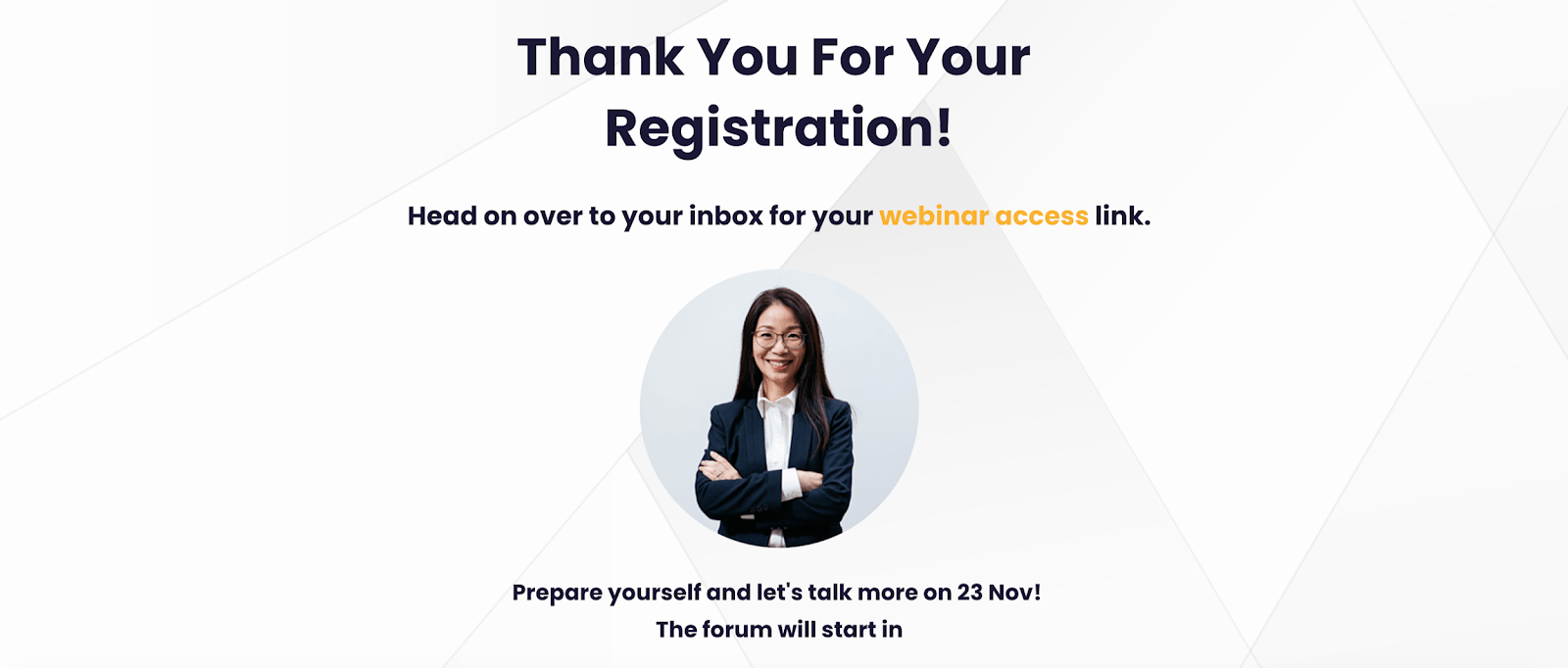 Tool 4: Zapier
When you have prepared everything mentioned above, it is time to put them together and get synchronized. If you are familiar with landing page builders and different marketing tools, you must have heard of Zapier. It is a tool that basically automates your work, across different tools, seamlessly.
Let's see how we set up the flow for this event.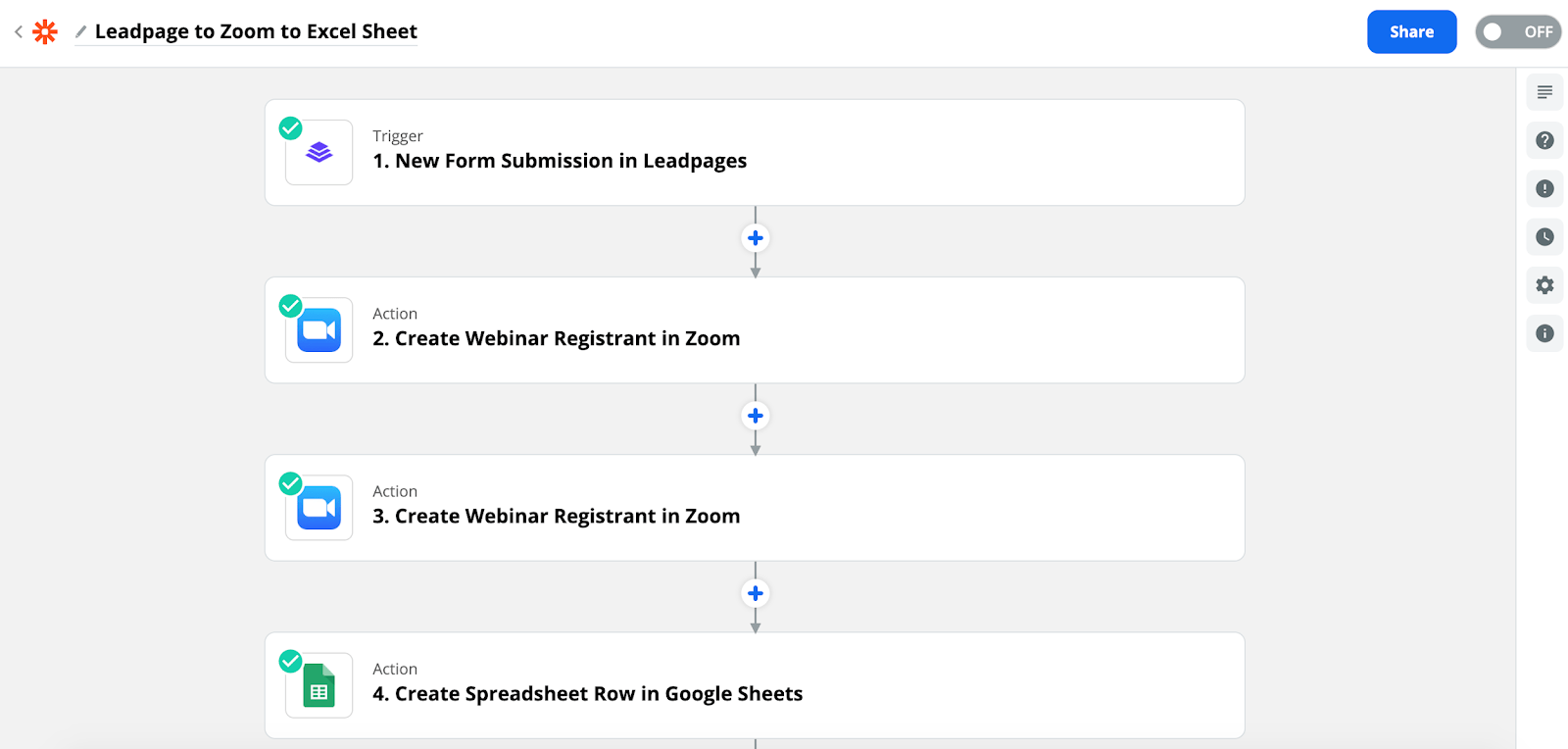 Step 1 – Form submission
This is the landing page and Stripe payment gateway is ready. FORM SUBMISSION here means a successful payment (and it is going to redirect to thank you page also)
Step 2 – A registration on Zoom

Once there is a successful payment / form submission, it will automatically add registrants on zoom. Of course, you need to match the name and email address on Zapier. But it is very easy and just a few click thing .
Step 3 – Google spreadsheet

To have a better record of all paid audiences, it can also synchronize to a Google Spreadsheet that can help you overlook all information needed.
Conclusion
Set up is easy but how to market and advertise a paid webinar is way more difficult. Of course, there are many free webinars available online and you may question, why PAID? It is true that free webinars are easier to get more registrants. However, when you take a closer look at free webinars, the show up rate is not high in general and there are loads of unqualified leads. Paid webinars can help to filter those unqualified leads, but the question remains on how valuable your contents are. My final piece of advice is, you are doing a full funnel marketing for free webinars already. When it comes to paid, your content must be very exclusive so that audiences are willing to pay to attend. Hope this article will help you succeed in setting up a paid webinar. If you are keen to hold a paid webinar and work to work with us, feel free to contact us!