TikTok Killer?! Get started with YouTube Shorts
Many of us may think of the "TikTok" when talking about short videos. In view of this, YouTube also launched a similar feature, which is known as YouTube Shorts following the popular trend. You can create short videos easily by using the built-in YouTube Shorts tools to make vertical video clips with 60-seconds or less and interact with billions of viewers in YouTube and build a new audience group.
Why YouTube Shorts?
YouTube Shorts was first launched in India at the end of 2020 as a test, and then expanded to other Latin American countries. In July of this year, YouTube expanded Shorts to more than 100 countries and regions, including Hong Kong, Taiwan, Japan, and so on. According to the data provided by YouTube, Shorts has reached 6.5 billion daily views worldwide. It indicates that audiences welcome this new feature very much and it allows your content to reach more audiences. Moreover, you can control the creation time effectively when making short video clips using your mobile phone, which saves a lot of time and cost.
Where can I watch Shorts videos?
Simply click the "Shorts" icon at the bottom of YouTube to watch the videos. Once you click any short videos, you can watch more short videos like Instagram Reels.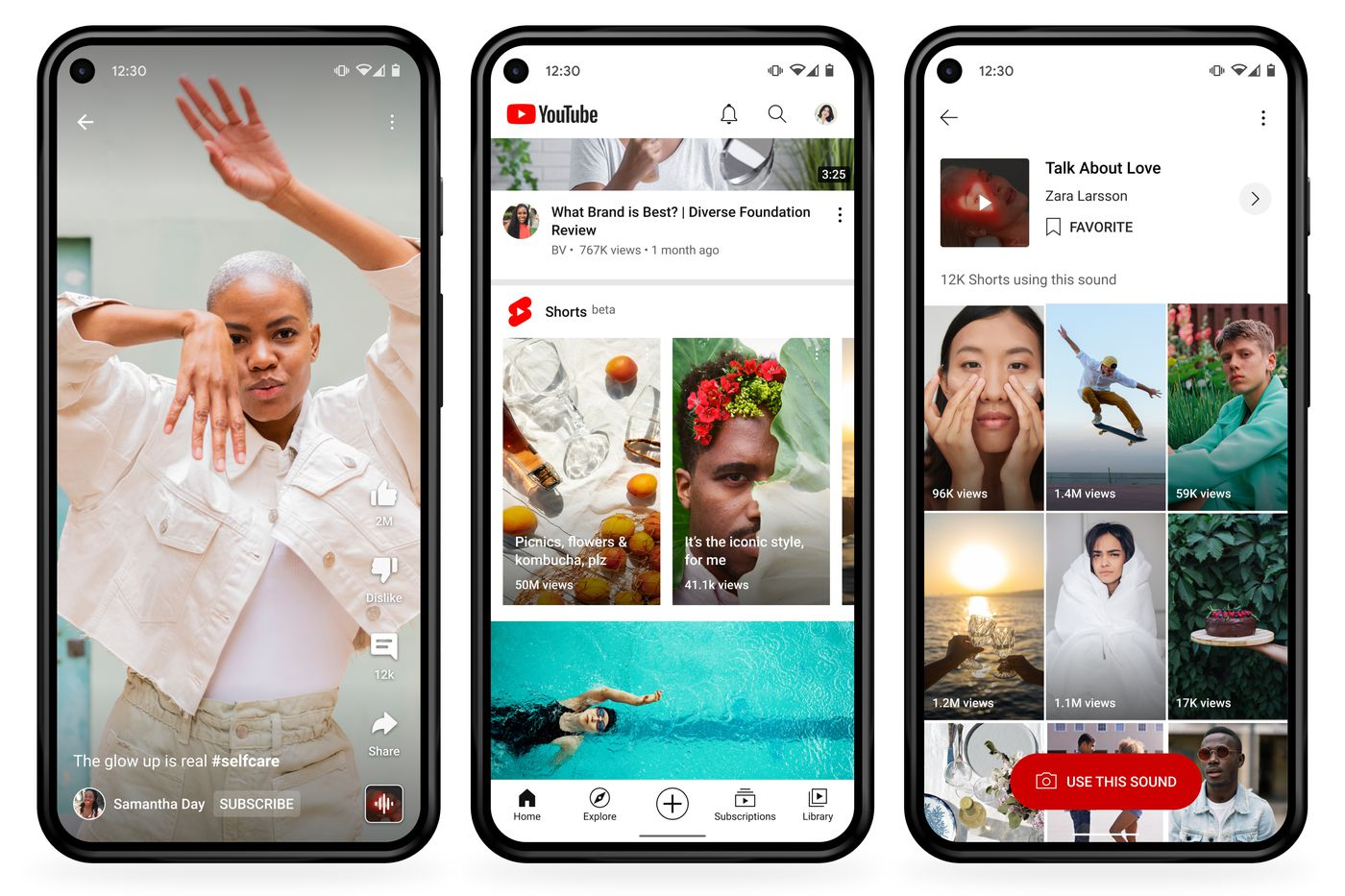 Source: Google.com
In addition, YouTube Shorts section will also appear in the following places:
YouTube homepage

Notifications

Subscription content

Featured channels on the channel page


Source: YouTube.com
If you want to watch YouTube Shorts videos on computer, search for "#Shorts".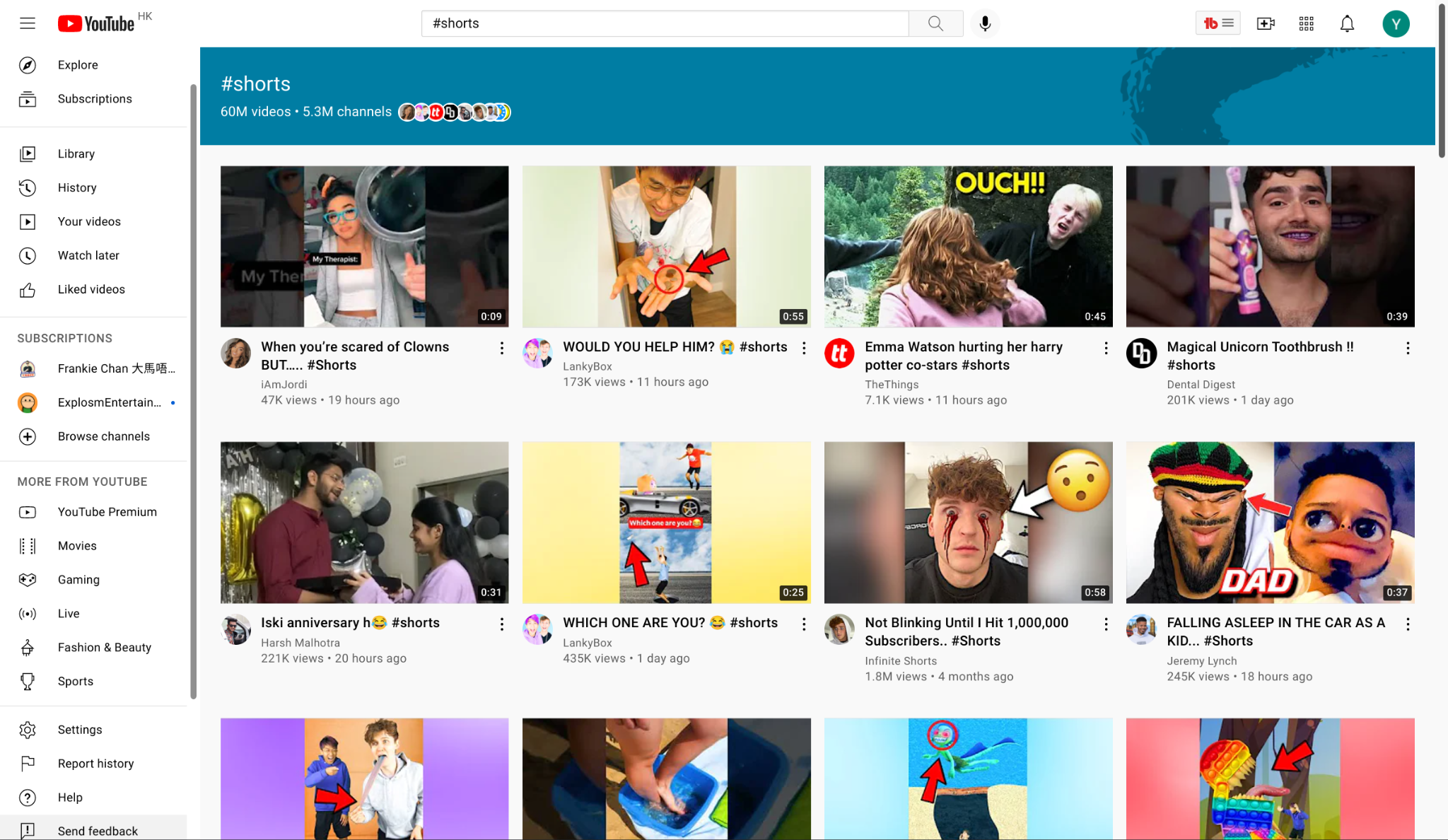 Source: YouTube.com
3 Points to Note About Shorts
1. No Ads at the moment
There is no advertising at the moment for YouTube Shorts at this stage. Therefore, video creators cannot get any advertising revenue share from the advertisements shown in Shorts.
2. YouTube Shorts Fund
YouTube launched a $100 million "YouTube Shorts Fund" to encourage Shorts creators to make videos. As long as you create unique Shorts videos that resonate with the YouTube community, you can apply for this fund. Eligible channels can receive bonuses ranging from $100 to $10,000 per month. For details, please click here to learn more.
3. Content reprinted by TikTok
Videos with TikTok logo often appear in YouTube Shorts. Such reprinted and non-original videos cannot attract viewers, and the exposure will be reduced by YouTube in the near future. Creators interested in making Shorts should make original content.
Suggested way to create Shorts videos
Keep the focus of the videos concise and powerful and grab the audience's attention at the beginning. The content should also be simple. Try to make videos about previews of the general direction of the future, small tips, or some easy cooking ideas.
As a user, I am not too fond of YouTube Shorts. Personally, this kind of TikTok-style short video clips with random and meaningless music cannot arouse my interest. Most of the videos are copied from TikTok and the content is meaningless, such as finger dance, before and after makeup videos, etc.
But as a marketer, I cannot ignore the high number of views of these videos. YouTube Shorts are content driven. It is not rare to see a video with tens of millions of views. I believe YouTube will not let go of the opportunity to turn it into an ads placement platform. When the market needs it and as long as it can help promote the business, even if I do not like using YouTube Shorts, it is necessary to carry out an in-depth exploration.
For more information about the features and applications of YouTube Shorts, you may read the related article at More Digital !