I have always mentioned at my SEM Class "Writing A killer Headline can uplift your Click Through Rate, which will improve your Quality Score for Sure!"
To craft nice text ad headlines, you neither need to attend tons of Copywriting Classes nor spend an hour to polish Ads. Of course, you can write whatever you want if you are very familiar with what kind of ads/ copywriting could trigger the interest of your potential audience. However, if you are not so confident about it, I could suggest a few ways that can help you to generate a well-performed search ad in an effective and quick way.
How to write a killer headline?
Before we move to that part, we need to give you a quick overview on all elements on Google Search Ads. Let's take the following ads as an example. (We are talking about basic elements to consist a text ad here. If you would like to know more about Ads Extensions, feel free to check here)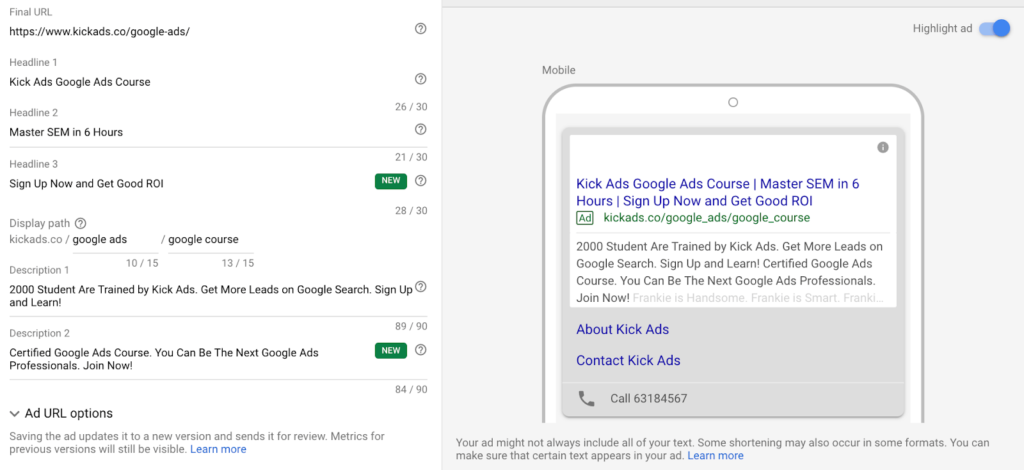 1.Headline 1: Kick Ads Google Ads Course
2.Headline 2: Master SEM in 6 Hours
3.Headline 3: Sign Up Now and Get Good ROI
4.Path 1: google ads
5.Path 2: google course
6.Description 1: 2000 Student Are Trained by Kick Ads. Get More Leads on Google Search. Sign Up and Learn!
7.Description 2: Certified Google Ads Course. You Can Be The Next Google Ads Professionals. Join Now!
We are going to explain each element in the following!
Search Ad Elements

Headline 1 & Headline 2 (Keep it Simple and Outstanding)
Did you know that on an average, around 80% of the people only read headlines when they search something? After you have written a strong eye-catching headline, you have successfully managed to capture the 80% of the audience.
Attention! Please Give all that you can to create Headline 1 & Headline 2. This is your first-hand shake to your customers and you probably only get one shot because if your customers simply ignore your ads, they will never come back.
Advices I can give you here (I will give a detailed explanation later on) are Your ads need to be responsive (Straight Forward) and Outstanding. Being Responsive, you need to answer their questions based on their Search Query.
Let's just say if they are searching "food delivery", A straightforward  ad telling them you are providing Food delivery. No need to mention Grocery Delivery, even though you provide such services as well. Think outside the box. That pretty much require you to think about your USP of your service, why customer need to choose your over others; why your service is better than your competitors? I always mentioned at my class: Put yourself in their shoes, if you are seeing ads which don't mention what they are able to do for you.what value they can provide (Extra), will you click their ads? Maybe like 10 years ago, there is not much company running Search Ads, your ads probably worked ok as there is not much competition.You can win the client as long as your ads can show up, but nowadays, competition is fierce, if not cutthroat, you need to have an outstanding ad to win the customer.
Headline 3(Optional)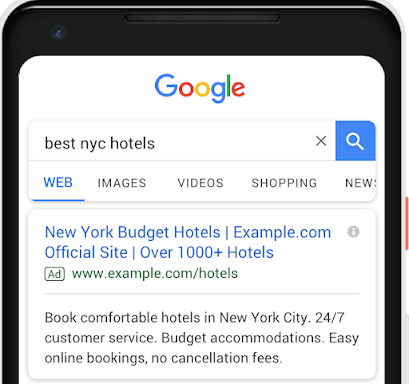 Google has improved your Expanded Text Ads by making them even larger – by adding headline 3 and description 2 to all your expanded text ads in early 2019.
Be Careful ! On smaller screens, if there is not enough space for a 300-character ad, your ad may show without the third headline or second description. However, your first and second headlines and first description will always show. you are still very suggested use the third headline and second description to enhance and reinforce your messaging, but exclude any critical information in these fields, as they may not show!
Therefore, insert some supplementary Information in headline 3.
Display URL – Path 1 & Path 2
You cannot even imagine the importance of display URL. Don't worry. It could totally be different from your destination URL since we are able to customize the display URL by keying in path 1 and path 2. We would recommend you to put your keywords in your display URL and example is shown below.
Let say "Food Delivery" is your Main Keyword in your Ad Group. Put it into your display URL, it can improve your Ad Relevance to Average or even Above Average. It should be an easy job to spot one or two highlighted keywords in your ad group. If you are having a hard time spotting out one or two major keywords in an Ad Group, then you probably need to consider restructuring your campaign!
Description 1 & Description 2
Congratulations! Your headlines attracted the customers. Now they certainly are interested in what you have to say. You have got seconds before they fall off. What do you need to do? In my opinion, use your description to further explain your Headline 1/ 2. Talk more about your Product, Company, Your USP and Promise (which is written at headline 1/2). 
I don't believe you need to spend a lot of time writing Description. To be honest, as I have mentioned earlier, not many people will study, if not read, your description lines. Of course, if you have abundant/unlimited time doing one SEM account, then you are more than welcome to craft your description word by word. However, if you don't have enough time, No need to customize Description for each ad group. Make some generic descriptions that can be easily applied to different Ad Groups/ Campaigns.
Worth to Mention, Due to space limit, your ads may show up without description 2. So Don't put important information into Description 2.
See it as "Better to Have".
Secret to Rock your Google Text Ads
With our experience, the headline is the most important element in a Text Ad. The reason is based on multiple research,  about 80% of the people only read the headline whereas only 20% of the people will explore further by reading your description. For Effort-effectiveness, you need to laser-focus on writing an eye-catching Google Headline in order to immediately arouse their interest from your potential audience.
I would suggest spending 70% of your efforts in coming up with headlines that can attract your potential customers. Headlines are the first and foremost factor that would attract your customer. There's no other alternative…
However, writing a good headline takes effort and it is not an easy task. The bottom line is you have to be super familiar with your business, knowing the pain point of your customers and the unique selling point of your products. Assume you know all this, you probably have a lot of innovative thoughts crawling your mind to come up with a better headline. However, you only have 30 characters (Headline Limit) to realize your creativity.
4 Directions To Rock Your Google Ads Headline
Now that you finally understand the importance of the different headlines as well as display URL and description, it is your time to understand how you can rock your Google Ads headline entirely…
Direction 1 – Ask A Question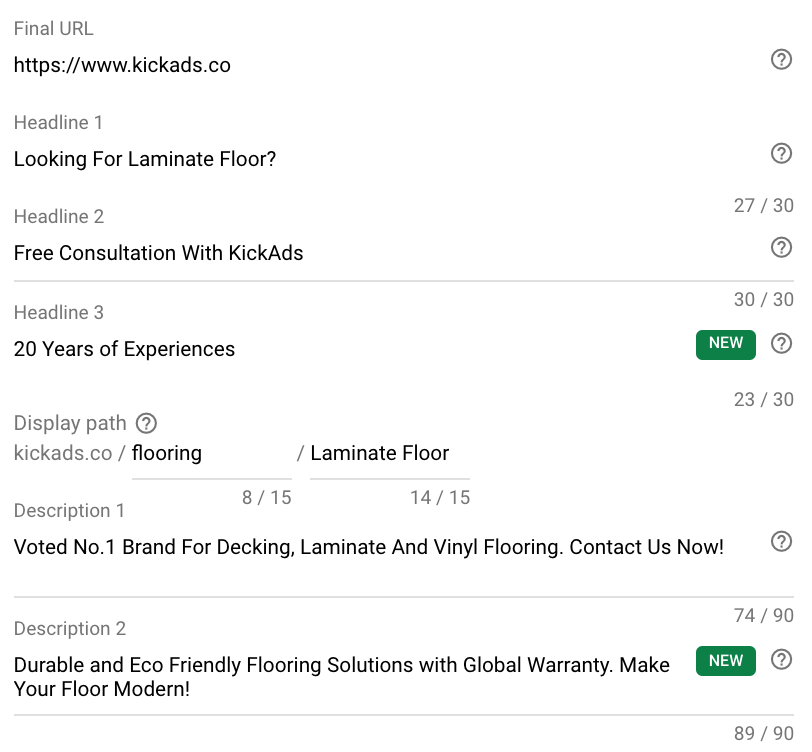 Is there any other interesting way to attract your customers in? You definitely know that your customers face a lot of problems and look for some solutions to those problems. So why not address it to them? Okay! Confused?
Let's just come up with an example…
Suppose that you are a person who's constantly trying to come up with a solution to their computer virus problem? How would you address them in your first headline? This is your first and biggest chance to lure them in. What would you think?
What about, "Is your Computer Secured?" instead of 'Best Antivirus Software'. You may address the problems that are faced by the people and promise to offer them a solution?
Direction 2 – Objection Handling
People hate hidden fees or tricks and it would definitely decrease their interest to engage with you. By showing them a "NO" is a great idea to comfort your customers that nothing tricky will be occured. People will be more convinced if they are managed to get the answers of their worries once they get in touch with your ads. Let's check the example below:

How can you define this headline to be different from others? Comparing "No Tech Skill Needed" vs "Suitable for Beginner", obviously "no tech skill needed" is giving more confidence for Beginners in this case. The leading factor that makes this headline more attractive is handling their objection – "No xxxxx"
Some other examples that we could potentially come up with are
No Extra Charges

Without Handling Fee

Definitely No Delivery Fee

Absolutely No Hidden Cost or Charges

What kind of Objection you encounter most? No One should Know it Better than you do!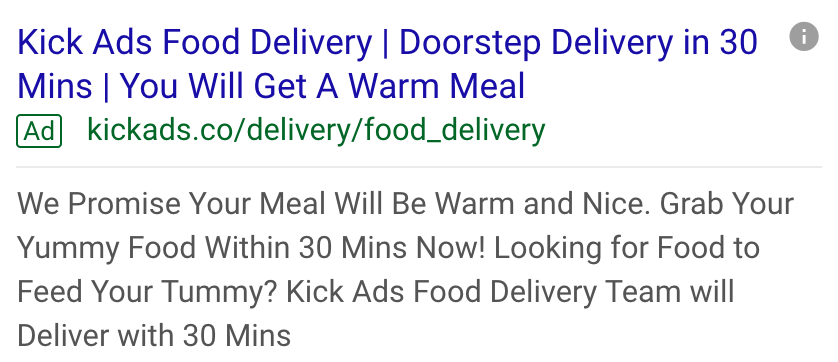 Direction 3 – Numbers: A Great Invention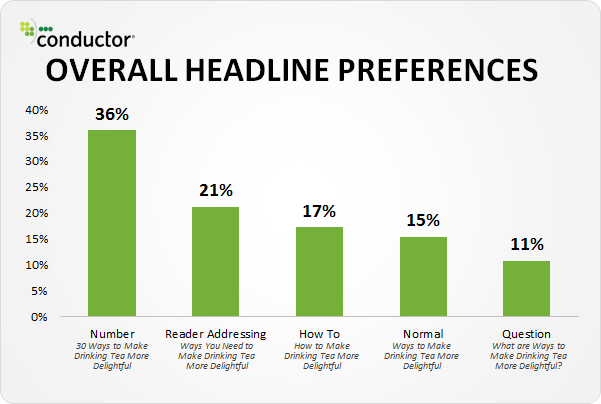 Everybody likes numbers. Who doesn't want to get their problems solved? What if you offer that their problems can be solved in "X" amount of days?
Did you just check out the graph? Are you now able to take a better look at things? People are just attracted to numbers and obviously showing numbers in headline is a smart way for you to outstanding others.
Consider this as an example :
Simply analyze both the headlines and guess which could generate more clicks. "How to Lose Weight in 30 Days?" vs "How to Lose Weight?"
It was revealed in a Google Ads Test that using a numbered headline increases the CTR by 217% and improves the conversion rate by 23%. Number introduces simplicity to your headlines. They can be used to make a high impact.
Direction 4 – Highlight your USP
Okay! First of all, USP stands for Unique Selling Proposition. Are you able to figure out what I am trying to capitalize on? Just Ask Yourself, " What's So Unique about my business?" How is your business so different from the others? How can you figure it out?
When you understand your uniqueness, you will be able to see things more clearly as well. You will be able to come up with more ideas about your headline. A lot of thoughts would be crawling up your mind.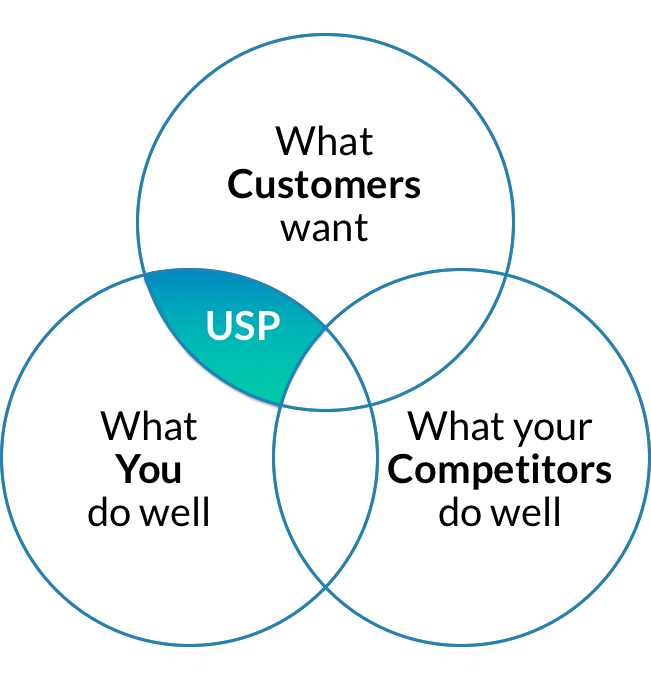 Allow me to put forward some examples to put your mind in motion. The USP for a delivery company could be "30-minutes delivery till your doorstep". Loan company might have a "instant approval in 15 mins, wire transfer in 20 mins" USP while a digital marketing company might possibly have "no contract" as USP. I wonder what your USP is?
3 Tips to write up a super effective Ad
We just talked about the Four Directions to create your headline so you can rock your headline in an effective and quick way. In the following, I would like to share 3 Tips to create Ads so it can lift your Ads Performance.
Tip 1 : Create "Relevant" Ads
Do you remember as I have mentioned earlier, if you have structured your campaign well, it should be easy to spot out your highlighted keywords at each ad Group? Try to insert your keywords into your Text ads to make your ads looks relevant.
Let me make an example



If your keyword is "flower delivery", I suggest putting your keywords at either headline 1 or headline 2. Put it at your display URL (either path 1 or path 2) and Insert once into your Description.
You may ask if more frequently I insert those keywords into the ads, the more relevant the ads will be?
Please don't do that. In the end, you need to insert it in a reasonable way as it is for a human to read, so you should not abuse this tips otherwise your clickthrough rate will be sacrificed

Tip 2 : Call-To-Action!
I wouldn't say that Call-to-Action is a hidden secret, but it is something many tend to overlook. When you have finally located the client's issue, eliminate the issue, push forward your own USP yet neglect to let your clients know what his next move should be. If it's the B2B industry, you should ask him to look it up immediately. It it's an online store, ask him to purchase right away. If it's a seminar, tell him to sign up that instant. If it's a lead generation, request him to download it swiftly. Insert some time-sensitive offers to create a sense of urgency.

Some Call-To-Action Examples:
1. Claim Your $xxx Voucher Now!
2. Register to Enjoy Free Delivery Now!
3. Sign Up Now to Get Exclusive Deals!
4. Quote Now!

Tip 3: A/B Testing Ads
There is no PERFECT ad copy but there is always a BETTER ad copy. A/B Test your ads is a must so that you can find out the better converting and performing ad. There should be at least 2 versions of ad in each of your ad groups. By running those ads for AT LEAST 1 month, you will find out the difference between Ad A and Ad B and then you may consider to write a new Ad C with wording or writing with the tips above to . Do remember that you have to switch on the campaign setting of ad rotation and make it "Rotate Indefinitely" so that system will rotate 2 versions of ads. So in short, 2 Ad Copies, Compare After 1 Month, Pause the worse one and Write a Better One!
Hope the above-mentioned Tips could escalate your Google Ads Performance to next Level. Thanks!