In the first half of the year, Google announced several updates to advertising campaigns. Now, the update for bidding strategy and keyword matching is finally about to be implemented. Target CPA and Target ROAS in the smart bidding strategy will be removed and their functions will be integrated into other strategies. The Broad Match Modifier(BMM) for keyword matching type is also officially gone. Besides, to combat repeated violations of advertising policies, Google announced in the past month (July) that it will initially test a new "strike" system. Have you reviewed your Google advertising account to make adjustments in response to these changes? Let us walk you through them one by one!
Google Ads Updates 1:
Remove Target CPA and Target ROAS
According to Google's announcement in April this year, the smart bidding strategy for Target CPA and Target ROAS will be removed and its functions will be integrated into other bidding strategies. Starting in the next few weeks, advertisers will not be able to select the above two bidding strategies to create new search campaigns, but the existing Target CPA and Target ROAS campaigns will continue to operate as usual until Google switches to the new format in 2022.
Updated Bidding Strategies
Now, when you create a new bidding strategy for a search campaign, the following options will appear:
You can choose to set "Target CPA" when using the "Maximize Conversions" strategy
You can choose to set "Target ROAS" when using the "Maximize Conversion Value" strategy

Source: support.google.com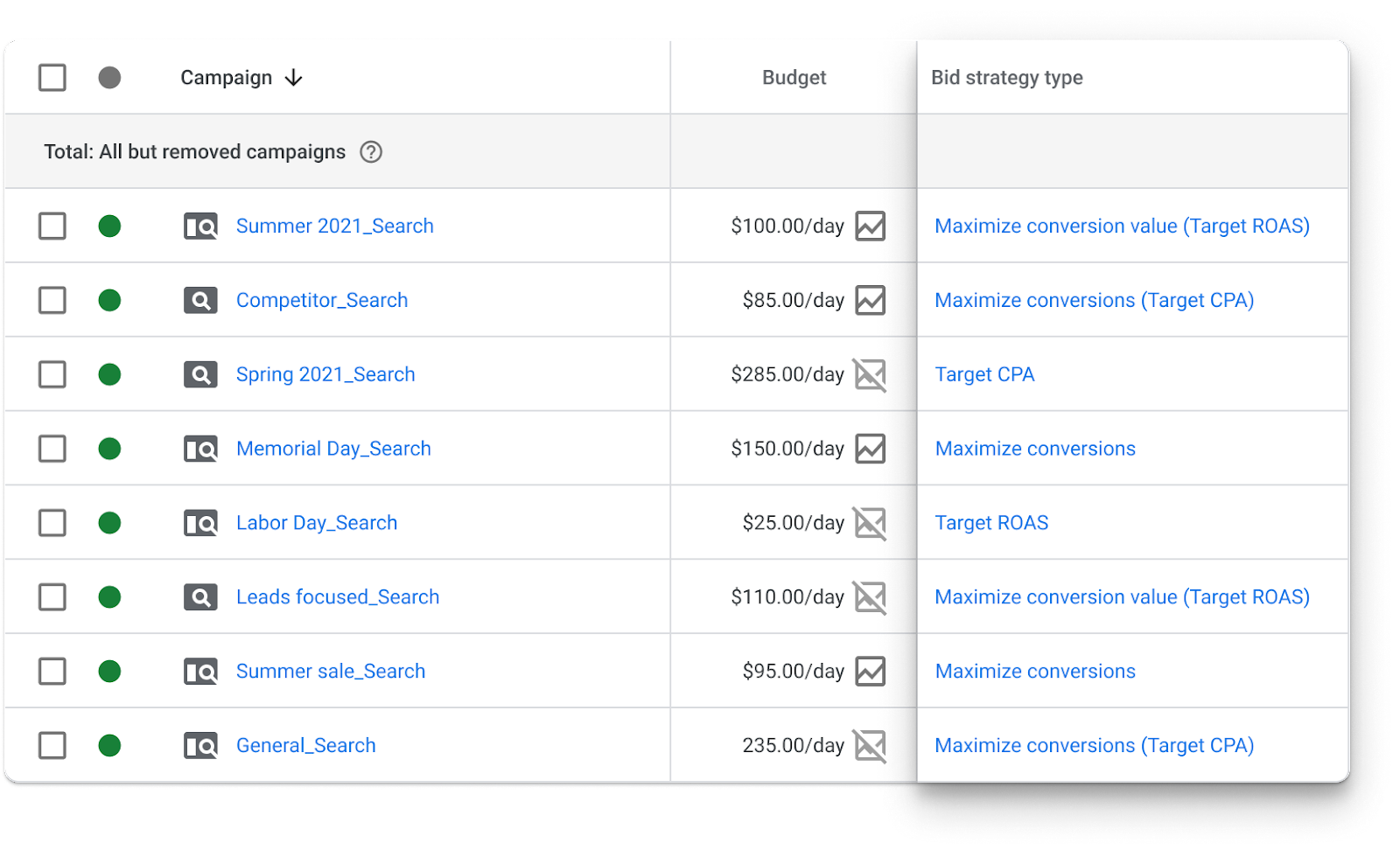 Source: support.google.com
Google stated that this update has no effect on the way that bidding works. The bidding behavior using Maximize Conversions (Target CPA) is the same as the previous Target CPA. Similarly, the bidding behavior using Maximize Conversion Value (Target ROAS) is the same as the previous Target ROAS.
Although this change does not have a significant impact on advertisers, it just means that they need to use other settings to achieve their goals, advertisers should also check whether the account is properly set up and understand how various bidding strategies work, so they are able to select and optimize the most efficient strategy for their goal.
Google Ads Updates 2:


Sunset of Broad Match Modifier
Remember the big change in Google keyword matching type that Google announced in February this year? The previous keyword matching types will be reduced from four to three, Broad Match Modifier will be deleted, and Phrase Match will also be updated to include BMM matching behavior. Now the transition period is over, advertisers can no longer create new BMM keywords, but they can still edit the original BMM keyword attributes, such as status or bid. But if you want to modify the text of a keyword, you need to change the keyword matching type to Phrase Match first.
Converting Process
When a BMM keyword is converted, it will be removed, then a new keyword will be created in the specified match type, and the keyword statistics will also start from the beginning. However, advertisers can still view the performance metrics of your removed BMM keyword in the interface for reference.
To make it easier to manage your account in the future, Google recommends that you integrate and switch duplicate keywords to different match types. You can check the "Suggestions" page of Google Ads Manager. If a keyword also exists in the same ad group through Phrase Match, the "Remove redundant keywords" recommendation will be displayed on the page. At the same time, in order to facilitate your conversion of BMM keywords to other matching types, different solutions have been added in Google Ads and Google Ads Editor. For details, please check out the FAQ section here!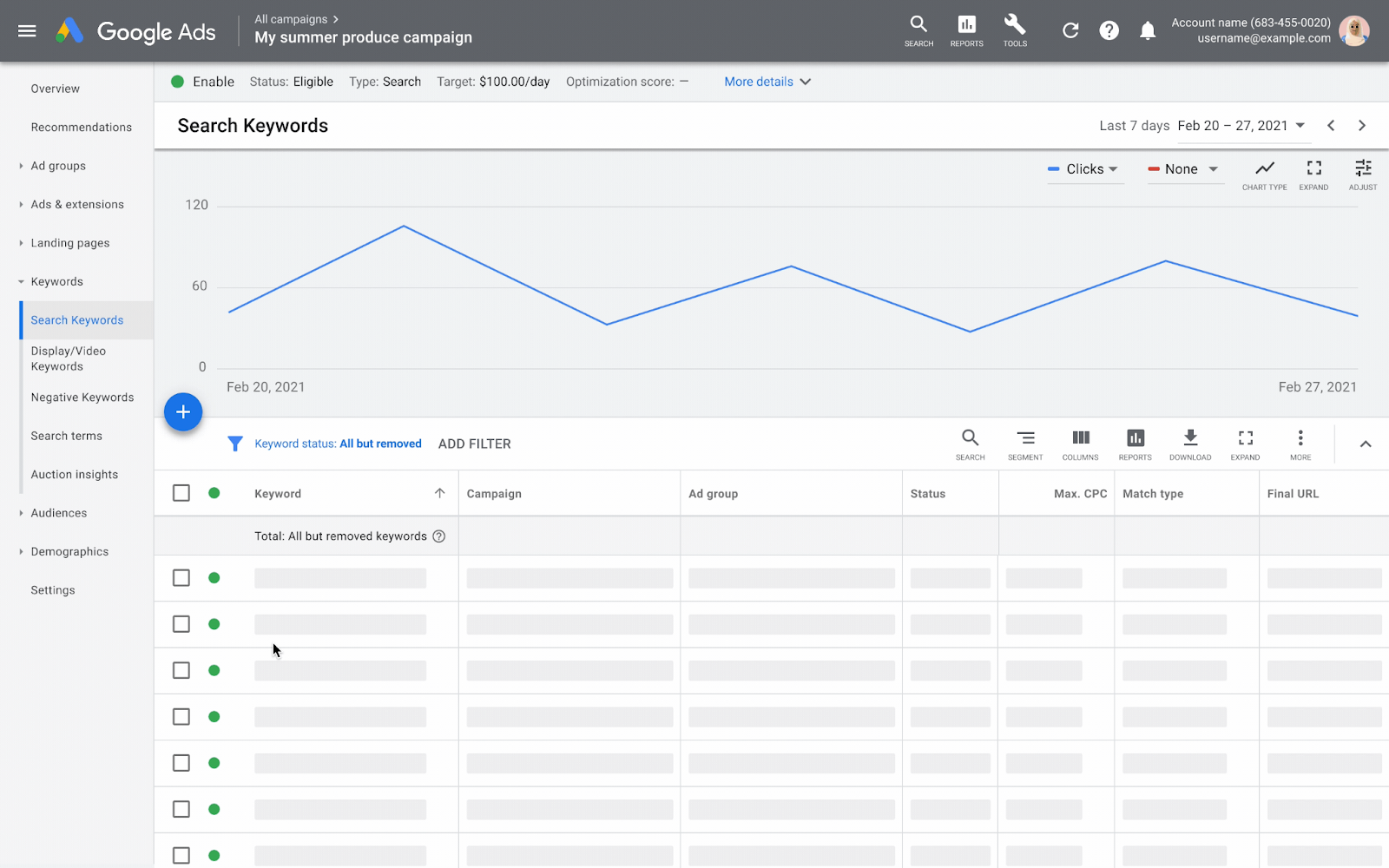 Source: support.google.com
If you have not organized your keywords in response to the new matching type, I suggest you act as soon as possible in order to start collecting new keyword statistics for analysis, monitor the performance of your ads, and make adjustments in response to changes in traffic. At the same time, regularly reviewing the suggestions for "new keywords" can help you maintain keyword coverage.
Google Ads Updates 3:
Three-strikes system

Google issued an announcement last month (July), in order to provide a reliable advertising experience to users and advertisers, Google has introduced a new 'strikes' system, and is about to conduct a preliminary test implementation by suspending advertising accounts with repeat violations to combat behaviors that go against the policies.
The news of the "strikes" system has worried advertisers as Google has mistakenly labeled advertising content as a policy violation before. Advertisers are worried about whether their accounts will be suspended due to these system errors. However, Google has also set out some checks and balances to ensure that only accounts that actually violate the policy will be punished.
The new system will start testing in September, so far the current plan is only being applied to the following three categories: "Enabling Dishonest Behaviour", "Unapproved Substances", and "Dangerous Products or Services". Any advertisers who violate the above policies will receive warnings and strikes. In fact, these kinds of adverts have always been banned, but the current method will increase penalties with each strike applied.
However, if the system detects egregious violations, such as creating new accounts to bypass multiple strikes, phishing, or misrepresentation etc., the account will be immediately suspended.
How does the "Strikes" system work?
To put it simply, when an ad account receives a warning, the ad will be removed. When an ad account violates the same policy again within 90 days of receiving the warning, it will receive the first strike and the account will be suspended for 3 days. Then, if you violate the policy again within 90 days after the first strike, you will receive a second strike, and your account will be suspended for 7 days. If you violate the policy again within 90 days, you will face a third strike and the account will be suspended. Strikes will only be kept for 90 days, if there are no other violations on the account, it will be considered as in good standing.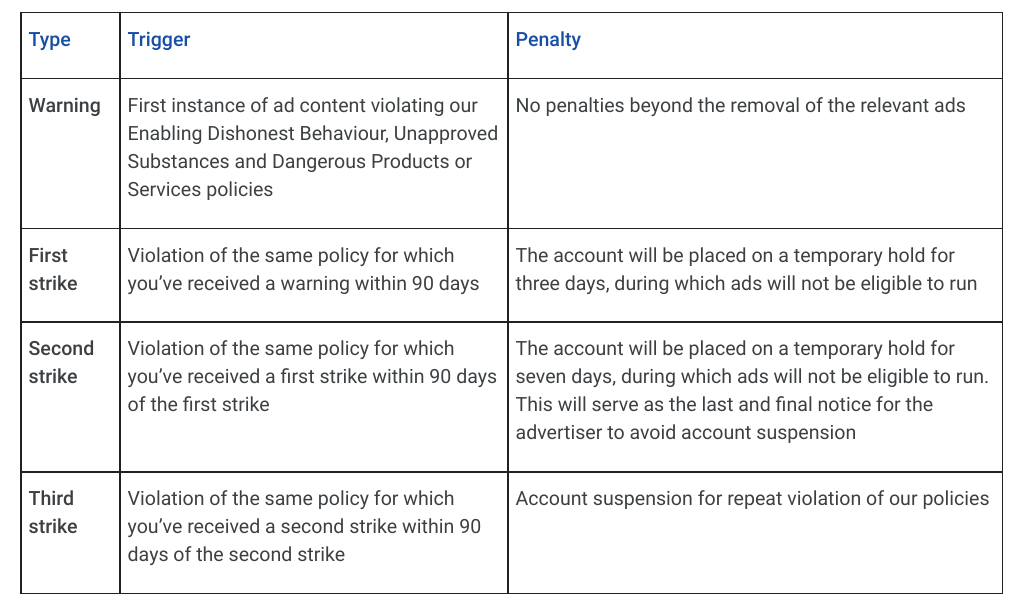 Source: support.google.com
Please keep in mind that advertisers can still appeal any policy enforcement decision. If any strike is successfully appealed as incorrectly marked as a violation, the strike will be deleted and will not be counted.