Several Google ads updates have been released last month, including the cryptocurrency advertising policies, push back the plan on eliminating third-party cookies in Chrome, and the image ad extensions feature of the Google ads. Let us walk through these updates one by one together with you!
Google Ads Updates 1:
Cryptocurrency Ad Policies
Regardless of whether it is on Google or social media platforms, it has not been easy to place cryptocurrency ads. As early as the beginning of 2018, Google even strictly banned every ads related to Crypto. Although Google had rolled back its policy to allow crypto exchanges to become Google-certified advertisers in the later of the same year, it was only limited on the platform for the U.S. and Japanese markets.
In recent years, the upsurge of cryptocurrencies such as Bitcoin and Ethereum has revived, and it has become widely accepted around the world. Google has announced in June 2021 that the cryptocurrency advertising policies will be updated from August 3 this year, clearly specifying the scope and requirements of the ads related business and services. The advertisers of the cryptocurrency exchanges and wallets targeting the United States must meet the new requirements and obtain a new certification before you can place your ads on Google.
New Policies Updates
According to Google's new policy, advertisers must meet the following conditions:
Be duly registered with
(a) FinCEN as a Money Services Business and with at least one state as a money transmitter; or


(b) a federal or state-chartered bank entity.

Comply with relevant legal requirements, including any local legal requirements, whether at a state or federal level.

Ensure their ads and landing pages comply with all Google Ads policies
Restrictions on the advertisements still exist under the new policy. There are certain types of ads are still prohibited, including "initial coin offerings (ICO), DeFi trading protocols or otherwise promoting the purchase, sale or trade of cryptocurrencies or related products" , such as celebrity endorsements, unhosted wallets, unregulated DApps etc.; and "cryptocurrency trading signals, cryptocurrency investment advice, gatherings or affiliate websites containing relevant content/comments".
Any previously approved cryptocurrency exchange certifications will be revoked on August 3, and the new certification application form will be published on July 8, 2021. If you are a cryptocurrency advertiser, don't forget to apply the new certification to prevent your ads from being removed by Google.
Google Ads Updates 2:
Delayed Third-party cookies plan
In early 2020, Google announced that the third-party cookies function in Chrome will be eliminated by 2022. A new technology, which is based on the Privacy Sandbox framework, will be developed to replace the tracking behavior, and to protect users' privacy on the Internet. However, taking the needs of the entire advertising ecosystem into account, Google has announced the plan to eliminate third-party cookies will be postponed to the late 2023.
Vinay Goel, Privacy Engineering Director with Chrome, said in the announcement that even though the plan has made considerable progress, it is obvious that the entire advertising ecosystem needs more time for adaptation, in order to achieve the goal.
Many advertisers worried that eliminating third-party cookies and the Google privacy program will affect their metrics and customers. Therefore, the extension provides more time for them to prepare and make adjustments for this significant change.
In the process of technological development to eliminate third-party cookies, Google has always allowed the public and regulatory agencies to participate in different stages and have a say, including extensive discussions in forums to increase participation, and listen to the social feedback from the network in rigorous testing to enhance transparency. Once the development process is complete, the technology will be enabled in Chrome and ready to be used on a large scale across the network.
Updated timetable
According to the cooperation between Google and the UK Competition and Market Authority (CMA), after the development process, the phasing out of the support for third-party cookies is divided into two stages:
Phase 1 (from the end of 2022): Once the test is completed and the API is launched in Chrome, advertisers will have time to migrate their services. This phase is expected to last for nine months. Before entering the second stage, Google will also carefully monitor the situation of adoption and understand industry feedback.
Phase 2 (starting from the middle of 2023): Chrome will phase out the support for third-party cookies in the next three months, which will be completely over at the end of 2023.
During this period, advertisers can develop some technical solutions for the adjustment when Cookies are eliminated. For example, extract data from other sources, and formulate strategies for collecting first-party data such as membership/reward programs to build their own customers database,and reduce the impact of eliminating third-party cookies.
Google Ads Updates 3:
Rolling out Image Extensions in Google Ads
I believe if you have read our articles before or you are using Google search ads (SEM), you must have heard of Google Ads Extensions. It allows you to provide more detailed information to your audience and make your ads more eye-catching.
Recently, Google ads image extensions have been fully launched. Advertisers can create more visually attractive search, shopping and display ads, and make use of elements other than the ad text could arouse the potential customers' interest in buying.
Image Extensions
The image extensions allows advertisers to upload images related to keywords and existing campaigns into existing text ads. It helps to enhance the performance of the text ads by compelling the ad message with visuals of products or services.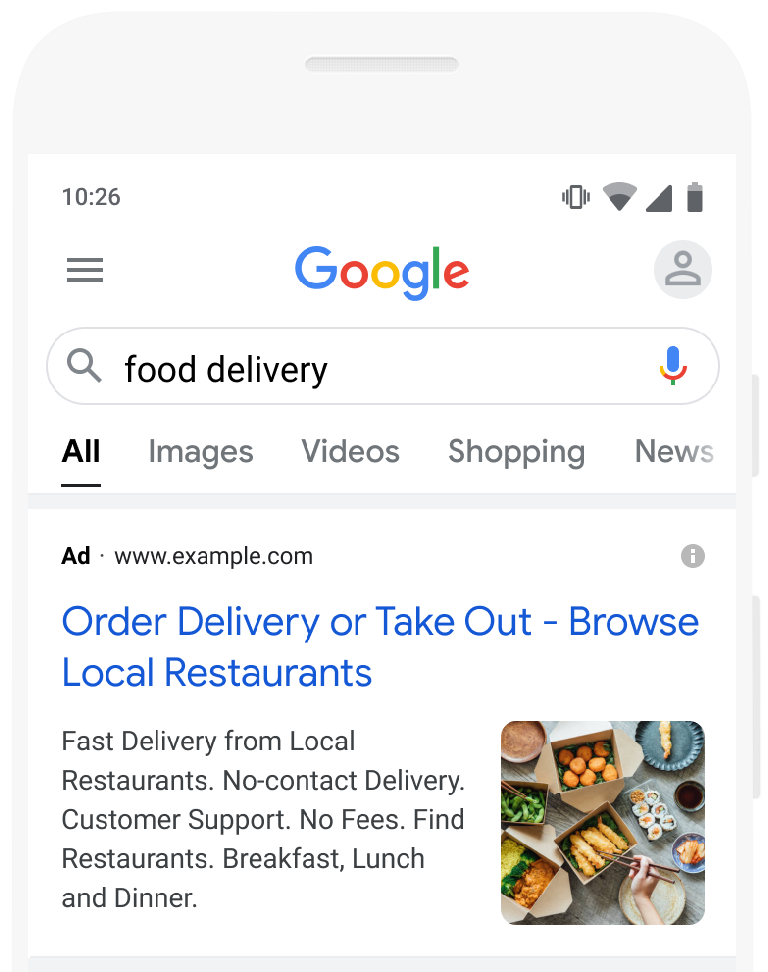 Source: support.google.com
Dynamic Image Extensions
At the same time, Dynamic Image Extensions, an automated extension is also available. Google will automatically select relevant visual content from the landing page of your ad to accompany your existing search ad. You can't miss this feature if you are running dynamic search ads (DSA).
For more details about the specifications and restrictions of image extensions, you can check on this!