Google Analytics 4 (GA4) Essential Guide
"For the first time ever, Google Analytics is rebuilding the backend and the front end of Google Analytics," says Charles Farina, Head of Innovation at Adswerve.
Google has announced Google Analytics 4 (GA4) recently, a new and improved analytics tool. It is considered as the new default version of its data collection and web traffic analysis software. And it's aimed to fulfill the need for better use of analytics by evolving the tool along with shifts in consumer behavior.
Why is it called GA4? The answer may sound a bit stupid, since it is the 4th Version, it is called GA4 then.
In case you want to know what the previous three versions are, following are the other three versions:
The first version of Google Analytics (GA1) is the classic Google Analytics
The Second Version(GA2) is the Universal Analytics
The Third Version (GA3) is the gtag.js Javascript Library
If you want to know the difference among GA1, GA2 and GA3, You can check the following Article: What's the difference between Google Analytics and Universal Analytics?
Similar to GA3, GA4 also uses the gtag.js library. However it adopts a new measurement model which is more User/ Event – Centric.
If you have no idea what Google Analytics is, Stop Reading Here and check our <<Essential Guide for Beginner's to be a Pro at Google Analytics>>. Otherwise, it will waste your time.
There are a lot of new things in GA4, but the most important one is …..

In the past, If you wanted to collect or track your website data , you needed to create a GA Property to measure one website Performance.
Let say you run an eCommerce business which has a website and app, if you want to measure your mobile app usage data then you would need to use Firebase or Google Analytics App Property to collect data. There was no easy way to combine mobile app and website usage data for unified reporting and analysis.
However, this has all changed with GA4 Property coming into the market. You can have a better picture on how your audiences interact with your business across different channels and platforms. Let me explain further in the next part.
Advantages of using the GA4
1. Cross-platform & Cross-device tracking provide accurate reporting view on unique users 
GA4 can combine website and mobile app usage data into one GA property so it enables a more powerful cross-device and cross-platform tracking. This can generate a more accurate report and insight by getting a complete picture and in-depth analysis of the customer behavior and their acquisition channels, therefore having a better understanding of your customer journey across different platforms and devices.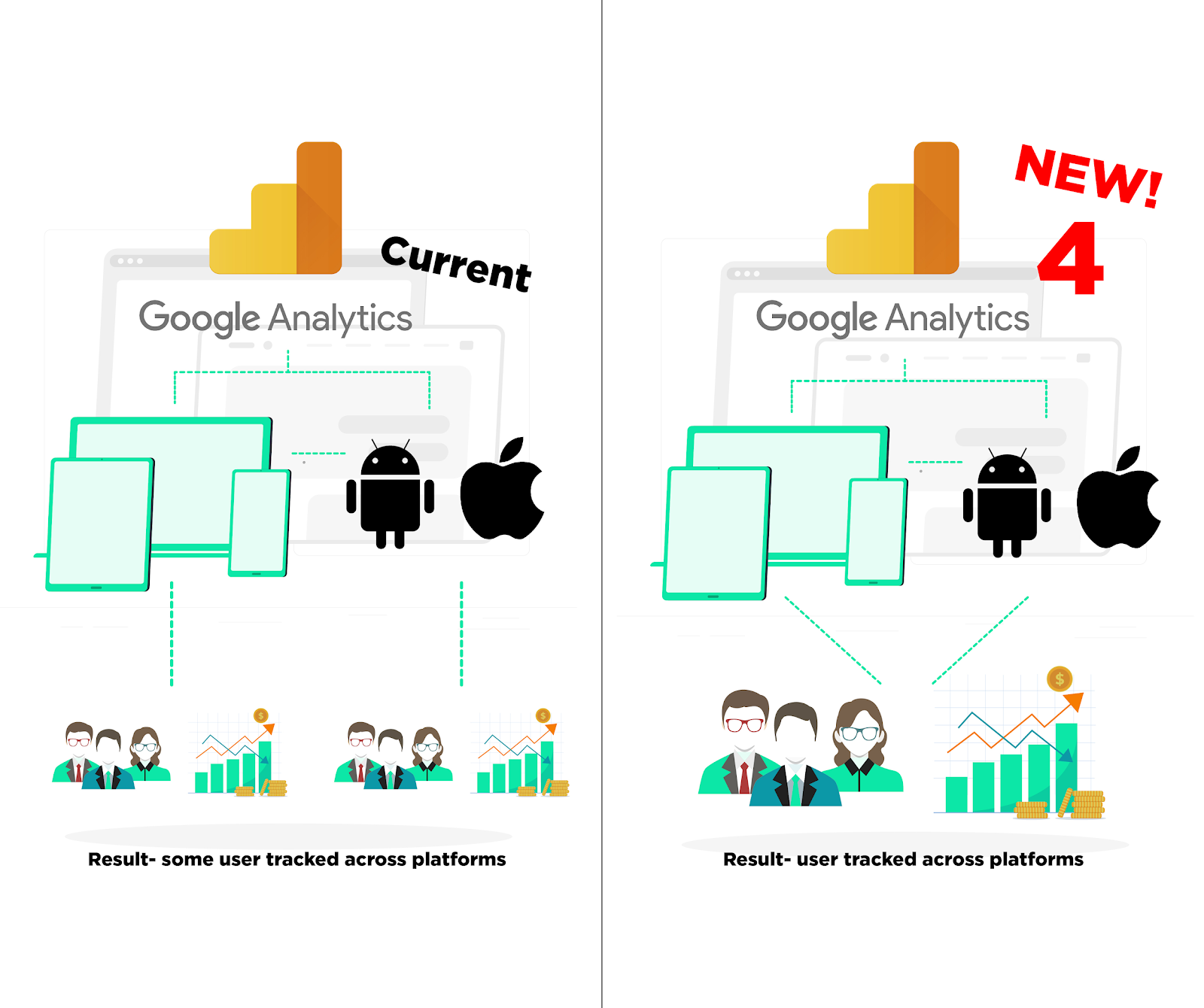 2. Advanced Analysis Reports are available to all GA users
A new set of report "Analysis" will replace the reporting view of the previous version. In GA4, you can make use of this to do a more advanced analysis which was only available for GA 360 users in the past.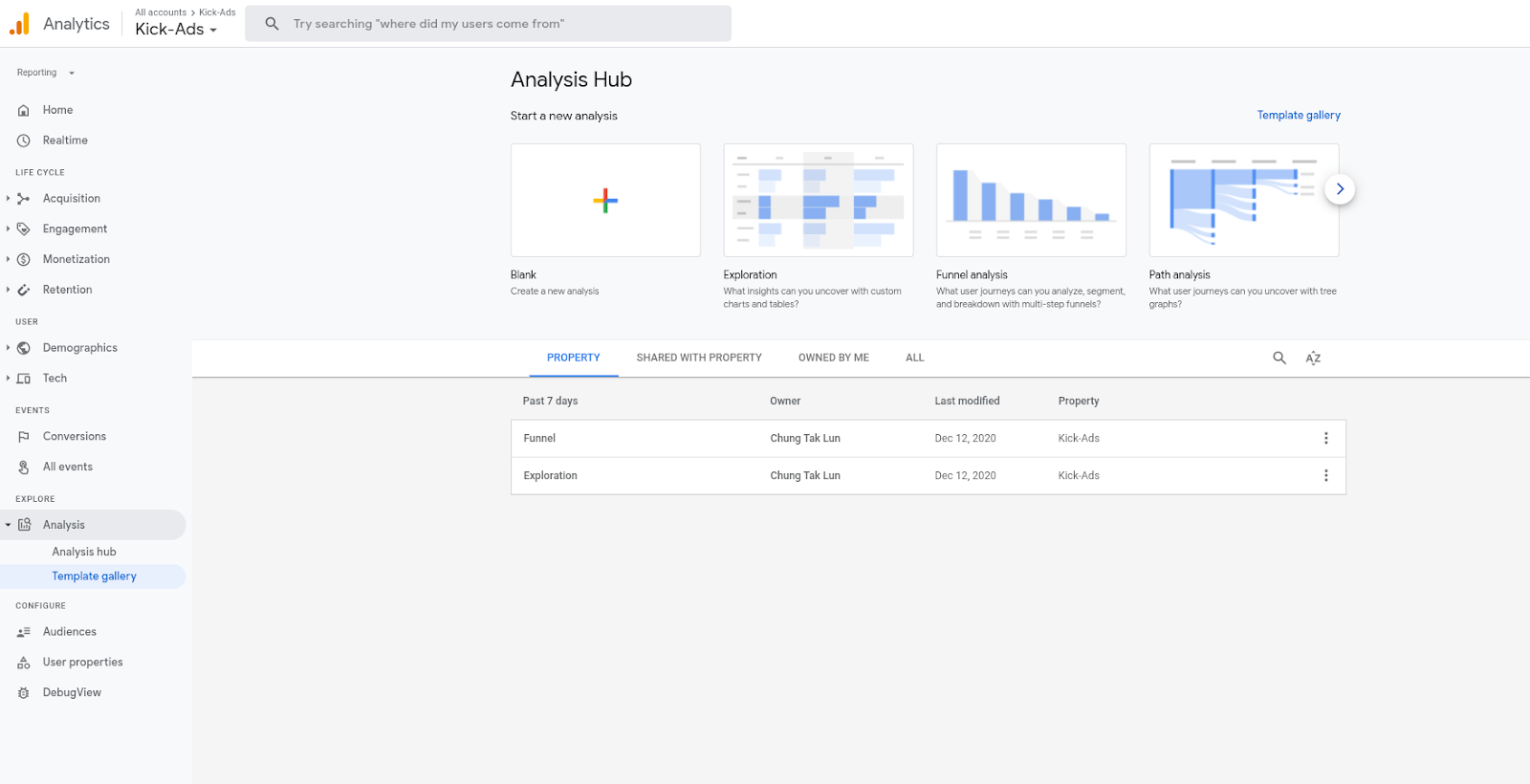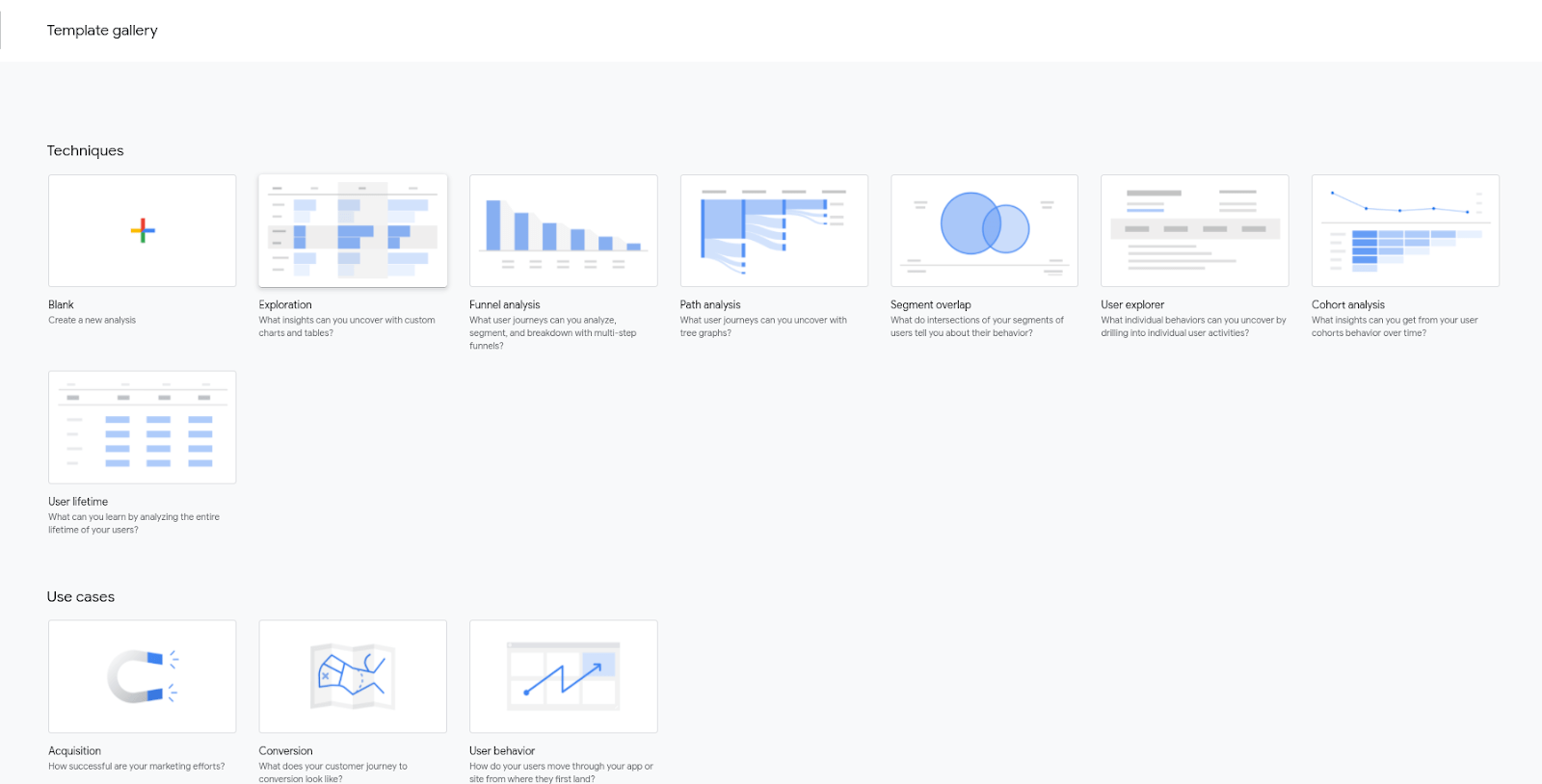 3. Free Connection to Big Query
Only GA360 users can use Big Query in the previous version of GA. But for GA4, this restriction has been removed. It means you can access the raw GA data and run SQL queries even though you are using the general GA user. To be very honest, i have never used it before, so i cannot really comment on the usefulness of this new feature.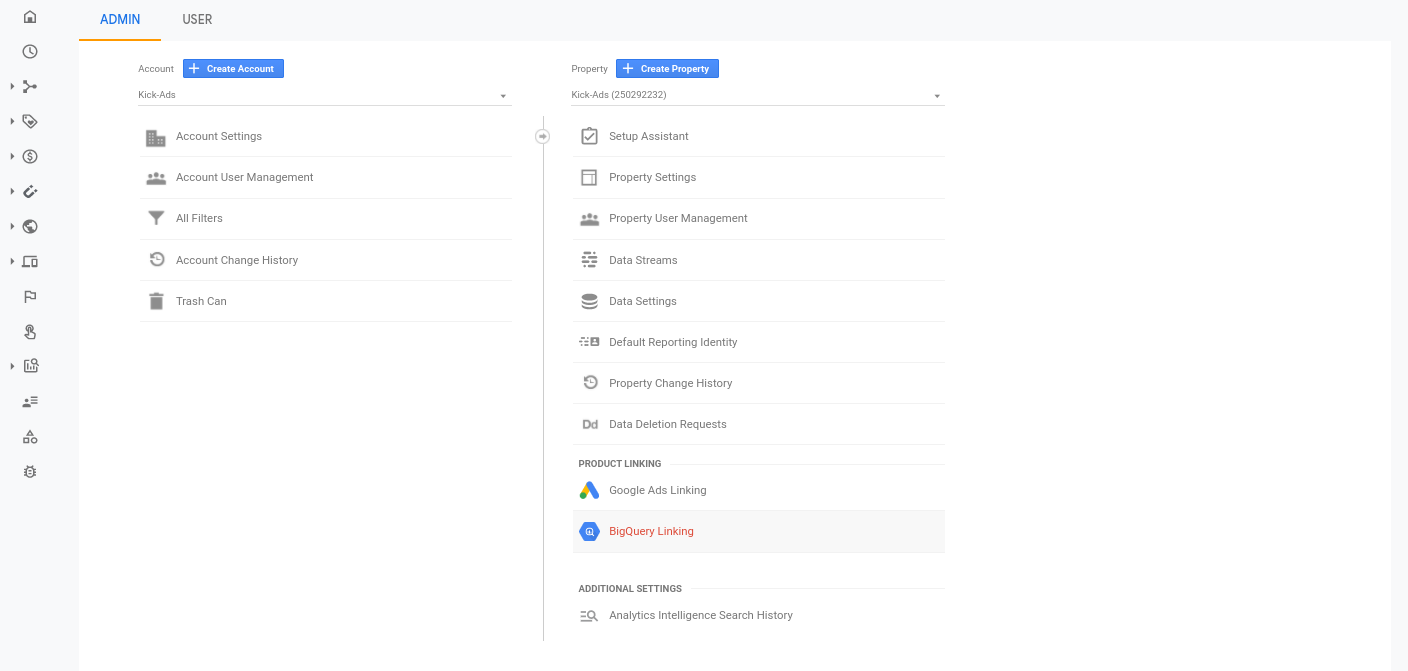 4. Automatic tracking for certain types of events
In the past, if you wanted to track button click, video engagement and page scroll, you had to set up event tracking in Google Tag Manager. With GA4, there is an "enhanced measurement" feature which allows you to track the behaviors of the users for certain types of events such as page view, video engagement, scrolls automatically without any additional coding or tagging.
5. New Set of Engagement metrics for more accurate tracking
The new set of engagement metrics includes engaged sessions, engagement rate, engaged sessions per user and engagement time. The engaged rate in GA4 has replaced the bounce rate in the previous version. It does not rely on the single page-view but the interaction time with your website/ app, at least 10 seconds. It can measure the user engagement accurately as metrics like engagement rate can easily be used across platforms.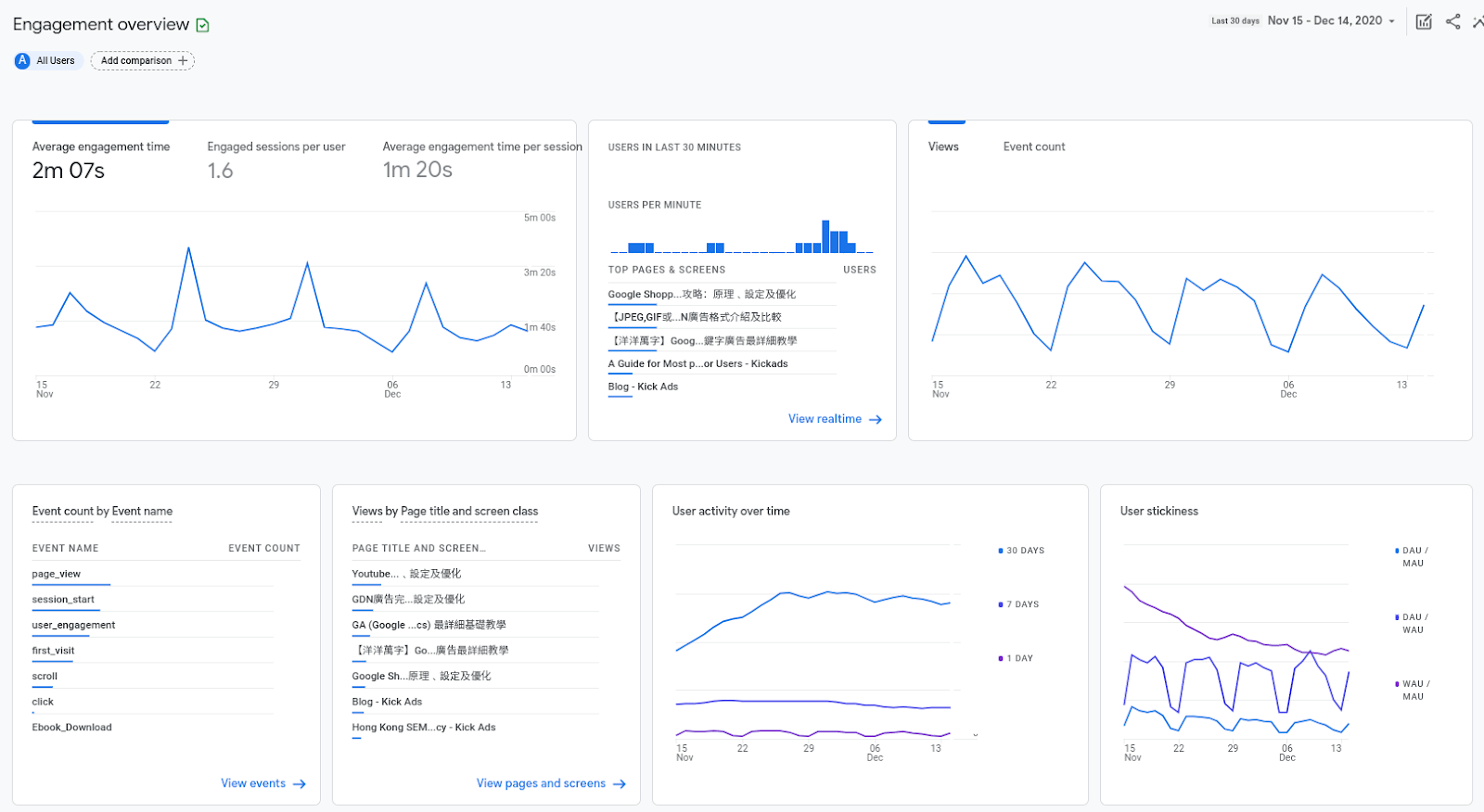 6.

AI Machine Learning (Predict Traffic and revenue for E-Commerce Websites)
GA4 relies on the powerful and useful AI and machine learning functions to predict user behavior and actions, as well as the trend of product sales and customer demand. Through collecting the data automatically, your website data such as the traffic or even revenue of E-commerce websites can also be predicted.
According to Google, they will continue to add predictive metrics. It can provide you with great insight on your business planning and the aspects you need to be aware of. It also allows you to create audiences and run analysis of a specific group of customers to define which is more likely to convert than others.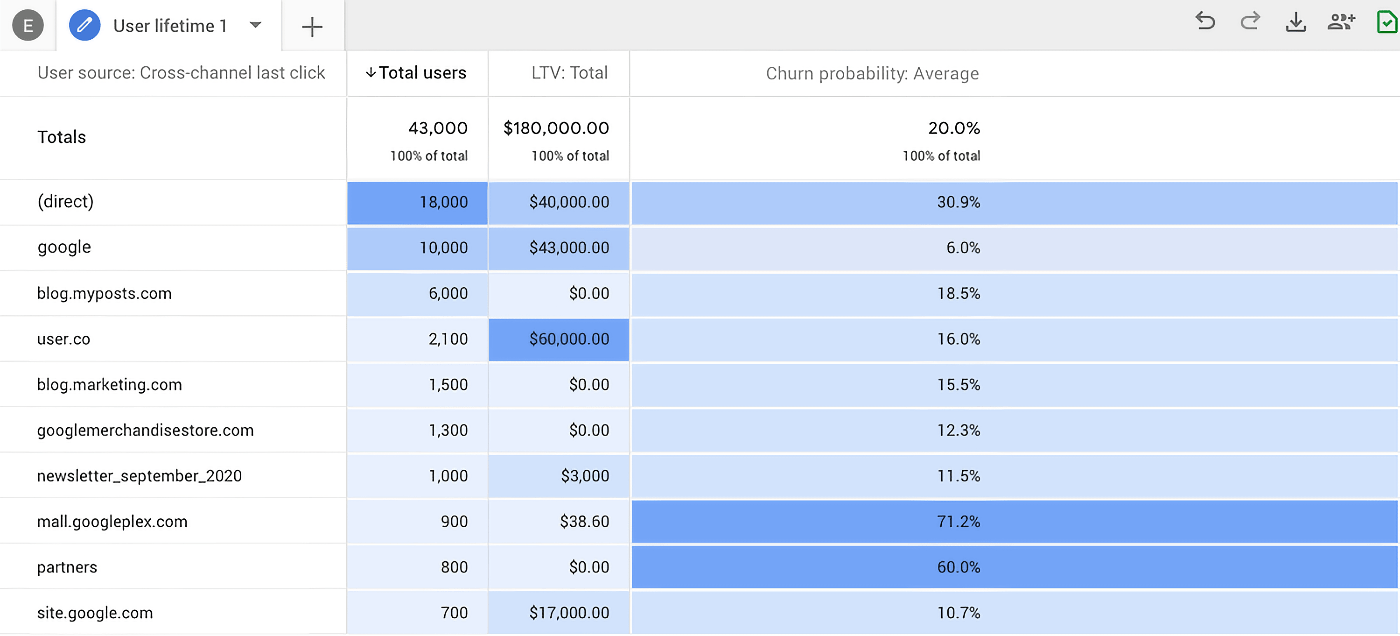 7. No Limit on the volume of data you can send
For GA3, if a property sends more hits per month to Analytics that exceeded the Analytics Terms of Service, there is no guarantee that the excess hits will be processed. A warning may be displayed in the user interface about the exceeds limit of the hit volume. In this case, you may be prevented from accessing reports.
Data collection limits that apply to all free Google Analytics accounts.
up to 10M hits total per month

200,000 hits per user per day

500 hits per session
On the Contrary, GA4 does not have any limitation on the volume of data you can send to GA4 property but there are collection and configuration limits on the number of specific events you can use.
What is Data Stream?
Data stream is a data source. If the data source is from a website, it's called a web data steam. If the data source is from a mobile app, it's called a mobile app data stream. There are 2 types of mobile data stream, IOS app data stream and Android app data stream, which indicate the data source from different operating systems.
In GA3, if you have a website, IOS App and Android App, you need to create 3 properties. But In GA4, you don't have to create 3 properties, you only need to create one and set up 3 Data Streams.
How to add Data Stream?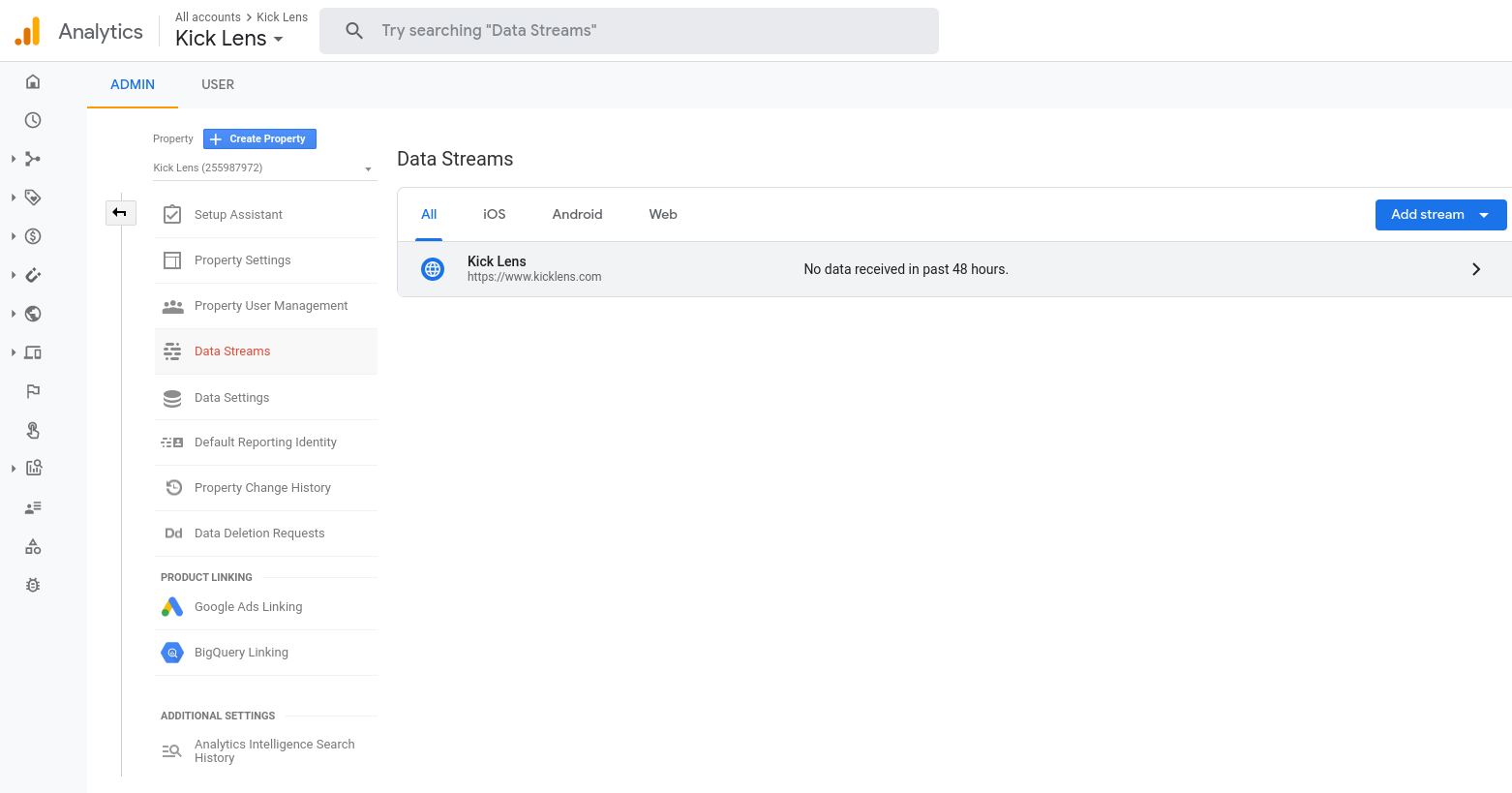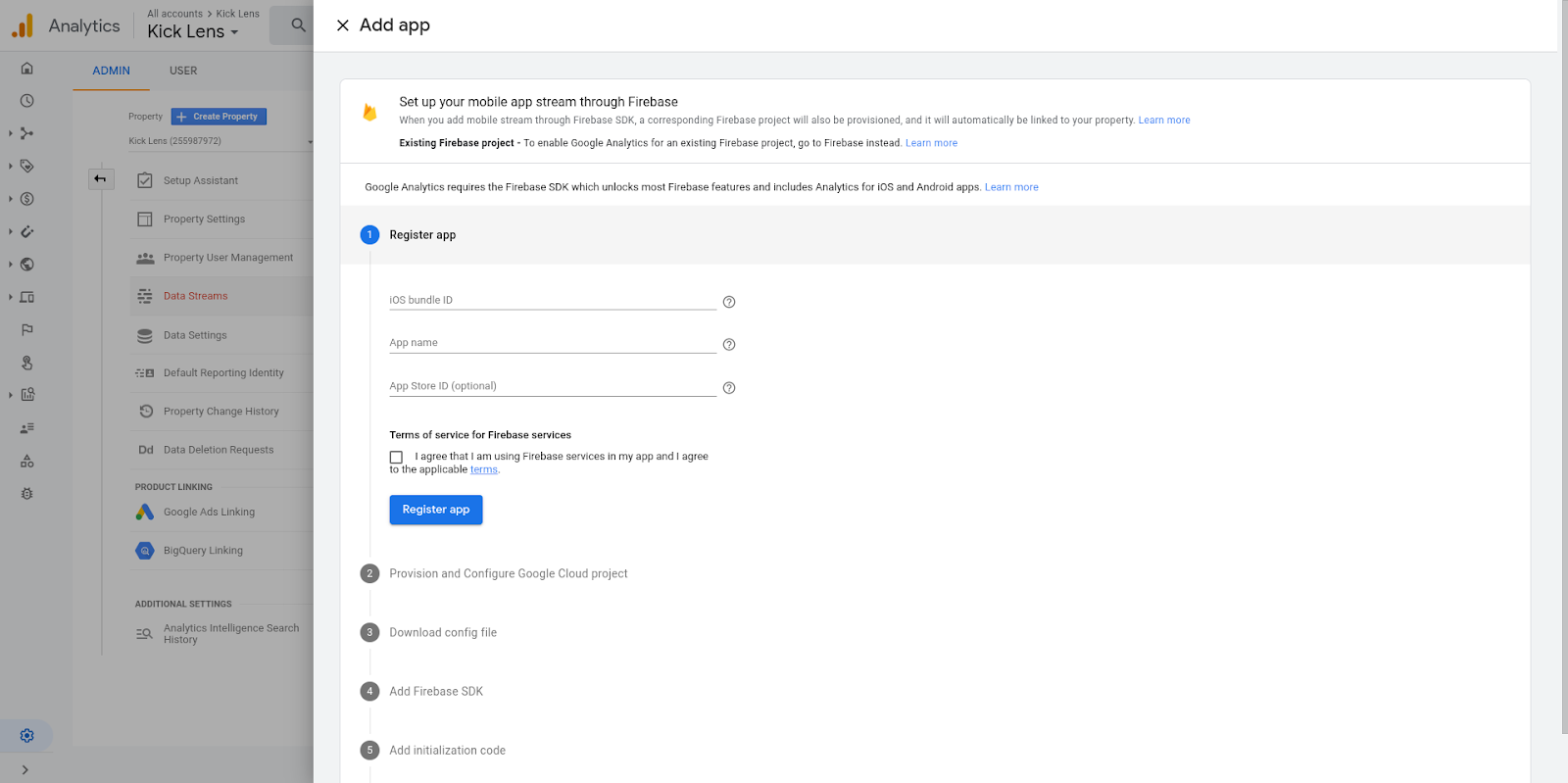 What is a Measurement ID and Event-Based Measurement Model?
For GA4, Properties use measurement ID but not a Tracking ID. Please be reminded that Each Data stream has its own measurement ID.
How to find measurement ID in GA4?
For GA4 property with a web data stream, your measurement ID begins with the character "G-".
Steps
1: Navigate to the "Admin" section of your GA4 reporting view
2: Click on "Data Stream" unde the "Property" column
3: Click on the "Web" tab
4: Click on your "Web data stream" name
You should now see your measurement ID on the top right-hand side.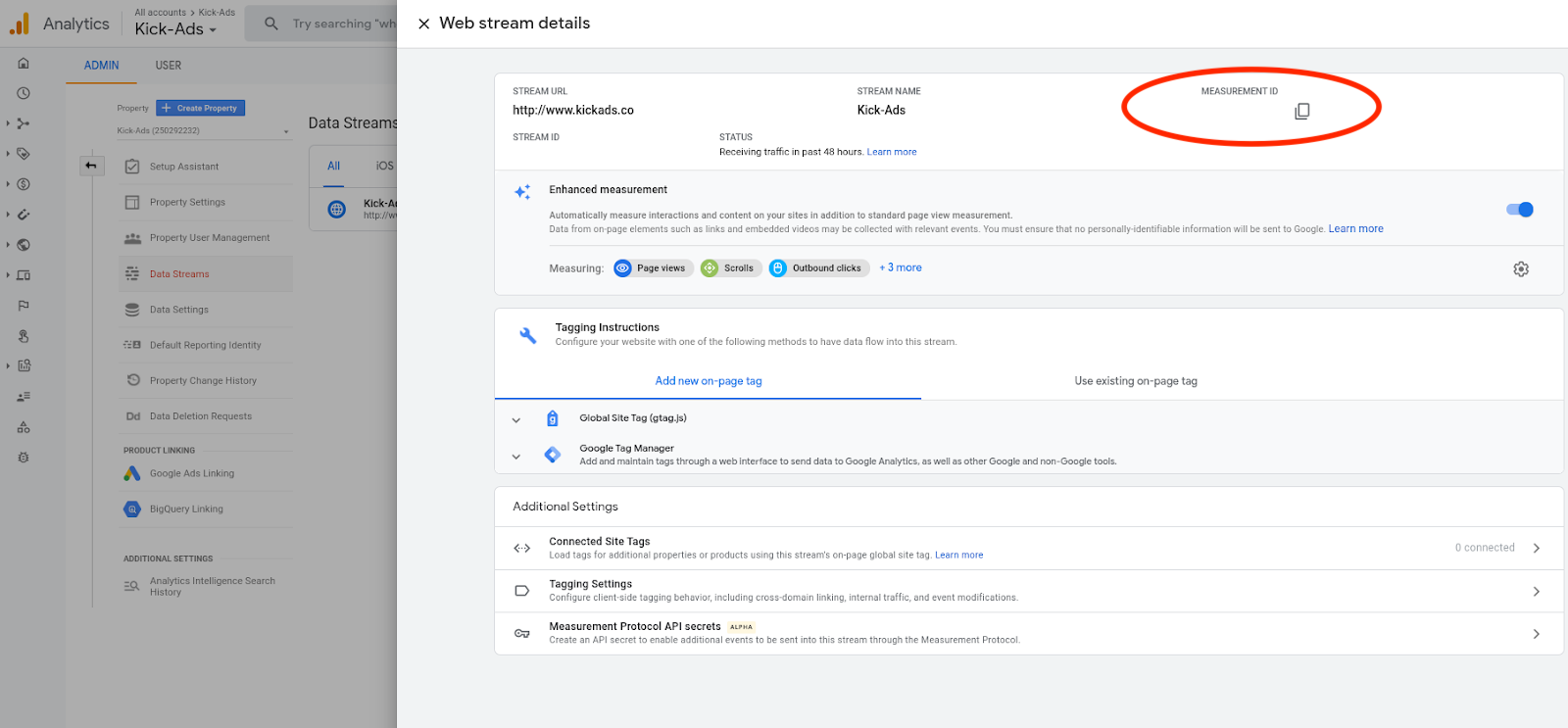 What is an Event-Based Model?

Here How 's google explain their Event-Based Model with GA4:
In GA3, events are user interactions measured independently from a web page or screen load. Downloads, link clicks, form submissions, and video plays are often measured as events. Events in Universal Analytics have a Category, Action, Label and sometimes a Value, and are displayed with these fields in your Analytics reports. In Google Analytics 4 properties, events are user interactions with a website or app that can be measured concurrently or independently from a webpage/screen load. Examples of events include page views, button clicks, user actions, and system events.
In the past, when we tried to analyze website traffic, we always focused on sessions and page views. What happens in one session? How many page views in one session? What is the average time per session? How many page views for a particular page?
With GA 4, we focus more on user behavior across different platforms and devices. How engaged the user with different screens/devices? How many events occurred for each user?
The GA4 property uses the Event Based measurement model which is way more user-centric and allows you to custom your own event and track any user activity including page views as an event.
GA4 can automate certain types of event tracking like scroll tracking, video tracking, site search tracking etc. without additional coding/tagging. It is more flexible than the traditional one as it's able to track a wider range of user interactions.The new feature of automatically measuring the users' interactions and content on your website is called "Enhanced measurement".
Limitation for GA4
1. Comparatively limited E-Commerce Data
You can collect very limited E-Commerce Data in the reporting view of your GA Property in GA4 but i believe it will be improved in the near future.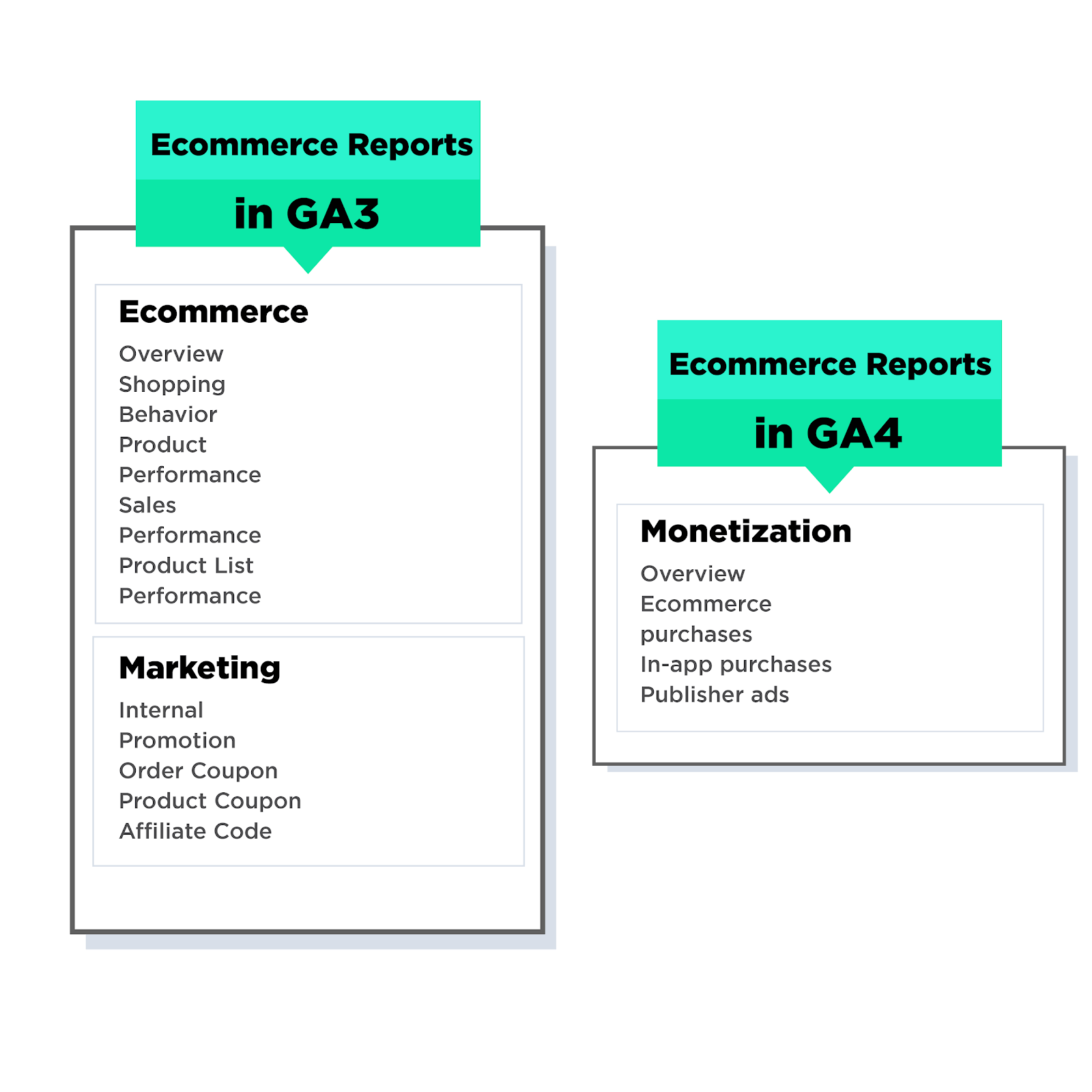 2. Little to No Data on attribution
In GA3, You can select different attribution models and you can even make a comparison with different models selected. In GA4, There are not many options and tabs related to attribution modeling.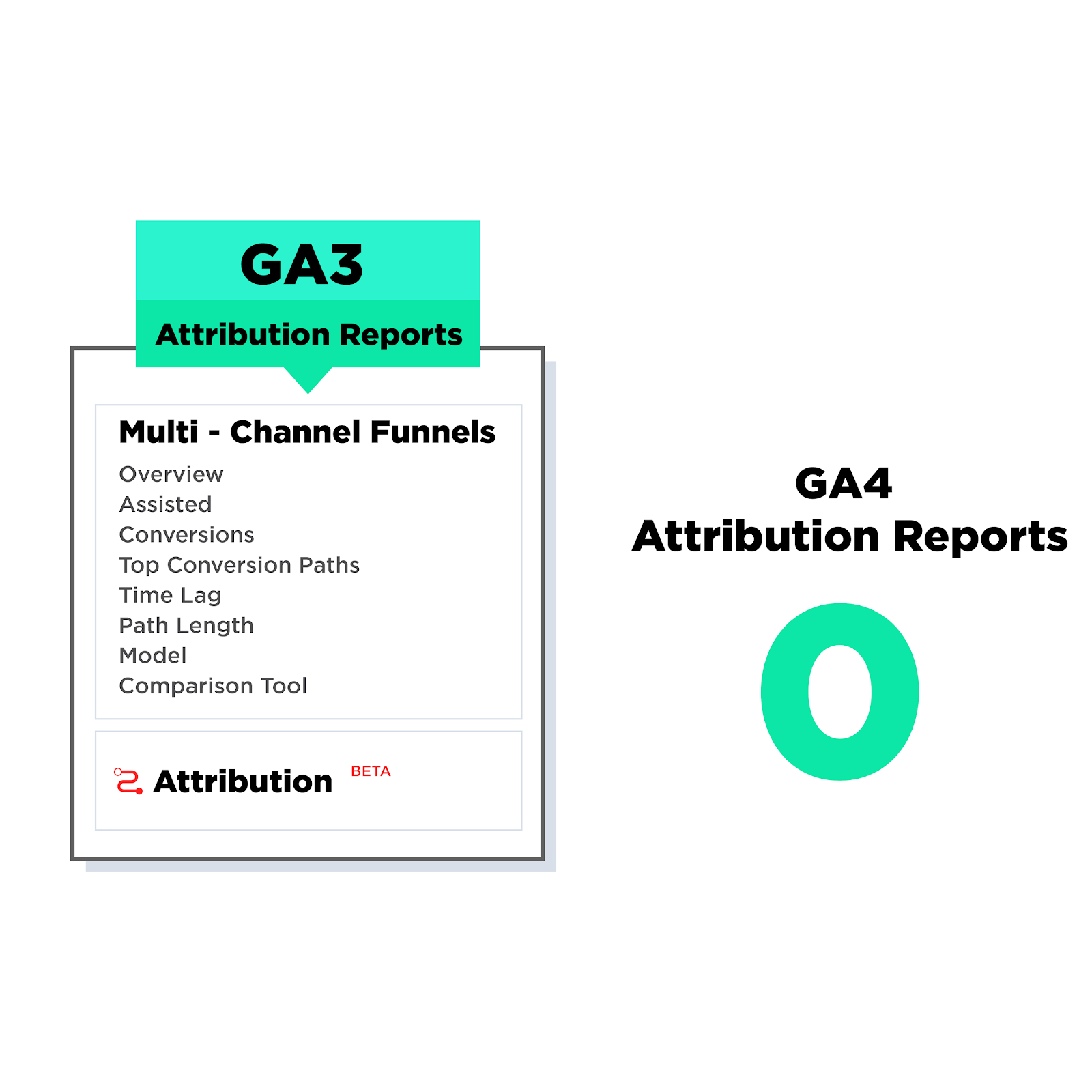 3. Setup in your GA3 cannot be transferred to GA4

You have to re-build your event and conversion tracking from scratch in GA4. If you are not so ready for such changes and tasks, it will be a nightmare for you. But still highly recommend you to start learning how to get this done!
So should you switch over completely to GA4 now?
For any reasons, If you want to stick with GA3, that's totally ok. But it is no harm to run GA4 in parallel with your GA3 Property. It is not retroactive so if you don't install, you are not collecting any data for GA4. Why don't you start creating GA4 Property today?
Start collecting data now. But you don't have to make an immediate jump in analysis and reporting just yet unless you are comfortable and familiar with GA4 UI and functions as well.
How to create GA4 Property?
You need to have GA3 Property and Google Tag Manager before you install GA4. If you have no idea how to install GA3, highly recommend reading our <<Essential Guide for Beginner's to be a Pro at Google Analytics>>. If you have no idea What Google Tag Manager and installation of Google Tag Manager, Check our Article <<Google Tag Manager (GTM) Fundamentals>>.
Let say you have already had GA3 Property and Google Tag Manager installed in your website:
Let me use kicklens as an example
Step 1: Navigate to your Admin Section and Select Upgrade to GA4

Step 2: Get Started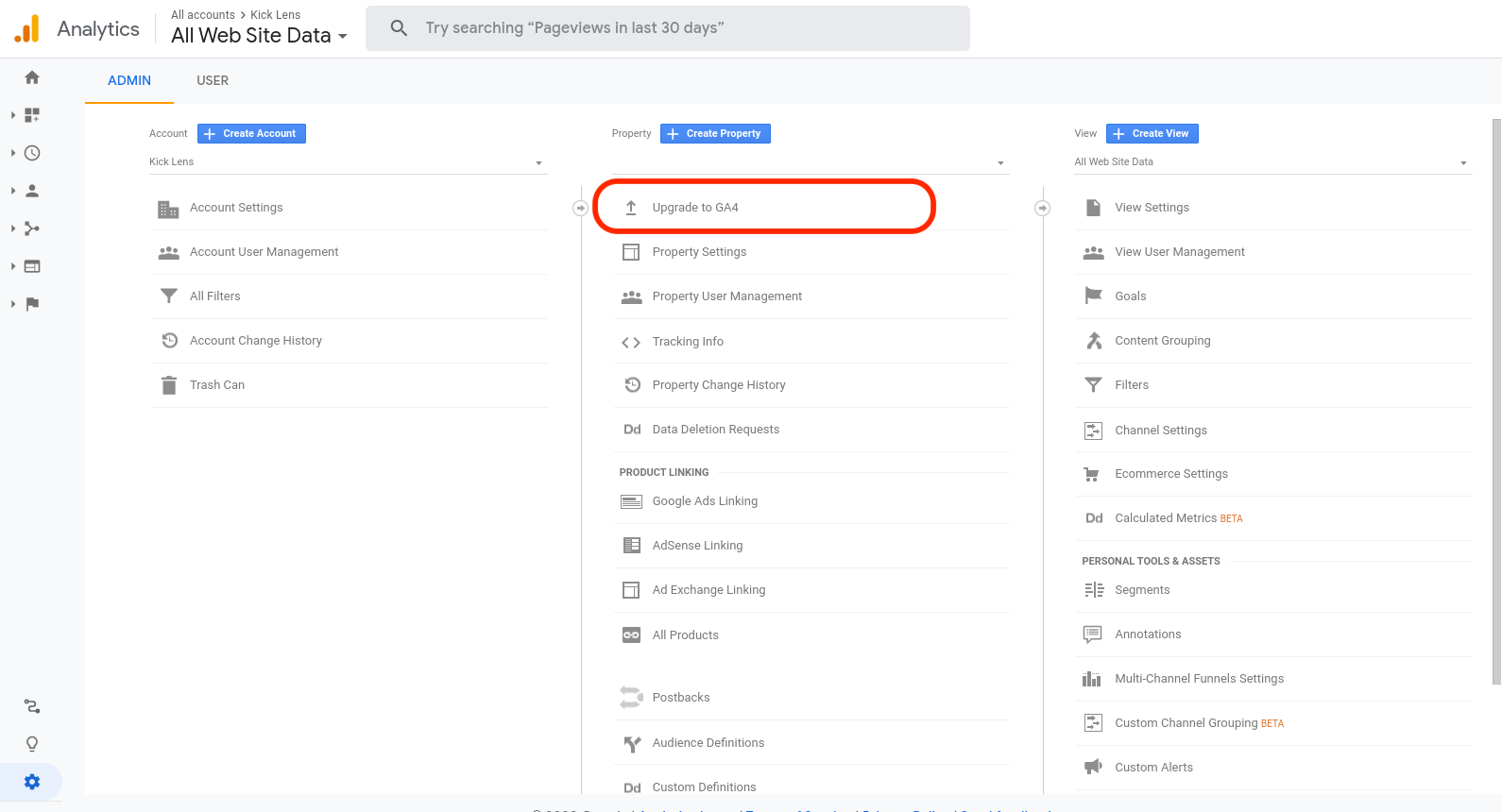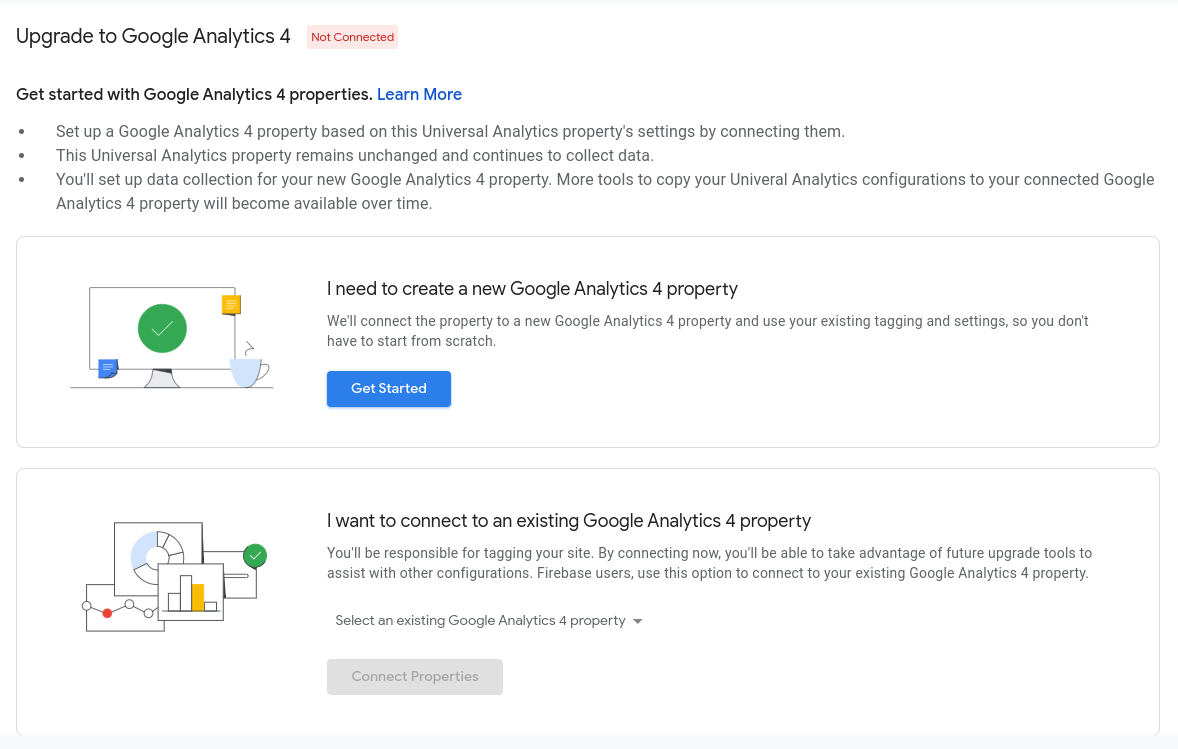 Step 3: Select Create Property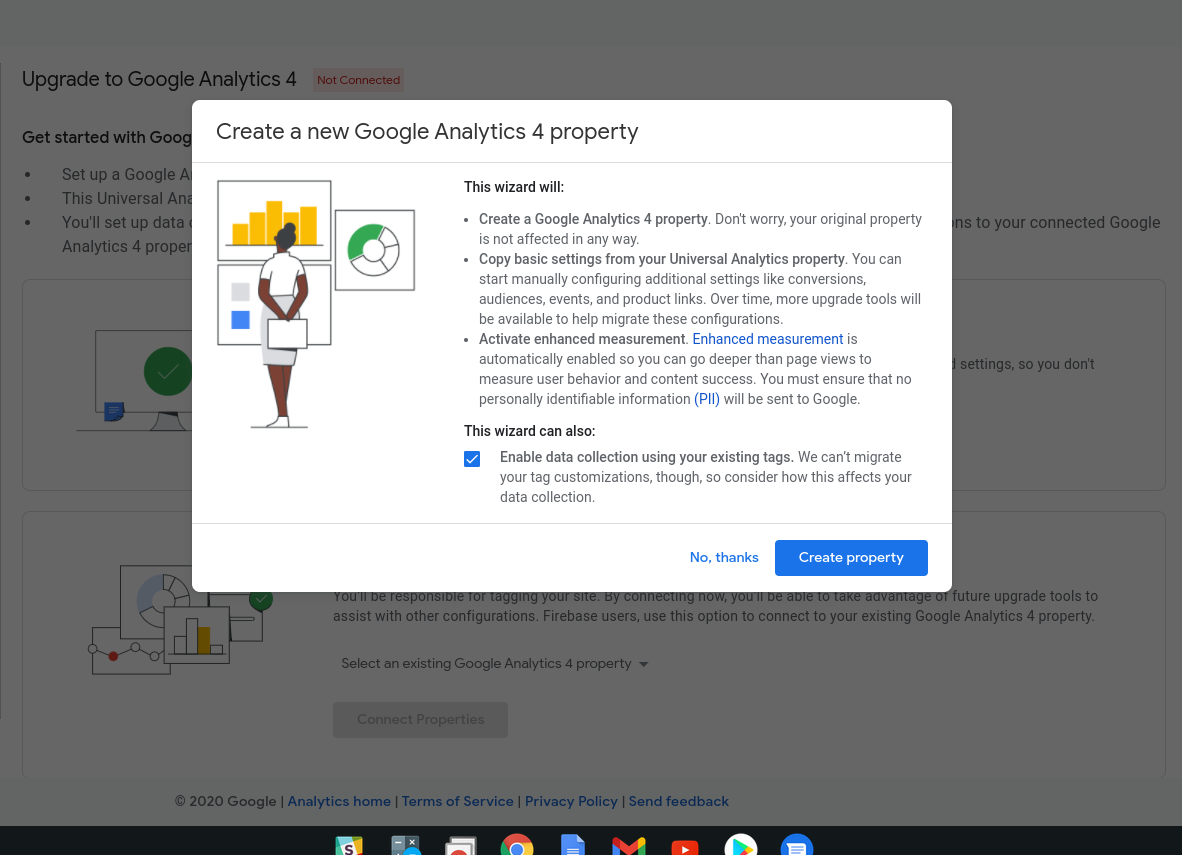 Step 4: Select "See your GA4 Property'
Google Analytics will now automatically create new GA4 Property. This new property will open up in a different tab and you will be automatically redirected to it.
Step 5: Select "Tag Installation"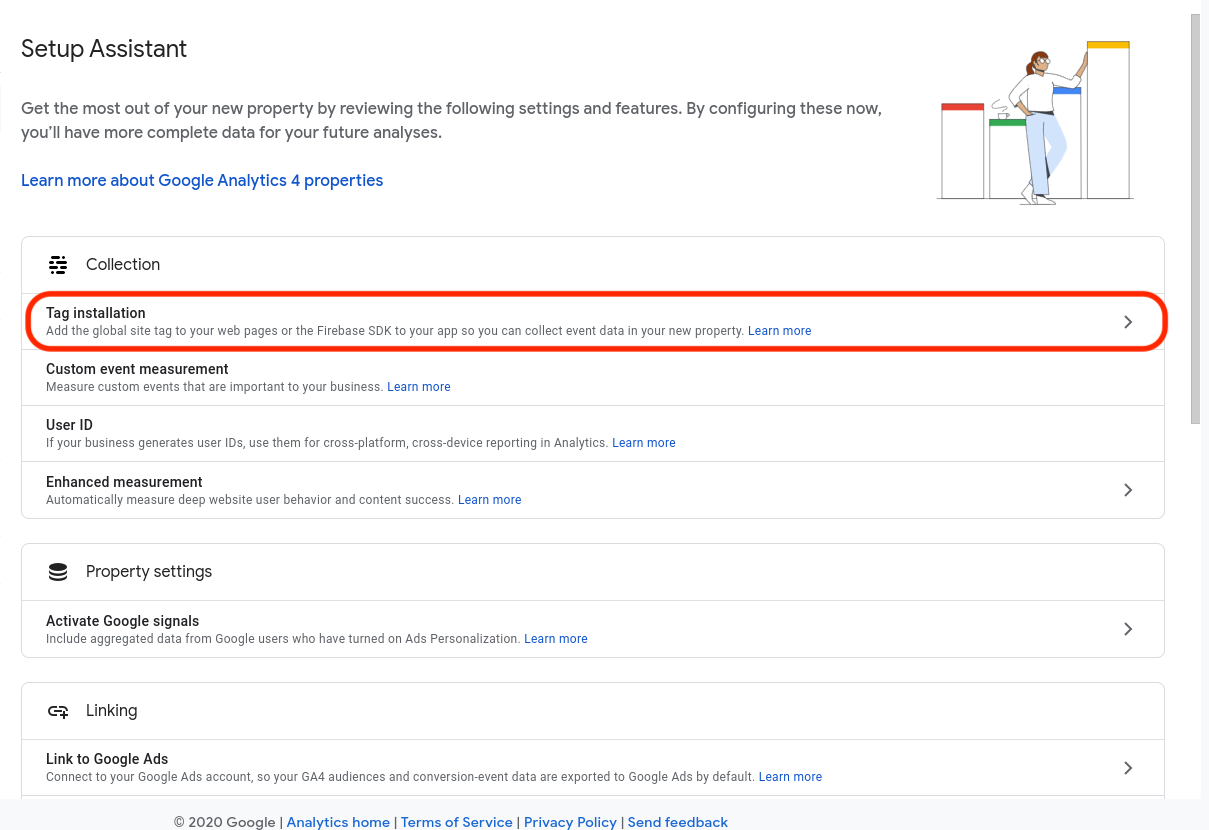 Step 6: Click on your Web Data Stream
Step 7: Select "Use Existing on-page Tag" under the "Tagging Instructions"

Step 8: Click Google Tag Manager Drop Down Menu

For Google Analytics Side, Setup is done. So now you need to navigate to Google Tag Manager.
Step 1: Add a New Tag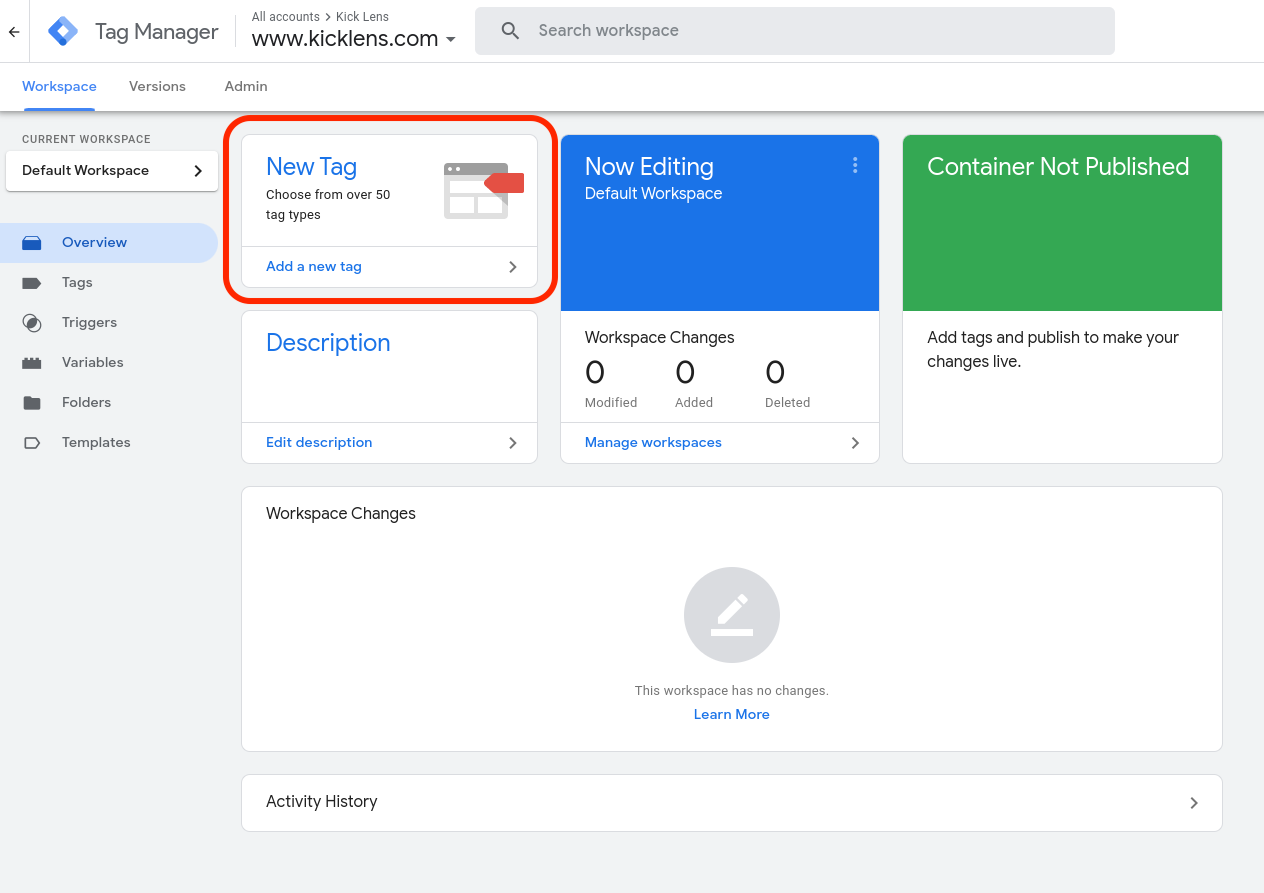 Step 2: I name this tag as "GA4 – Website Analytics – All Pages".
You can name whatever you want as long as you can classify different tags easily.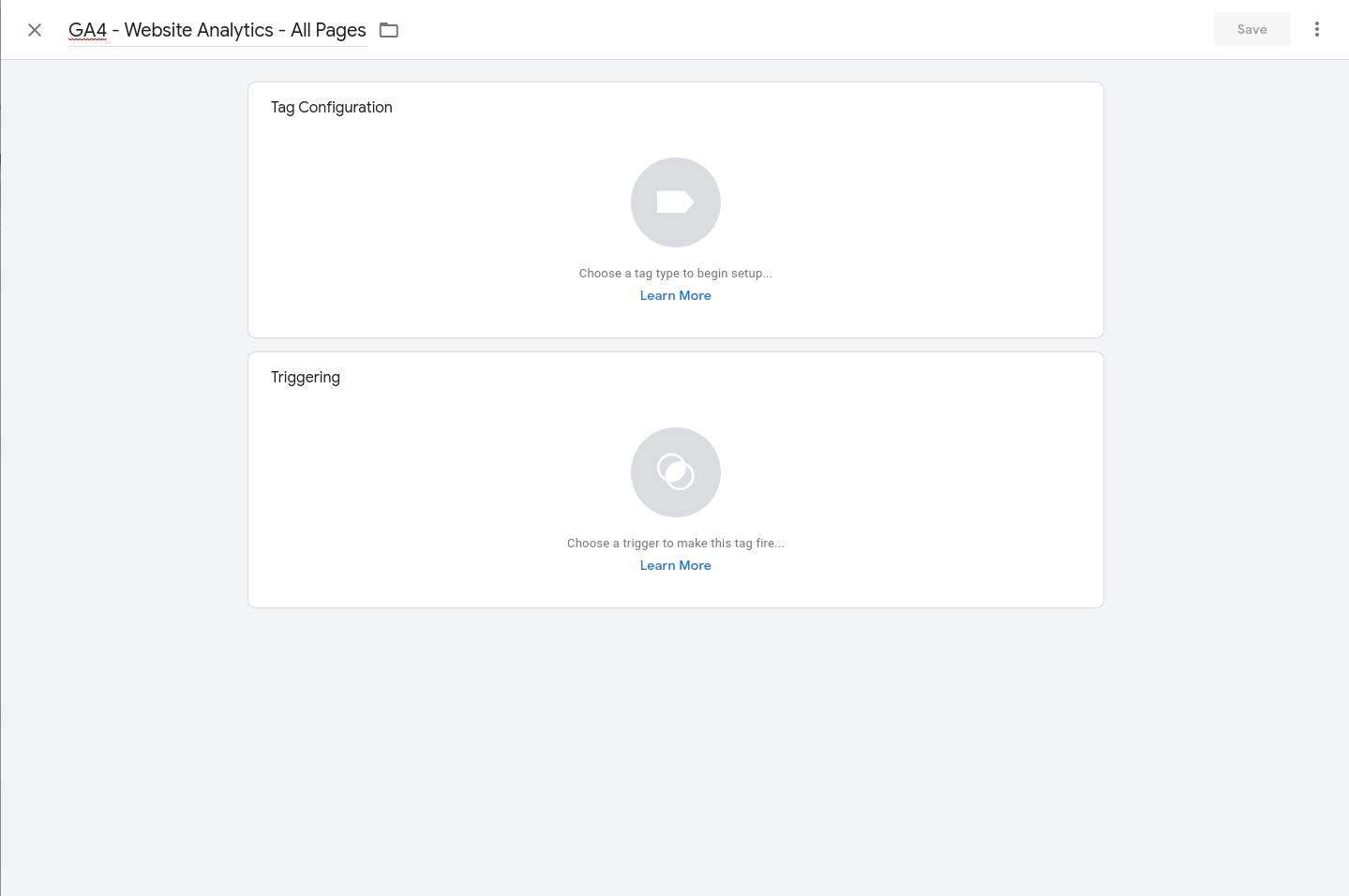 Step 3: Choose Google Analytics "GA4 Configuration"

Step 4: Enter the Measurement ID
Step 5: Set your Trigger to fire on all pages and Click on "Save"

Step 6: In the real scenario, you need to preview and make sure the tag is fired correctly before you submit. But for simple demonstration, i direct press "Submit" then "Publish"

Step 7: Go to your GA4, if you see data in the real time tab, you should get it done!

Please be reminded that if the id is starting with UA, it is GA3 (Old Version). Thus, please choose a correct one to check (GA4).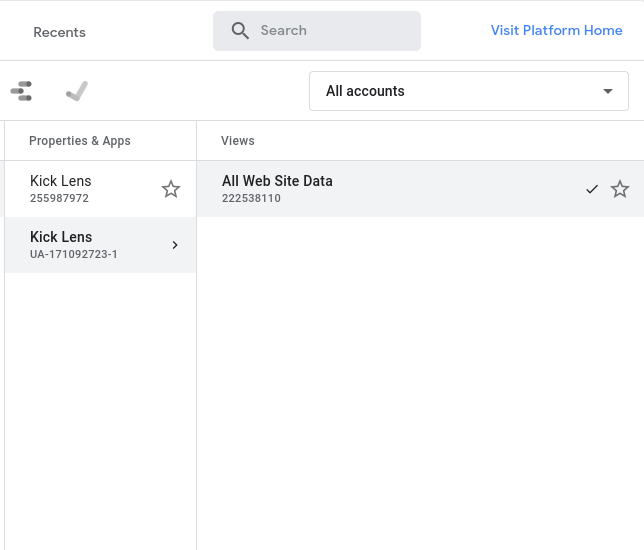 Hope you have a better understanding on GA4, I am going to write an article on how to set up customized event/conversion tracking in GA4 in the near future. Stay Tuned!!!