SEM VS SEO
If you know Digital Marketing, you may have heard SEM (Search Engine Marketing) and SEO (Search Engine Optimization). Although both utilize search engine to increase traffic and there is a difference of only a single word between SEM and SEO, the result can vary, especially in terms of the optimization direction. In this article, I will talk about the definition, differences and FAQs between SEM and SEO.
SEO/SEM/PPC
Before knowing the definition of SEO, SEM or PPC, we need to have a certain understanding about the search engine user interface.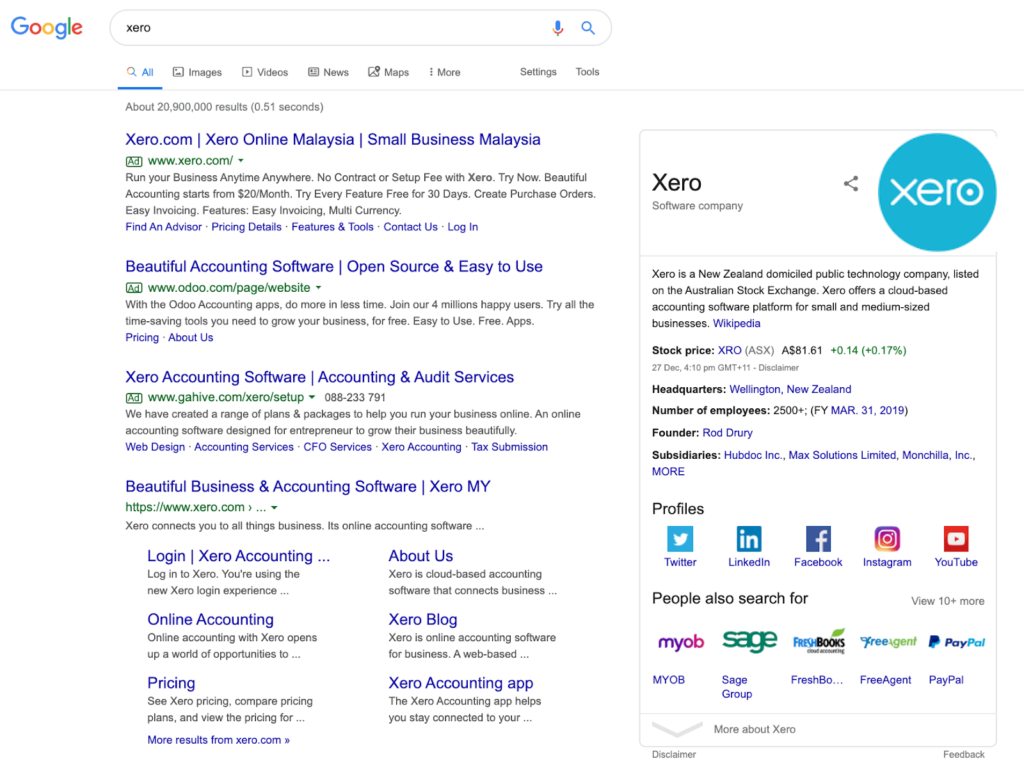 The search results with "Ad" are Google Search Ads. They charge by Pay-per-click model (PPC).We nowadays call these SEM. Meanwhile, Search results without "Ad" are organic traffic. SEO is to improve Organic Traffic.

Is SEO a type of SEM?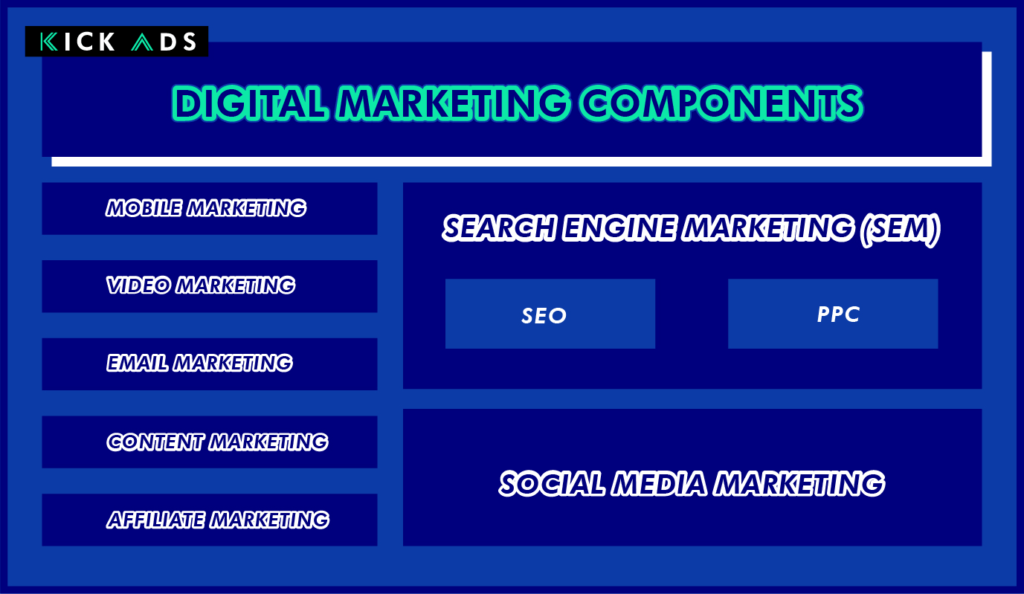 Traditionally, SEO + PPC (Search result with "AD") is the entire Search Engine Marketing (SEM). SEO is relatively easy to understand for everyone. But the problem is that the scope of PPC is broad. Search ads, GDN ads and Gmail ads are also categorized as PPC. Therefore, nowadays,people tend to describe SEM as keyword advertising directly to make it easier for everyone to understand.
SEM/SEO Comparison
To compare the pros and cons of SEM and SEO, we need to know more about them first.
What is SEO?
In my opinion, the most direct and simple definition for SEO is that it is a process to optimize your website, which will bring you free traffic in search engine.
The more in-depth explanation is that your website can be easily understood by search engines through the process of SEO so that your keywords will rank higher.
Two optimization directions for SEO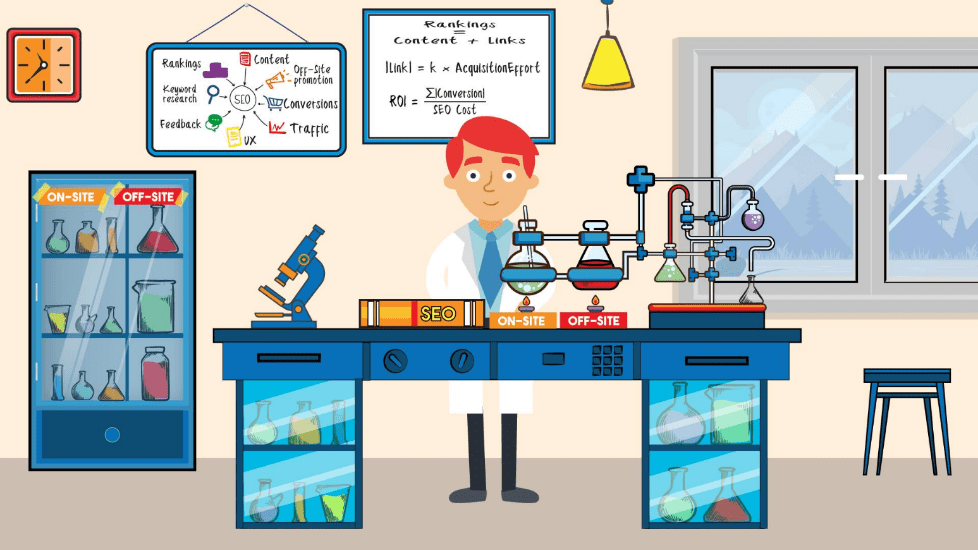 Image Sources: https://www.seolium.com/
The optimization of SEO is a profound learning and it requires tons of hour and effort to really master it. There could be a lot of advanced optimizations and knowledge in it. If you want to know more about SEO, I recommend reading the《 [網店 SEO 課程] – 每日 20 分鐘SEO教學 – 手把手教你網店搜尋引擎優化》 from Ringo Li and the SEO Online Course from Ivan So. Both of them are SEO experts in Hong Kong.
From my personal experience, I think SEO optimization is mainly divided into the following 2 categories.
On-Site optimization
Simply put, this is to optimization the website, such as putting the keywords in the URLs and different article titles, putting the main keywords in H1 and the combination of the main keywords in H2 and H3. Also, you have to ensure that there are no error pages such as 404 in the website and the website should be fast and mobile friendly. Of course, there are other subtle/advanced site optimization things you need to take care of, but it is recommended doing the above on-site optimization for the time being first.
English Reading:《On-Page SEO Checklist: Optimize Every Page on Your Site》
Off-Site optimization
The more citations your website has, the more authentic your site information will be. This can make your website more authoritative, and Google will rank your website higher. If you understand SEO, you may think that why don't I make more websites and refer them to my real websites? Technically you can do this, but Google also calculates the authority of the website that make references and it will eliminate the low-quality content farms. 
The more SEO traffic, the better?
As SEO is free traffic, so if you have more high ranking keywords, you will get more free traffic. But Ringo believes that more free traffic doesn't necessarily mean better. The entire SEO ranking will be lowered if there is irrelevant content in the website. Therefore, you need to remove those irrelevant shit. For more details, you can refer to the article 《拿下了關鍵字「SEO」香港網站排名第一,我做了些什麼……》from Ringo Li.
What is SEM?
SEM generally refers to search results that are paid for in all Search Engines. The charging method is Pay Per Click. If there are no clicks in that ads, you don't need to pay. This ensures that the people who visit your websites are those with high interest.
SEM Optimization Directions
There are quite many methods for SEM optimization. You can start by doing bid adjustment with the Campaign Budget, Search Term, Bid Strategy, Negative Keyword, Search Impression Share, Keyword Bidding, Search Ad, Ad Schedule, and Device. Don't understand what they are? Simply Put, we will analyze the data to continuously optimize the advertising budget, keyword bidding and keywords to find a delicate balance between CPA and Conversion.
Let me explain SEM optimization in an easy way. Every step in it is closely linked with a connected relationship. When a person Googles item A, which the search term matches your keyword list. Therefore, the ad related to item A will be displayed. When he clicks the ad, the ad will direct him to a Landing Page. For instance, if he Googles "order Coca-Cola" and his search term matches the keywords "order Coca-Cola", then he will see an ad about "order Coca-Cola". When he clicks the ad, he will be directed to the "Order Coca-Cola" page.
It is hard to explain everything about SEM optimization in one article, so I suggest reading other articles written by me as well . These are some must-read articles about SEM setting and optimization:
The Ultimate Guide for SEM Campaign Setup
Quality Score: How To Check, Monitor & Optimize?
SEM Keywords Matching Type with its respective Pros & Cons
7 Tips to Rock Your Google Text Ads Headline
9 Google Ads Extensions That Can Boost Up Your Sales
We are strict on the controlling of quality traffic on SEM. As we pay to buy the traffic, thus we will increase budget and increase the bidding on the keywords with results. For those keywords with inferior results, we will limit their visibility or even stop those keywords.
These two are the general directions of SEM optimization.
If you want to learn further, You can take some SEM Courses introduced by my article 《 5 Best SEM Courses Turn Beginners into Pros》.
SEM V.S/ SEO What should I choose?

Fast Vs Slow
No one wants to spend on something if he can get it for free. However, as the old saying goes, "no pain, no gain". We need to invest to get results. If you choose to use SEO to generate traffic and conversion, it generally takes at least 1-2 months for your website to have a chance to reach the first results page of Google. When you finally get the first business sealed, it may be 3 months after your first SEO investment.
For example, I wrote an article about Naver advertising at an earlier time, and it took about two months (i.e., the end of October 2019) to make "Naver Advertising" and "Naver Advertising" rank the top 3 in Google search result page. And then I waited till the end of November 2019 to get the first Naver advertising business. On the contrary, if you use SEM to promote your website, your ad will appear immediately, which can shorten your time to acquire the first deal. Therefore, we recommend putting resources on SEM first to get the business immediately, and then spend resources to build SEO later..
On the contrary, if you use SEM to promote, basically your ads will appear immediately, which can shorten your time to acquire the first business. Therefore, we recommend putting resources on the SEM first, so that you can get business immediately, and then spend resources to build SEO later.
Focus on keyword conversion rate vs Focus on keyword traffic
The biggest difference between SEM and SEO is that the key to SEM is to control the traffic and its Quality. Since every click to an ad costs you money, we try to match SEM ads with the comparatively relevant search terms to reduce the CPA and increase the Conversion Rate. In contrast, since SEO is free, I don't mind people visiting my website even if the search terms are not 100% completely related to my service.
Moreover, we will try our best to rank some keywords that are more searched by people that are close to our service at the same time. The more traffic we get with SEO, it is always the better. For example, if I want to promote my SEM service, I will buy the keyword "SEM Agency" (more relevant). In terms of SEO optimization, I hope to make "SEM" better in traffic.
Some Articles Worth Reading:
《有限預算下,應該做SEO定SEM好?》
《SEO 和 SEM 有什麼分別?SEO 還是 SEM?》
《中小企仍值得投資做 SEO 嗎 ?》
Stop doing when you lose Vs Keep doing
Finally, you can stop doing SEM at any time if you find it not profitable and redeploy the strategy again. If your SEM ad is doing well, you can keep doing so for sure. On the contrary, the work of SEO is about perseverance. It takes a lot of time and effort to let your website ranks the first in the result pages. So, keep working hard on it!
I really like the following table which can definitely explain in what situation or what stage you should use SEM or SEO.
Image Sources: https://blog.alexa.com/sem-vs-seo/
F.A.Q on SEM/SEO
FAQ 1: If my Brand Keyword is already ranked No. 1 in SEO, do I still need to buy the keyword (SEM)for my brand name?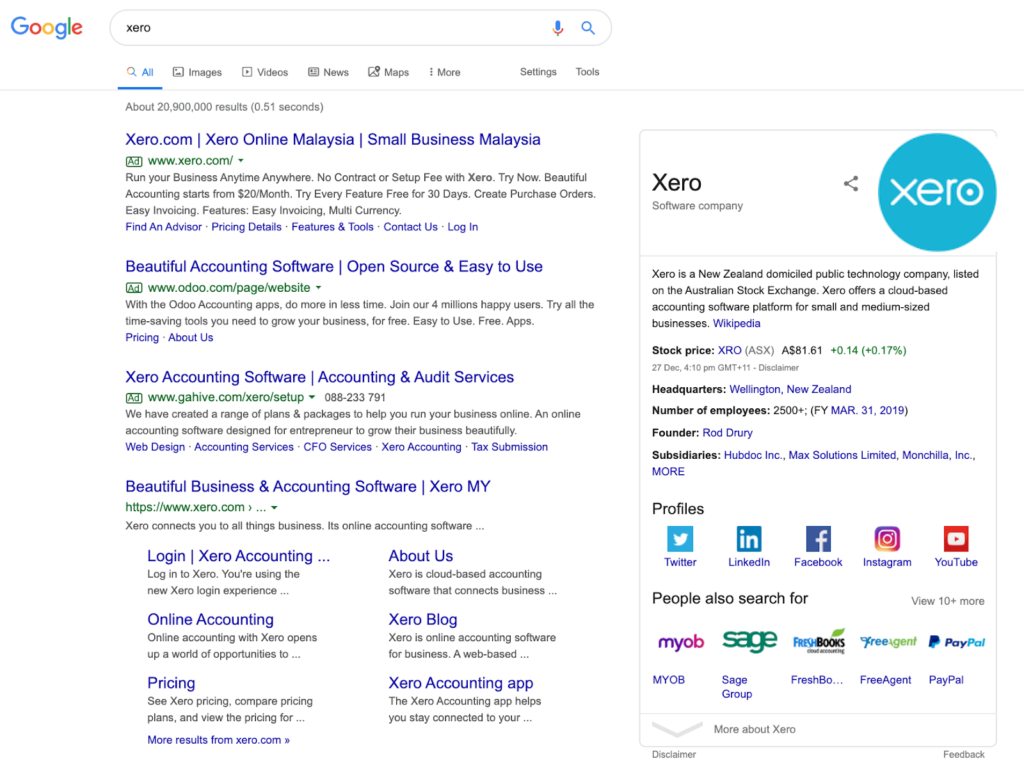 We always recommend putting your own brand name in your Paid keyword list. Some students in my Class ask Why? The keyword has ranked the first in organic traffic already, why should I do SEM again? Are you just trying to take more money from me?
There are 3 main reasons to do so:
Brand Protection

. Do you know? Your competitors can buy your keywords! Imagine if you didn't put your brand on the Paid keyword list, but your competitors did. When your customers search for your brand, the first results that pops up is your competitor's ad, but not your SEO search results. (Keep in mind that Organic Search Result will always ranks lower than Paid Search Result). In this case, your competitors will possibly steal your conversion! Therefore, we always suggest that my students to put their brand terms in keyword list under any circumstances.

The CPC of brand keyword must be very low.

When you know the importance of protecting your brand, you may ask if your brand's CPC is high? The answer is very low.  Because your business is your brand, whether it is Ad Relevance or Landing Page Experience, the quality score of your brand as a keyword is usually 8-9 points, or even full marks. In this case, the CPC of your brand keyword is usually very cheap.

Discounts and Offers can be displayed instantly

. The SEO of the big brand website has already ranked in the first place. Why do they need to do SEM still? Isn't is a waste of money? If you think so, you have overlooked a major feature of SEM! With SEM, you can set the copy and Landing Page freely from time to time . You can advertise the latest offers and get sales and leads directly from the SEM ad. This is something SEO can't do as you can't change titles or descriptions (on search result) right away.
FAQ 2: Does SEO improve the SEM's quality score? Will SEM enhance the SEO result?
Good SEO can definitely improve the Landing Page Experience in Quality Score in Google Ads. (If you haven't heard of Landing Page Experience, I highly recommend reading our previous article about Quality Score).
If you ask me whether having SEM or advertising on Google improve the SEO ranking? Quite Honestly, they don't have much. However, to a certain extent, SEM can help you do SEO keyword planning, so that you can have a more comprehensive overall planning on Focused Keyword on SEO.
FAQ 3:For Business Growth of Kickads itself, Which bring more benefit? SEM or SEO ?
As a SEM/Google Ads Blogger or a strong advocate of Search Ads, supposedly I should say "SEM" loudly, but quite honestly, I has derived more benefit from SEO.
I tried to promote my SEM service through SEM before. From The Perspective of Lead Generation (Contact Form Submission), the Performance (CPA) is quite satisfactory. However, the lead Quality is quite below average, Either they are not so keen ( In most of the situations,  they don't really know or even care how experienced you are, they just take the request from their boss, and google "SEM", and submit Contact Form at the Top 3 Search Result Website) or it takes up much effort/ time to close pipelines from SEM.
Why I say it takes up much effort? It is because You need to overcome a number of hurdles before you successfully close the deal: you need to answer questions like Why you are not providing 7*24 Search Ads? Why you can guarantee 100% Impression? Why you are more expensive? What is your differentiation? Are you expert? Are you trustworthy? You need to educate your customers really well before you get the deal.
Leads from Organic Traffic, I would say, have better Quality. From Google Analytics Perspective, Compared with leads from SEM , those from SEO have higher average duration per session and Pageviews. We can assume that they have much more understanding on your SEM service. It is true that the Pitching Process for leads from SEO is much easier, you don't need to spend time handling those stupid objections as you have already built trust with them through your Content (Successfully Established yourself as Expert).
Of Course, I am not saying SEM is always not a good option for B2B Service. However, for my case, since I am the ONLY Salesperson in Hong Kong Office, It makes me very inefficient if I need to spend much time taking care those pipelines ( Start build trust from Zero at the first F2F meeting). Therefore, Leads from Organic Traffic sounds more beneficial to me. (That 's Powerfulness of Content Marketing with SEO!!!)
Don't get me wrong! I am not belittling SEM, if I get my own sales team or very standard Rate card, SEM will be a really good choice to scale up.
Conclusion
By matching different search terms with SEM, coupled with the time each search term stays on the website and the conversion it brings, SEM provides an opportunity to develop and test the effect of new keywords to make your SEO strategy works faster. While running SEM ads, you can develop the SEO of your website through the results obtained from SEM. Let SEM and SEO complement each other to make your website glow in search engines and improve ROI in all aspects.
Whether it is SEM or SEO, your ultimate goal is to get more traffic to your website by using search engines. But having traffic does not mean having business! If a large amount of SEM/SEO traffic is introduced to your website, but result in very few business transactions, you should check the content of the website rather than the source of the traffic. If there are no transactions, in addition to checking whether the ads are set wrong and the audience is accurate, you should also review the Flow and content of Landing Page.
Feel free to contact me whether you have any question related to SEM/SEO, I would love to discuss with you in depth. If you have any comment on my SEO explanation, Please let me know and we can exchange some ideas. But if you need help for SEO, I am going to say "Pass" and direct you to my friends, Ringo Li or Ivan So.