In addition to the Google Search ads that we are all aware of, Google Display Ads (or more often referred as GDN ads) and Video ads (often referred as GDN ads)  are also the common ones. Today, I want to focus on introducing GDN (Google Display Network) ads. There are various ad display styles for GDN. The most common GDN ad style is image ads (often referred as Banner ads). Here are some examples of the banner ads.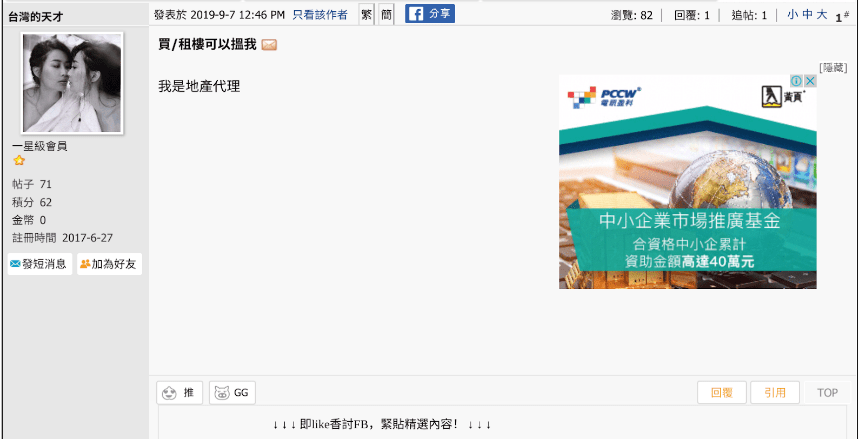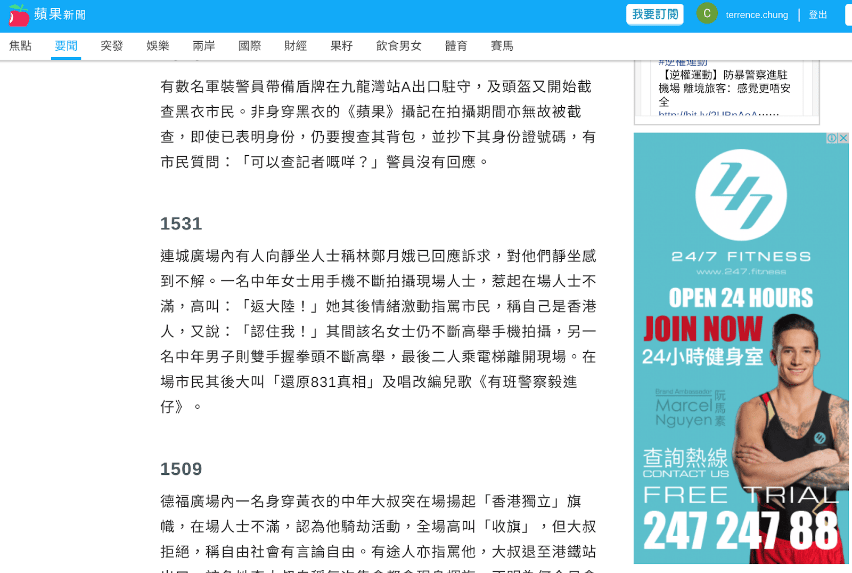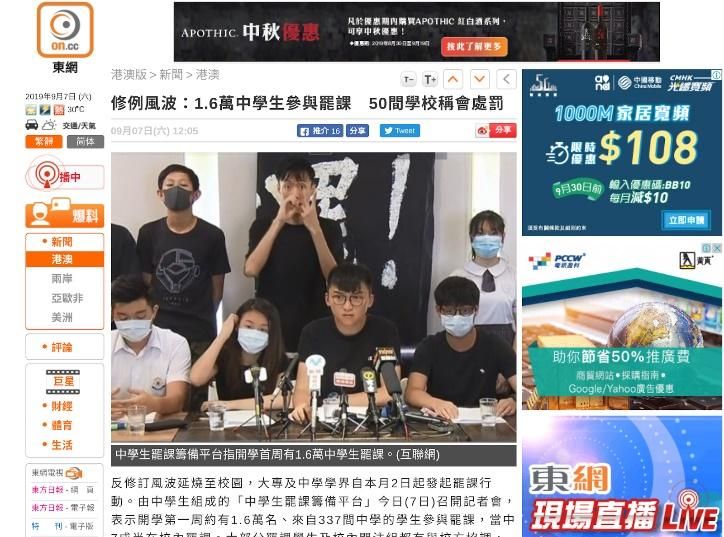 How do I know whether the banner ads are from Google Display Network?
Look at the above examples from on.cc and you will see a lot of banner ads on the layout, but how do we know which banner ads are from the Google Display Network? In most cases, GDN ads will have a blue exclamation mark at the upper right corner. If you see "Google-provided ad" or "Ads By Google" when you mouseover, it's the ads from Google Display Network.

If you click on the blue exclamation mark, you can see why you are seeing this ad. If you see the ads is placed from your competitors, you can click the ads to waste his money (joking!), and most important to see how this ad targets you.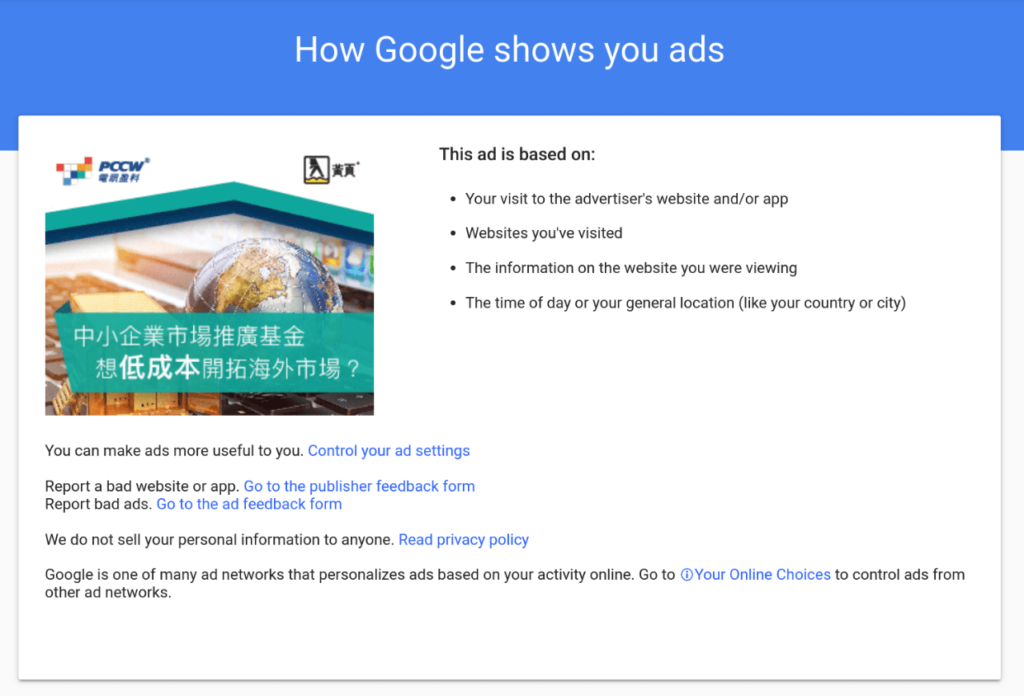 How Google Display Network works?
Google works with different websites or mobile apps with a certain amount of traffic through AdSense or AdMob (there are more than 2 million web pages worldwide). Website or app owners can share the advertising revenue by giving ads space to Google on their websites! Well-known websites such as Hong Kong's on.cc, Apple Daily, LIKHG and Uwants are partners of Google Display Network. Advertisers can place banner ads (Banner ads) on these sites through the Google Ads platform, which is what we often call GDN banner.
According to Google's data, GDN ads cover more than 2 million websites and 65 mobile applications around the world, reaching more than 92% of online users. You can place the ads on particular websites or mobile apps, reaching out different target audiences with different interests and devices.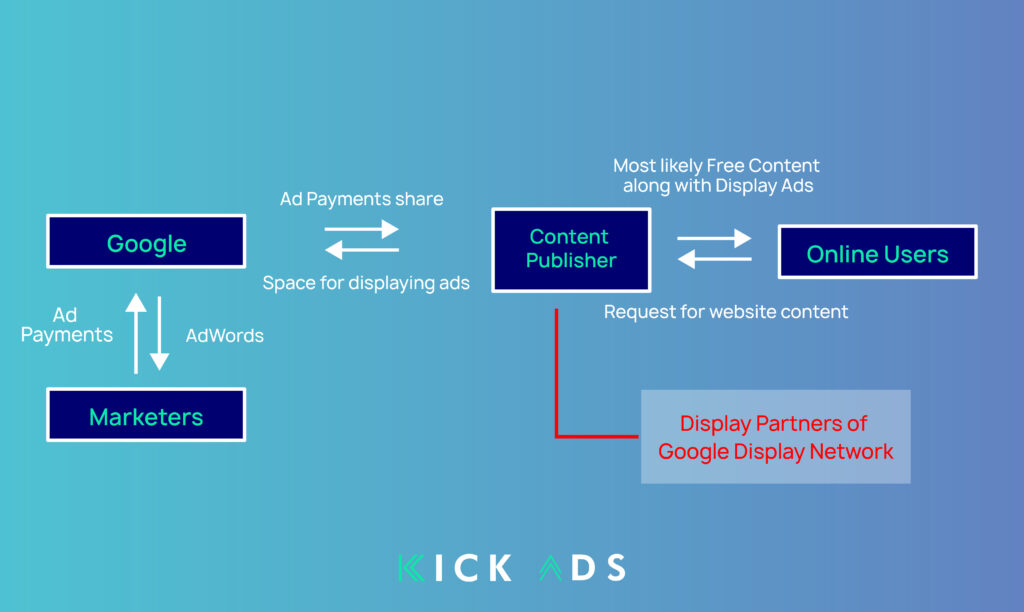 GDN (Google Display Network) ads Presentation Style
Text ads
You cannot set a text only GDN ad in Display Campaign, but you can check "Display Select" when setting up Search Ads. In addition to displaying your text ads in search engines, Google will also send the text-only ads on other GDN websites or mobile apps. I don't like using this kind of ad style. First, the performance (measured by click-through rate and conversion rate) isn't good. Second, I find it unattractive and it looks like a scam!!!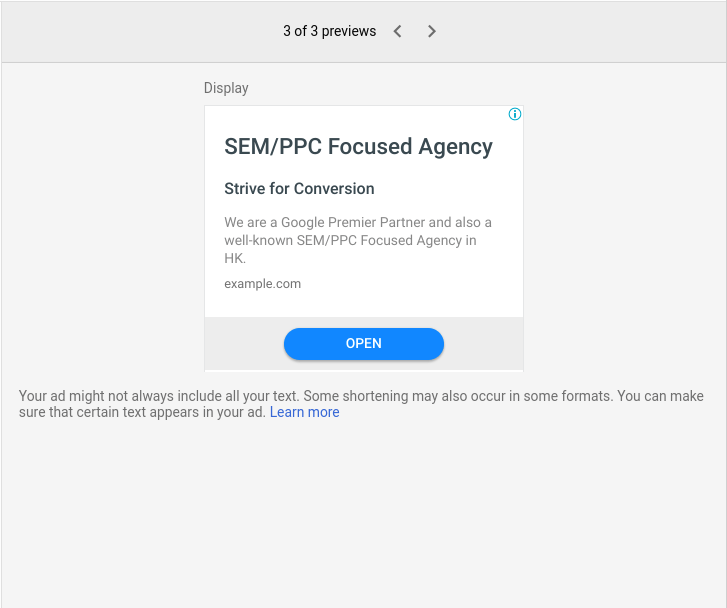 Image ads
This is the most common GDN ad style. We call it GDN banner, banner advertising, or GDN. You can set up image ads in Display Campaign. And you can choose to render your ads in a dynamic or static format. Compared to the text only GDN ads, this is undoubtedly more appealing.

Video ads
This type of advertising is very similar to pre-roll and mid-roll video ads in YouTube. However, it is not played in YouTube, but on the other GDN websites. As same as the text ads, you can't set a GDN ad for a video in Display Campaign, but you can check "Video Partner on the Display Network" when setting up a Video ad. In this way, in addition to have your video ads displayed in YouTube, your ads will also be displayed on some GDN websites or mobile apps (Video Partner). Note that you can't choose to play video ads only on GDN, you must also advertise on YouTube as well.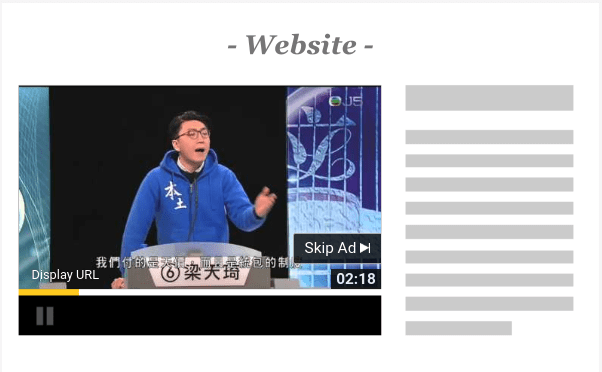 Responsive Display ads
You can set up a Responsive Display Ad in Display Campaign. This is different from the pure text GDN ads or image GDN ads, this form of advertising is often presented in terms of text and images in one ad. The advantages of this Responsive Display ads are that they will adjust the size, format and length of the ad space automatically to fit in most websites or mobile apps. Also, advertisers can  upload multiple images, titles and descriptions at the same time then Google will automatically show the best combination to improve your ads performance. This kind of ad is simple to make and requires less manual optimization so it is quite suitable for small and medium enterprises. Its presentation can also be displayed as a Native Ad, generally making it acquire higher clicks and Click Through Rate.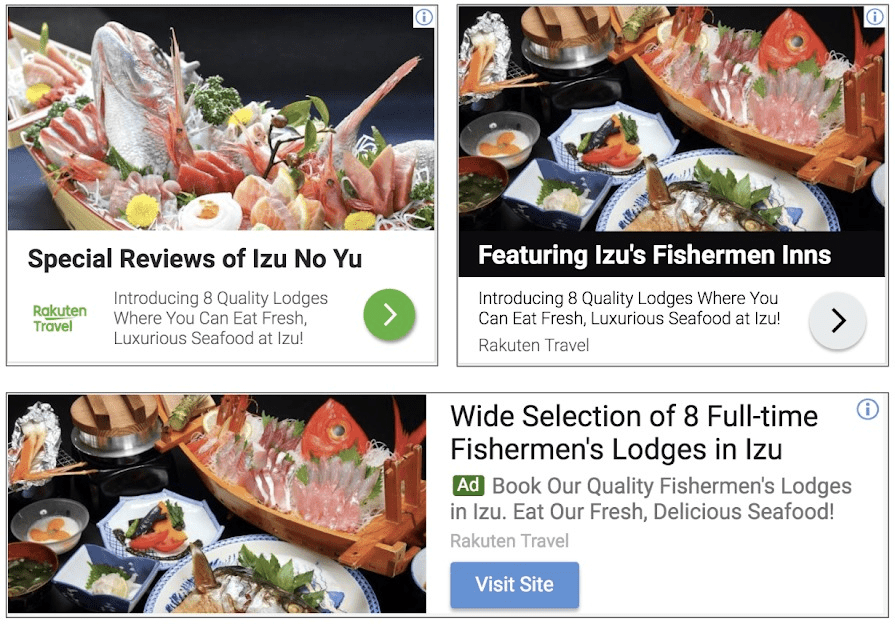 Gmail ads
Customize your ads in Gmail to let your target customers save, forward, and open your ads in your inbox. If you want to learn more about it, you can read my other article "Essential Guide to Gmail Ads in 2019".

GDN Targeting setting

Similar to Facebook Ad, you have a lot of targeting options so you probably need to check it by yourself. In the following, I am trying to categorize countless Targeting into 6 directions.
By Demographic: Target the ads to people of different ages, genders, and countries. You can also target the ads to different income groups in some countries.
By Topic: You can target the ads to a list of websites with a specific theme. For example, if you choose Autos & Vehicles as the theme, then the ads will be displayed on the websites with such theme.
By Placement: Place ads on a given website or mobile app.
By Interest:  Google defines audiences with different types of interests based on their online browsing habits and preferences. Advertisers can place ads to audiences with selected interests.
By Custom Intent:  Google's newly developed custom intent uses machine learning to learn the behavior of the audience. For example, to understand what users are looking at or what they are searching for. It allows the advertisers to set the target audiences that are similar to their products or services, and to advertise. You can also enter keywords, URLs, and applications that are related to your product or service to define your own target audience. Google Ads will display ads on websites, apps, and videos to the people who might be interested in those keywords. 
Remarketing: Retarget customers that have interacted with you before (Mainly on Website): Display ads on GDN websites to a specific customer group by creating remarketing ads. 
Setup your First GDN Ads
Click the blue + , Add A New Campaign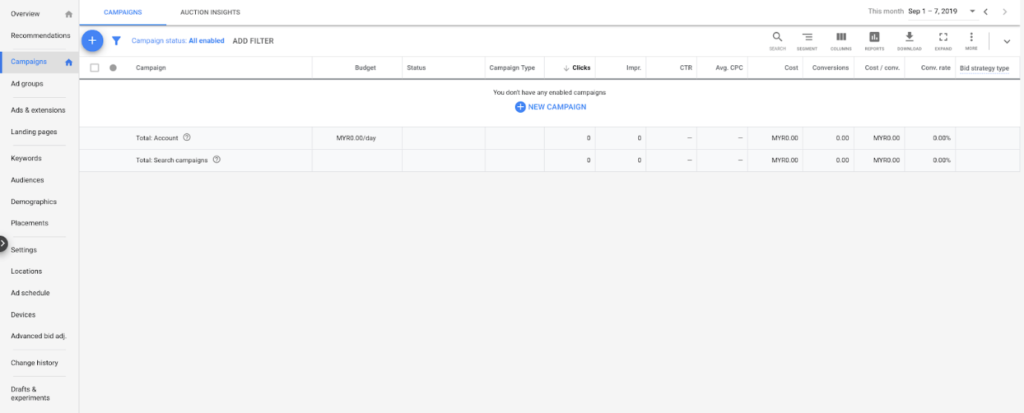 Then click "Create a campaign without a goal's guidance" and choose "Display"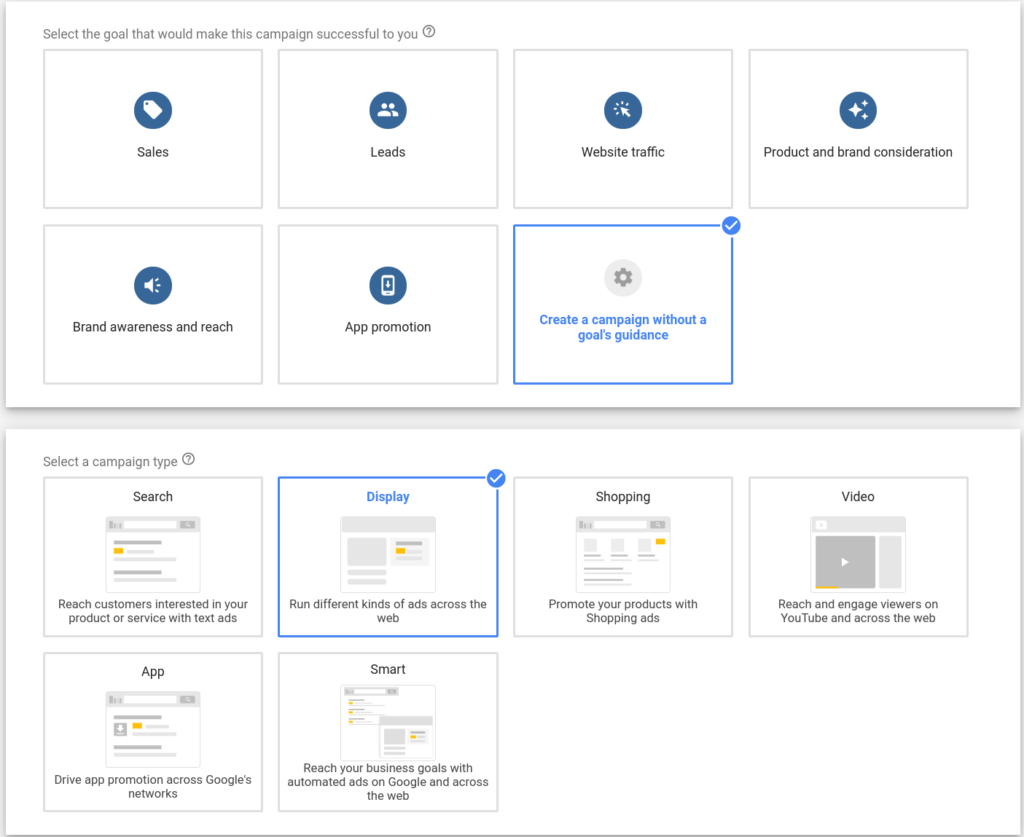 Then we need to go to the setting of the campaign. Select Standard Display Campaign unless you want to create Gmail Ads

Change the name of Campaign, and then choose Languages. For Bidding Part, I personally suggest you choose "Or, select a bid strategy directly" so you can directly choose which bidding strategy you prefer.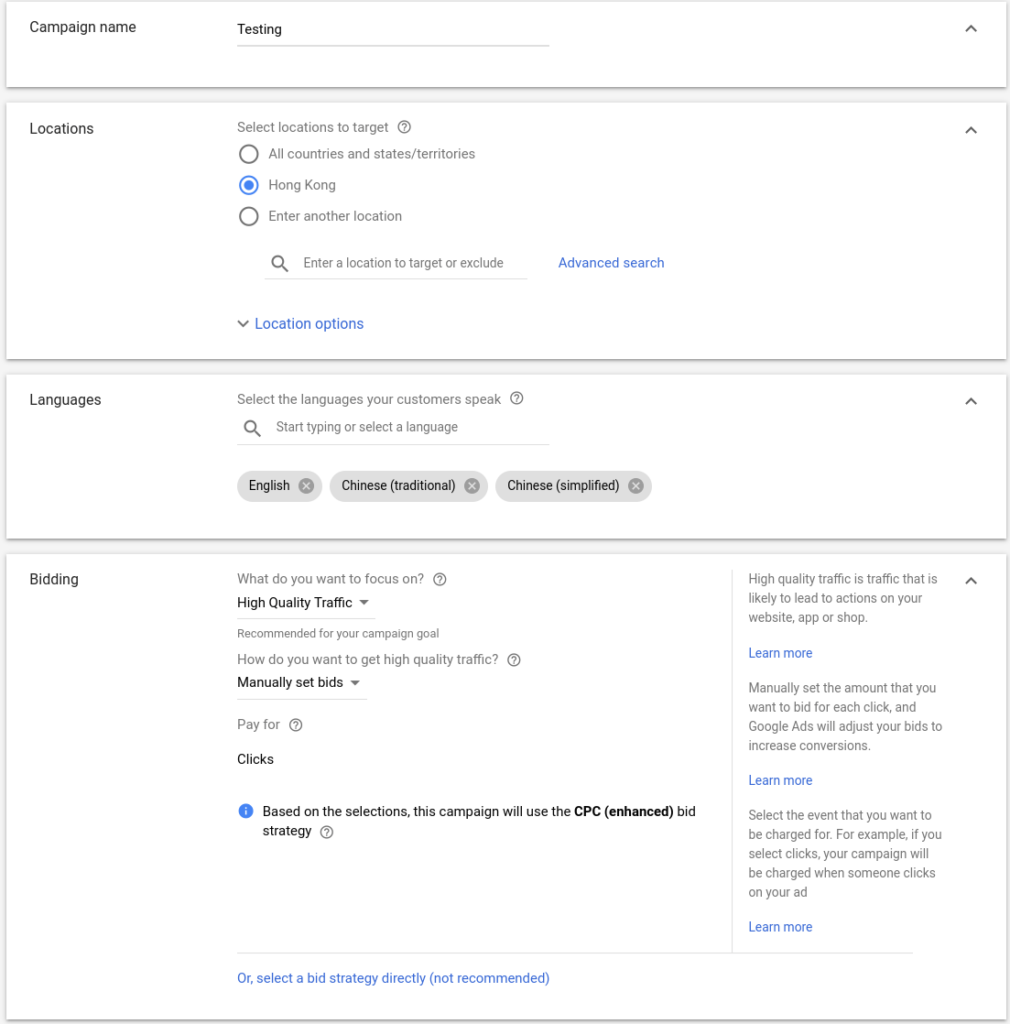 If you have a very clear picture on how much you can spend for one conversion, then choose Target CPA and Let Google work on it. If you only want to get as many as clicks as possible especially at the early stage of your campaign, then choose maximise clicks with maximum cost per click bid limit ( Suggestedly HKD$3 – HKD$8 based on your targeting for HK Campaign). I will further discuss Bidding Strategy in the future, Stay Tuned!

The next step is targeting. As described above, you can choose the relevant targeting methods, including audience, demographic, keyword, topics, and placement. If you want to have a step by step walkthrough on how to setup Targeting, feel free to watch this Chinese video "GDN廣告 – 如何設定目標對象" (Quoted from <<GDN廣告 (Google 多媒體廣告) 要怎樣做>>)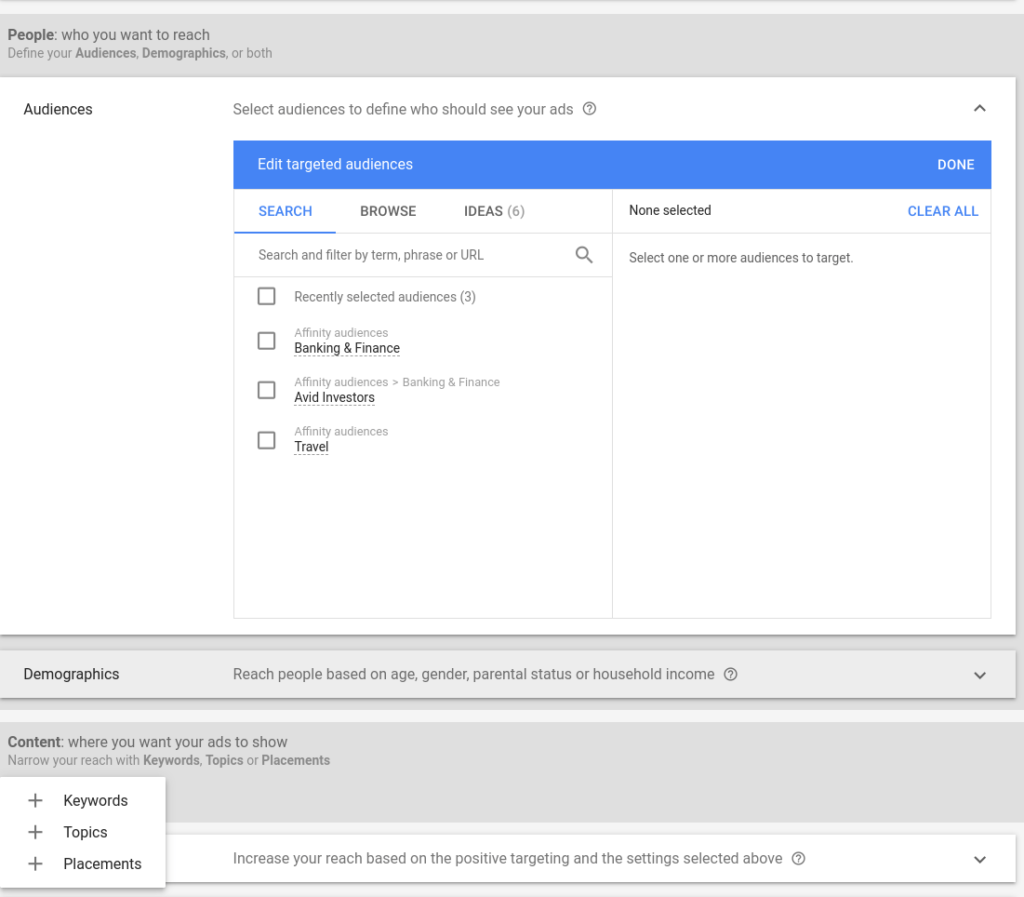 The next step is targeting expansion. I would recommend turning it off because it automatically widens the targeting and makes you spend more. In Ad Group Bid, it is recommended to invest HK$3.5 first. In the GDN campaign, since you don't have Keyword Level, we suggest you modify Bidding on Ad Group Level.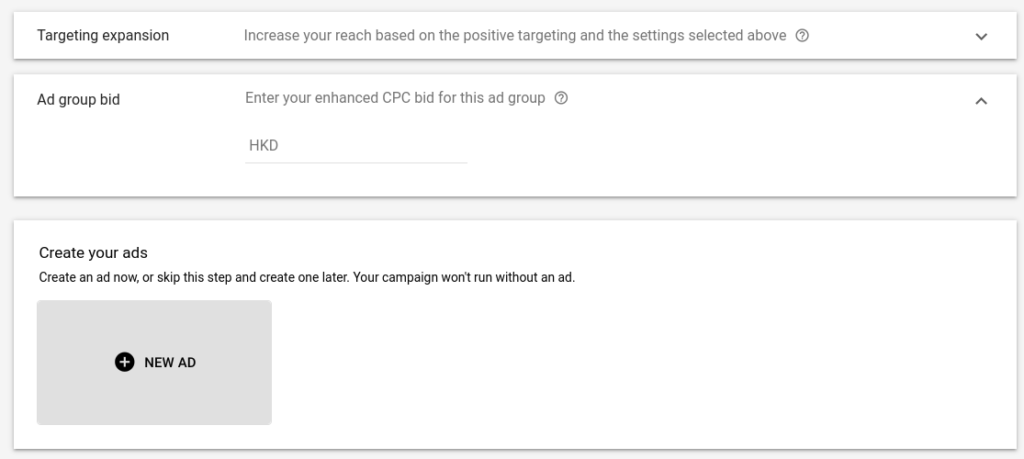 For "Create Your Ads" part, if you don't have a well-designed visual, you can choose Responsive Display Ad. This is based on the images, text and videos you have uploaded, allowing the system to automatically build your ads. If you want to use your own creative, you can use the JPG, PNG, GIF and HTML5 formats. Remember that the file size should below 150kb, and the dimension is 300×250, 728×90, 336×280, 300×600 or 320×100. These dimensions basically cover 80% of placement.
If you want to learn more about GDN Size and Format, Feel free to check <<WHICH DISPLAY ADS FILE FORMAT YOU SHOULD ADOPT?>>

If you have the visual, you can upload the file directly and set the Final URL (Landing Page).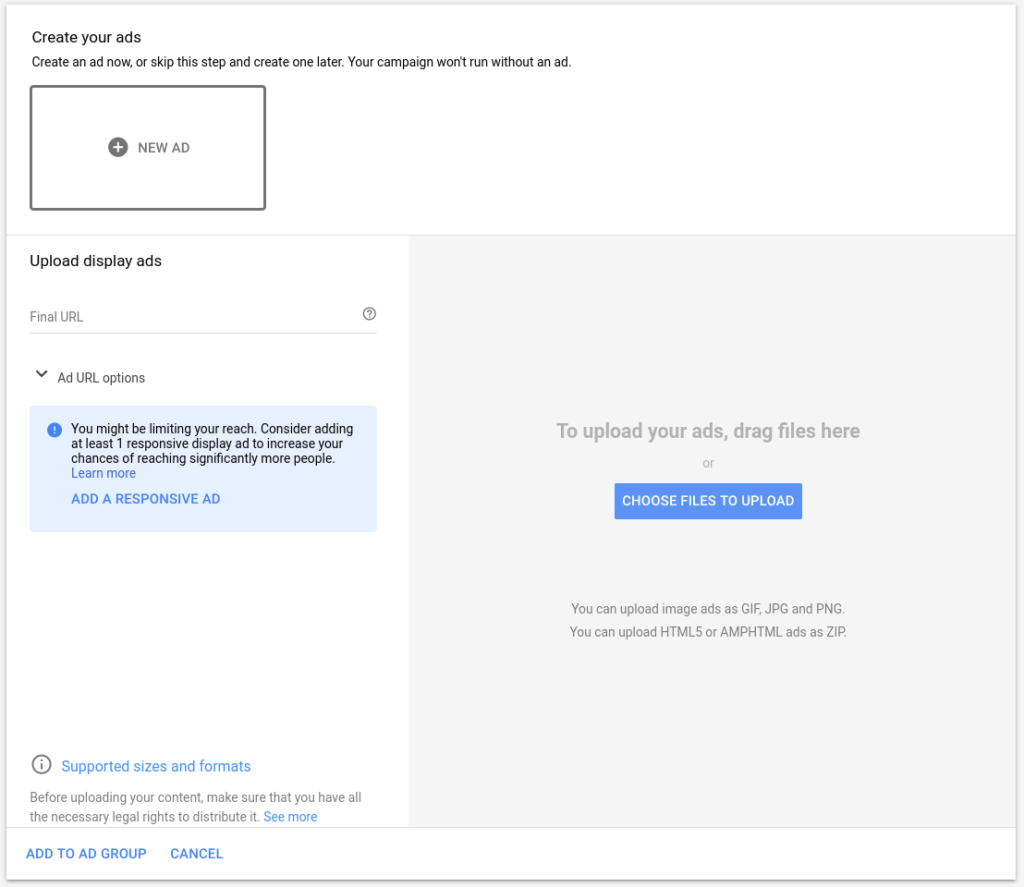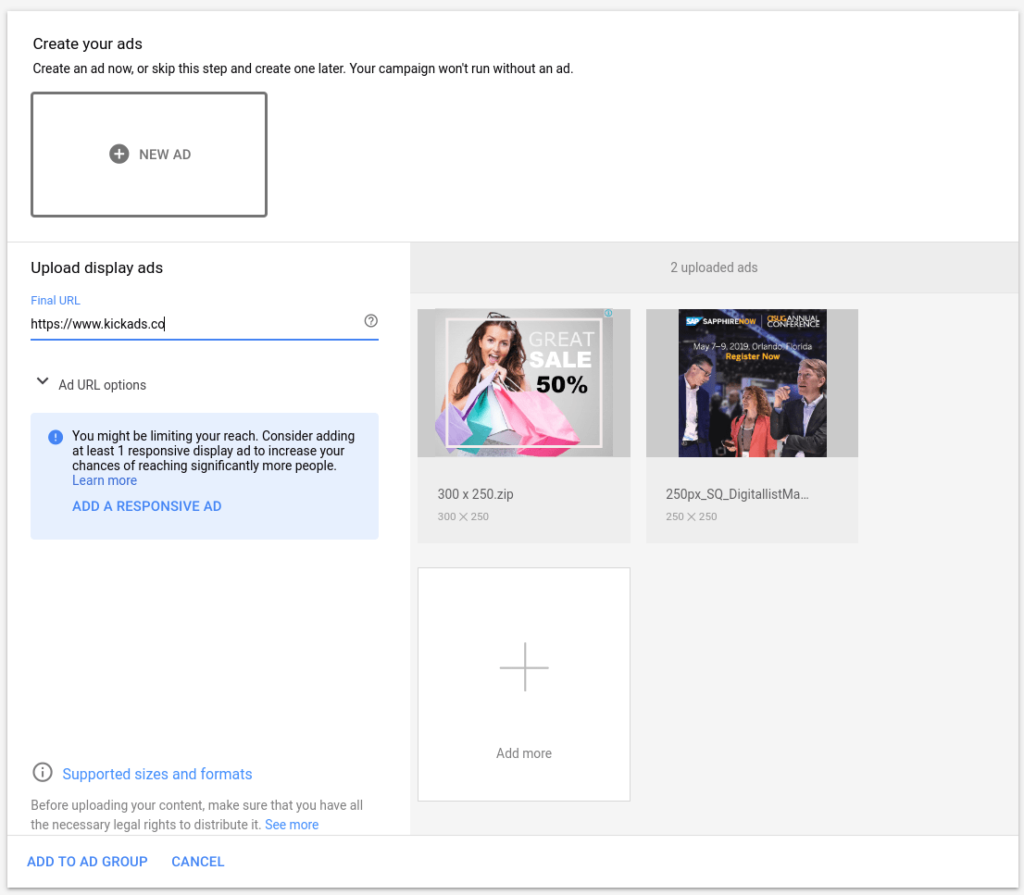 Congratulations when you are seeing this because you have already set up the GDN ads!

Four Tips to optimize your Display Ads
Start with Remarketing
If you have never tried a GDN ad and you don't have high monthly budget, I would suggest running a remarketing GDN ad (remarketing) to see the results. Simply put, remarketing ads are advertising to guests who have had interaction with you (for example, someone who visited your site or even added a product to a shopping cart). If these guests who have a certain understanding of you cannot be converted into customers, let alone the cold customers? This, for SMEs, we suggest to place remarketing GDN before expanding the audience of the ads.
If you want to know more about the use of remarketing ads, please read our article <<GDN REMARKETING廣告教學| 設定、原理及好處>>
Use Custom Intent to find potential customers
Compared to defining the target audience by interest or by population/audience, the use of Custom Intent will be more precise and the performance of the ads will be significantly better.

Step 1: Select "What they are actively researching or planning (In-market and custom intent)".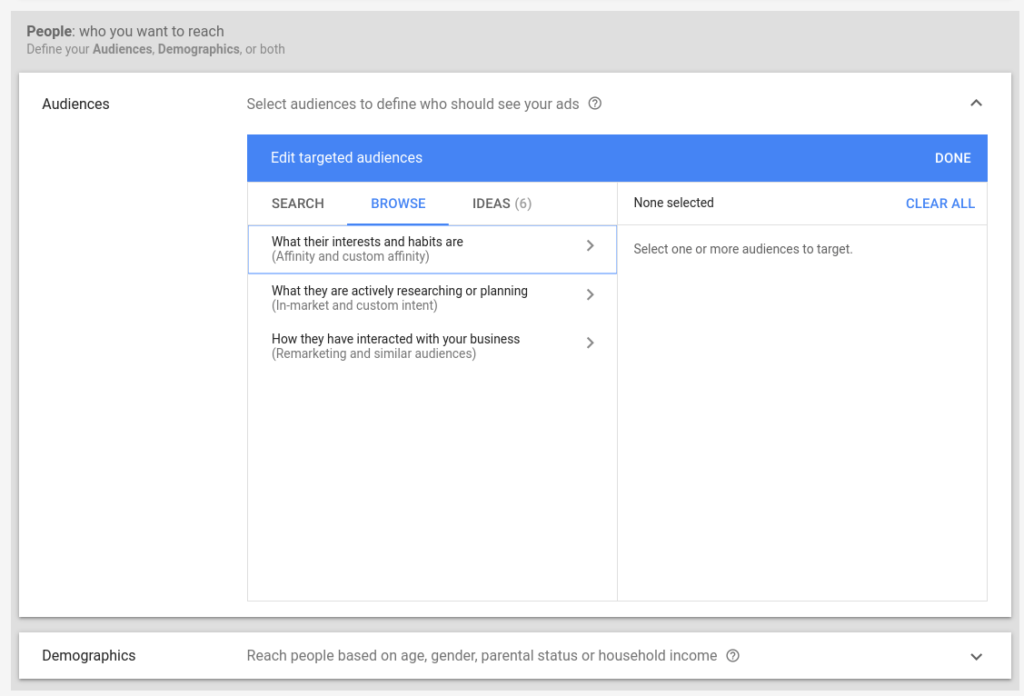 Step 2: Select "+ New Custom Intent Audience".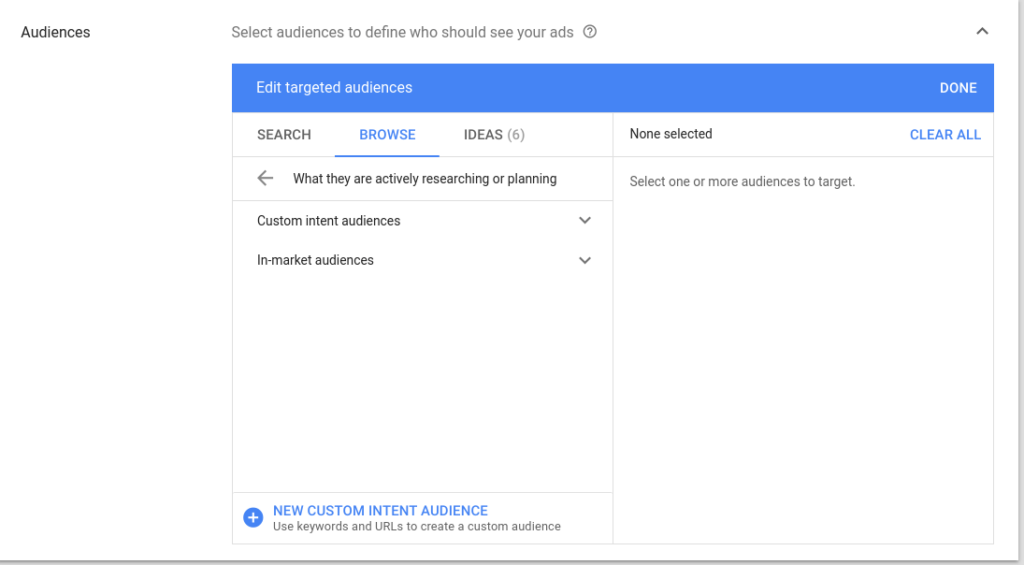 Step 3: You can enter a URL or keyword to target those who have recently actively searched or viewed the relevant materials in Google Search or elsewhere.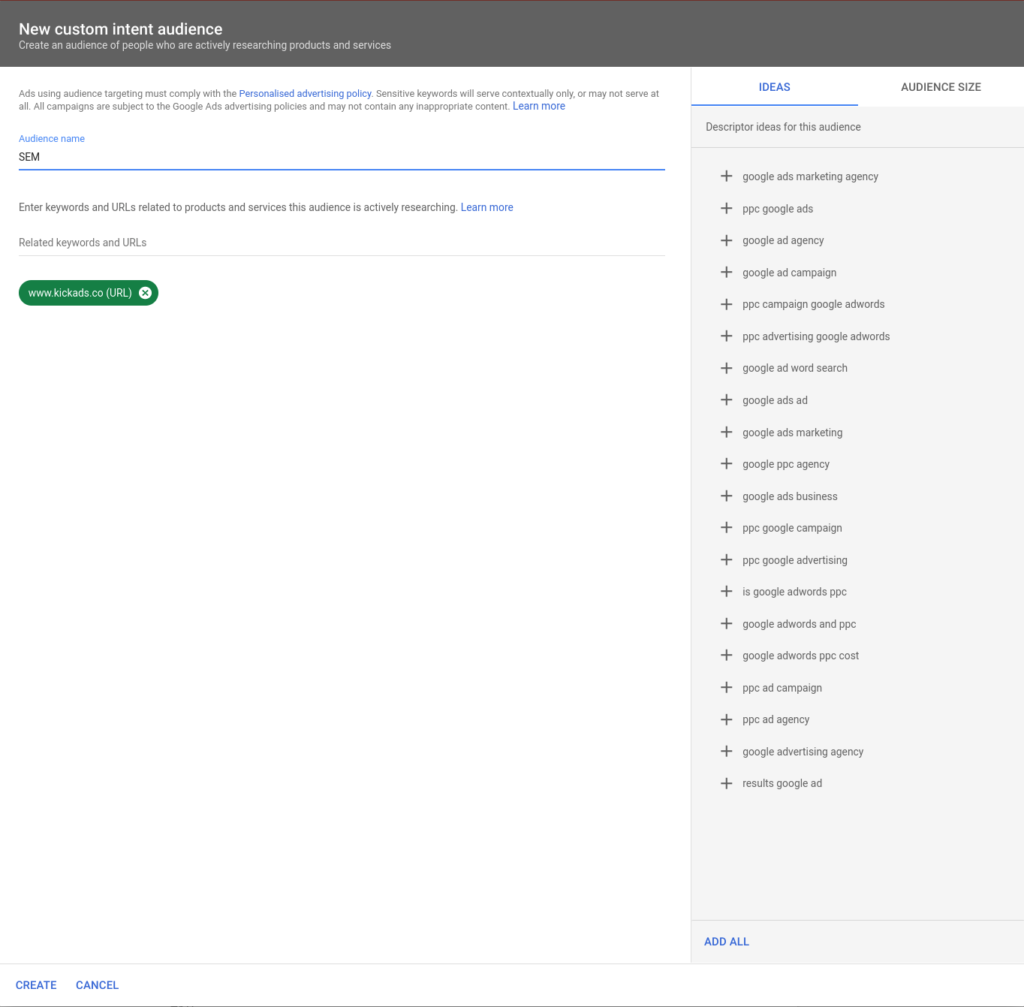 Done! You can see the "SEM" option in Custom Intent Audience!

Exclude ill-Performed Placement (Especially Mobile Game)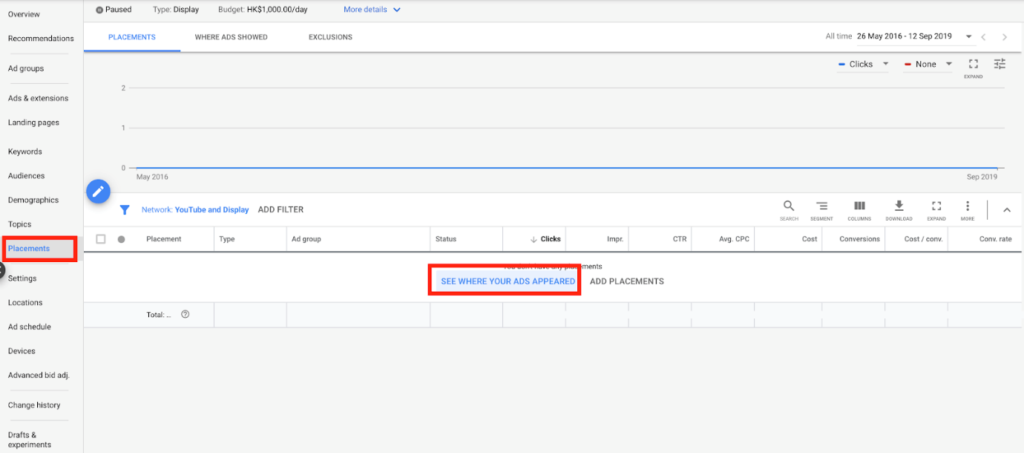 Go to the GDN Campaign's Choice Placement. Click on "Where Ads Shown" or "See Where Your Ads Appeared" (see the picture above) and you will see a lot of placements as shown below.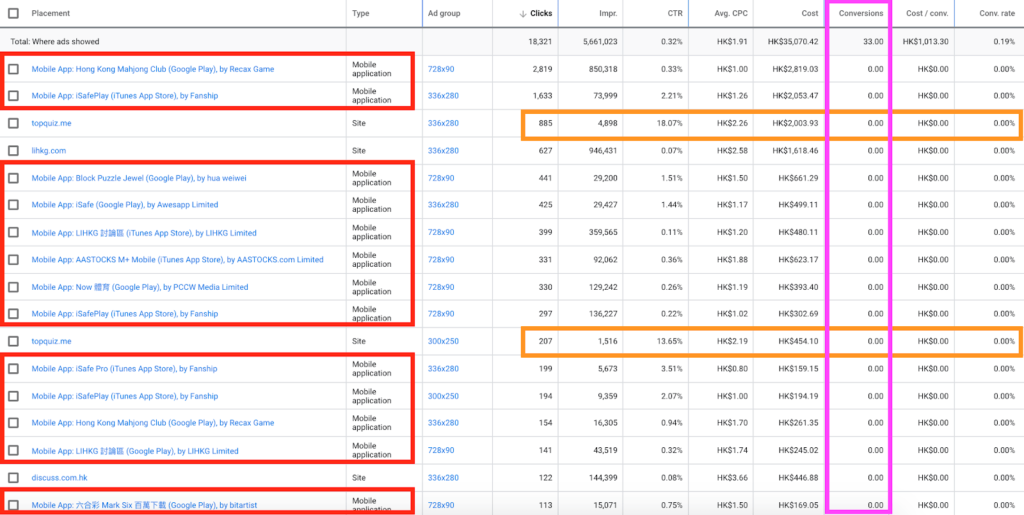 You will see that there are a lot of placements that are Mobile Applications. The conversion rate on the Mobile App is very low, unless you are going to do remarketing ads. Otherwise, I suggest excluding Mobile Apps.  You could exclude "adsenseformobileapps.com" on placement to exclude all Mobile apps previously, but by the end of 2018, Google Ads removed this option.
Other websites' placements should also be checked because some websites may be content farms or strange websites. The quality of these placements is generally poor. Remember to exclude these options. For example, topquiz.me CTR goes to a 10+%, they may have a lot of overlays. So, remember to exclude it as well. 

Check your CTR and CPC regularly
No matter how well-designed you ad is, you will have aesthetic fatigue for seeing so many times. When you see your CTR significantly drops and CPC skyrockets, You probably need to change the Ads and/or Copies.  Check the overall CTR regularly to see if it falls to a very low level. If yes, consider changing the creatives to make it more attractive. It is very hard to tell what is low level which really depends. You will have better idea if you monitor your campaign on a regular basis.