Who doesn't want free traffic? Do you want the customers to get all the detailed information, address and telephone number instantly in just one click when they Google your company? Or to have your company shown in Google search results when somebody searches the relevant business near your location? Google My Business is the best tool that you can't miss to boost the sales and traffic, as well as to build a professional image.
Where can you see your "Google My Business" information?
1. Search engine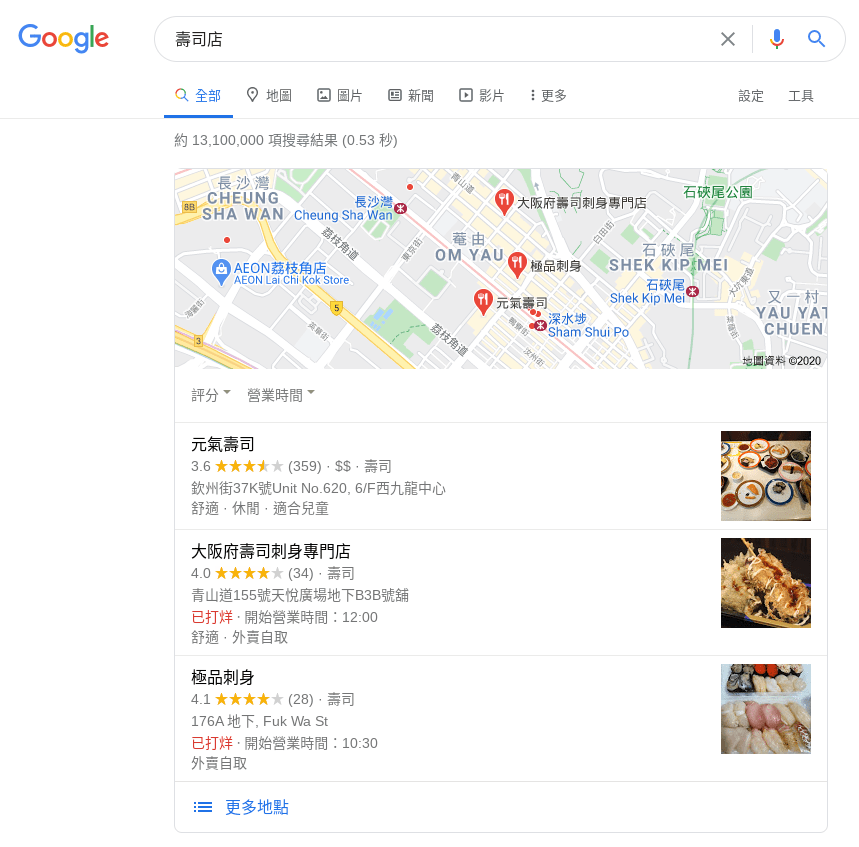 Let's see an example, I live in Tai Kok Tsui and it is 1:30 am at midnight. If I Google sushi restaurant, the local search results will show the sushi restaurants and their addresses based on my location (as shown below). Most of the local search results will show the restaurants with higher ratings and those with a physical store (food store or retail store). You may want to know how it works in ranking. Basically, it considers the relevance, distance, rating and the popularity of its store to your search terms.In this search, Genki Sushi ranks first in the search results. Though Genki Sushi's score is not high, it has many reviews. Therefore, it is not surprising that Genki Sushi ranks the 1st.
Do you know why I want to emphasize that I Googled sushi restaurants at 1:30am at midnight? It's because Google prioritizes the results that are still open based on your search time. Genki Sushi seems to be still open. No wonder it is popular around young people.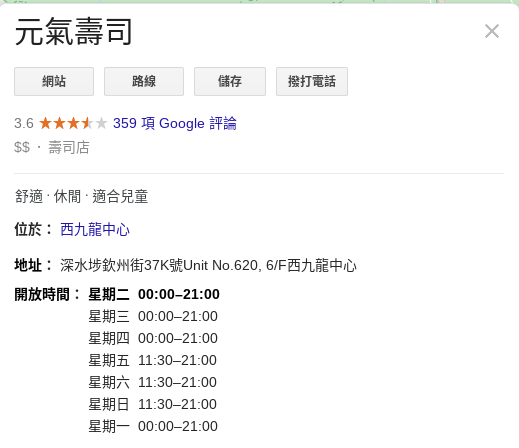 Do you think this is a strategy of Google My Business, or the business hour is really that long, or it is just an error? Please bear in mind that the accuracy of the information is extremely important, especially for physical stores. Leaving customers with disappointment is a poor user experience
2. Google Map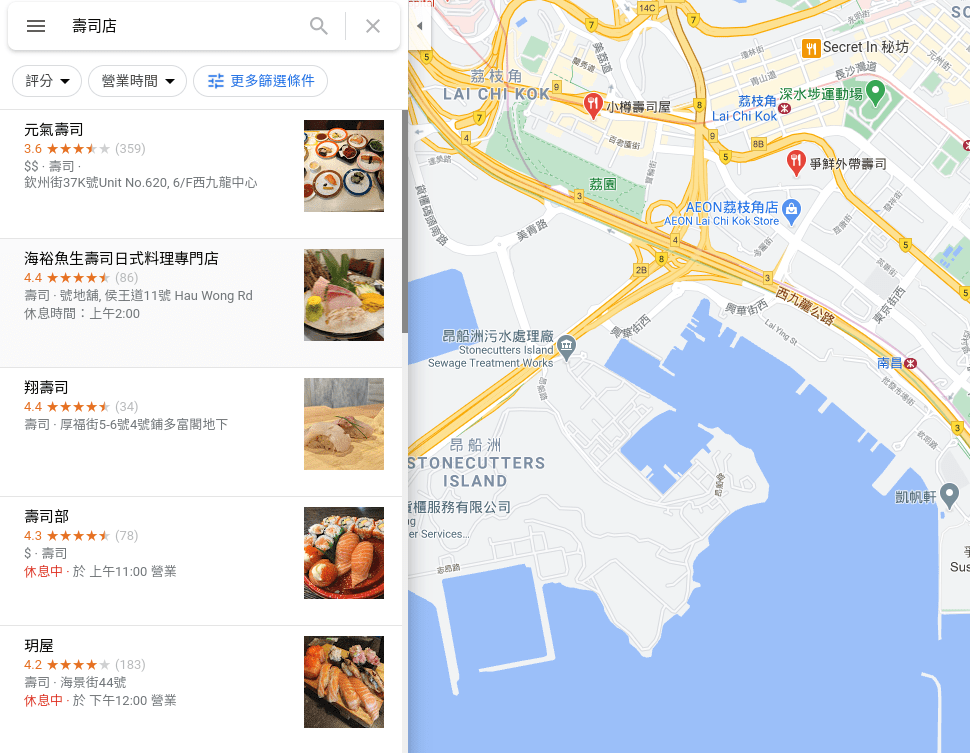 When we use Google Maps to check out store addresses or recommendations, it also shows a list of results (as shown below). Look, Genki Sushi appears in the list again and it is still opening!
3. Keyword Advertising
If you link your advertising account with your Google My Business and activate the location extension with additional advertising information, your business address may appear on Google keyword ads. For details, please refer to our article "9 Google Ads Extensions That Can Boost Up Your Sales".
How to apply Google My Business for your business?
1. Go to Google My Business website and click "Manage now".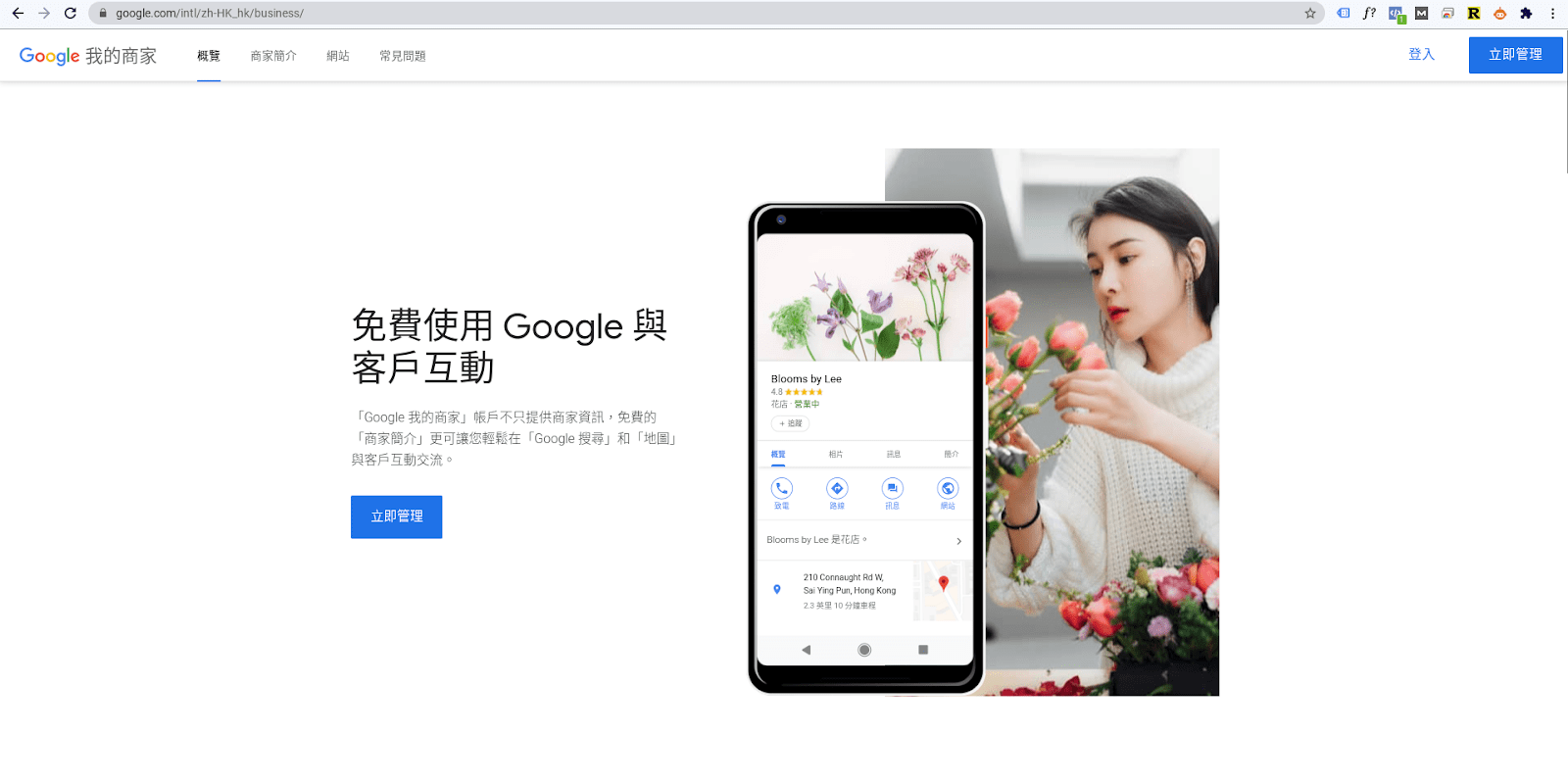 2. Login and click "Add your business to Google".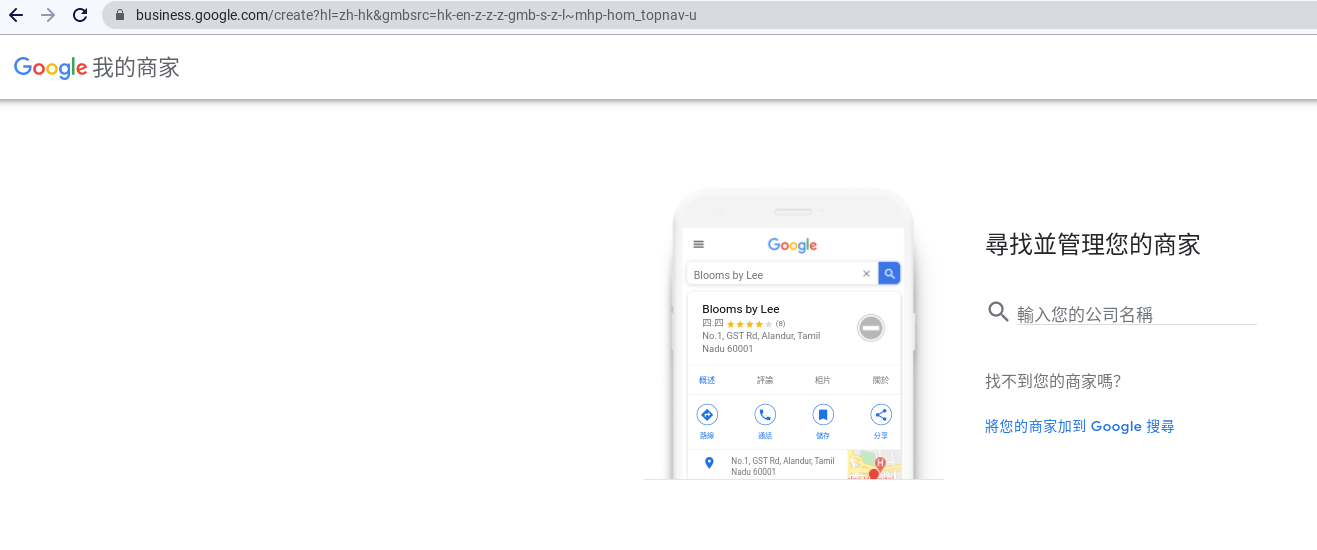 3. Fill in all the relevant information truthfully.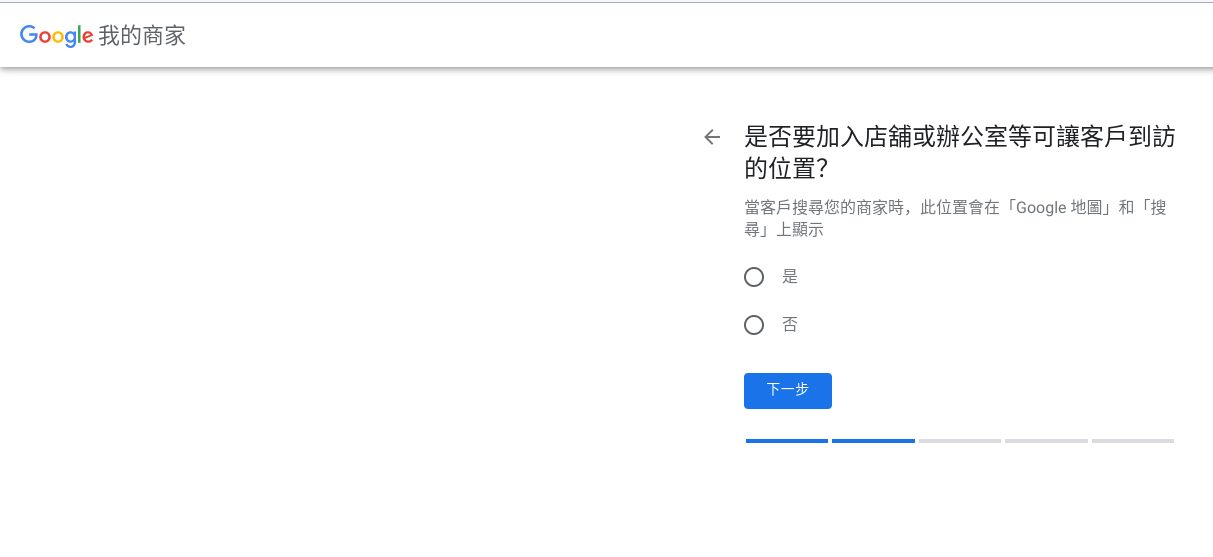 4.Click "Send postcard". Fill in the name of the contact person and click send.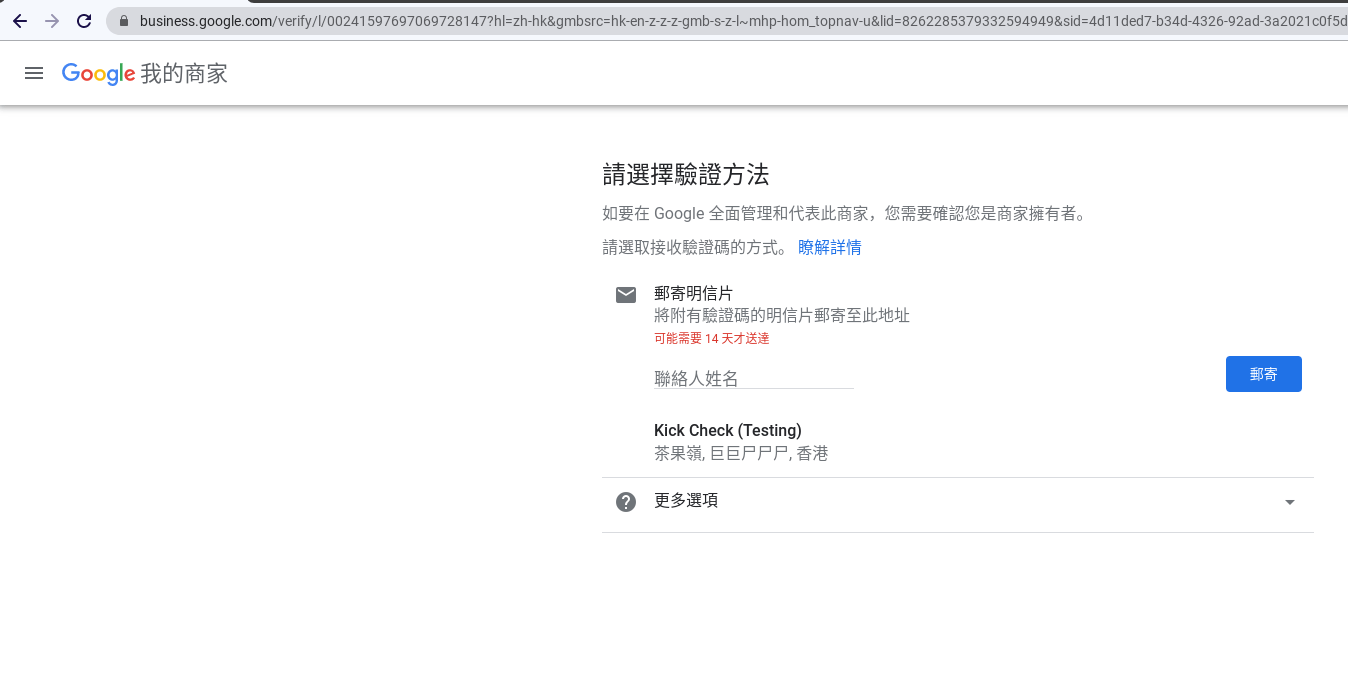 5. You will receive the postcard within 14 days. Follow the instructions to verify your business.
Optimization tips
Getting a higher ranking in Google search results page with Google My Business is easier and takes less time than any other methods. It is worth spending time to optimize your Google My Business listing to get more free exposure on Google. Take Kick Ads as an example, it only took us around 2 weeks to improve our Google My Business search results to have the highest rank. Here are some few tips you may want to know.
1. Make good use of your registered business name
Remember to include the most relevant business keyword to your registered business name. What does it mean? For example, Kick Ads is an agency that focuses on SEM / PPC. The most relevant keyword to us is SEM Agency. Thus, we include SEM Agency in our business name to make it as PPC/SEM Focused Agency Kick Ads (as shown in the image below).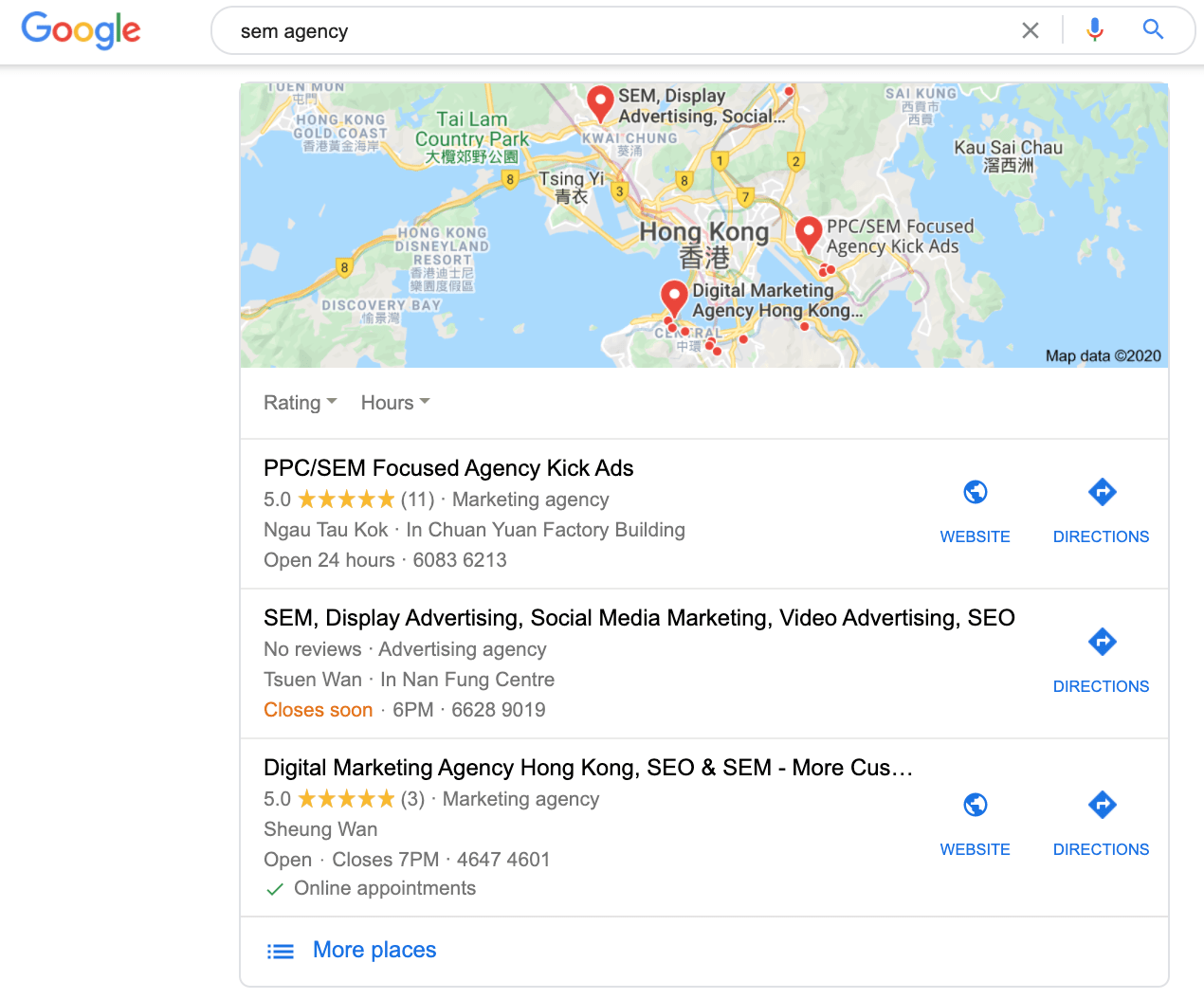 The name of our company is Kick Ads. However, as we want to let Google Search Engine know that we are a SEM Agency, we changed our business name to PPC/SEM Focused Agency Kick Ads. So that when people Google SEM Agency, we will rank first in Google search results. (If you are near Kowloon East, you may have a try!)
Make good use of your registered business name and include the most relevant keyword to it then you will see the excellent effect immediately. Please modify your business name in Google My Business name ASAP!
2. Enrich the information
One thing that is often overlooked is the business owners did not fill in all the necessary information in Google My Business account. In fact, not only the details including business name, address, email address, phone number and business hours, you will also need to fill in other necessary information to let Google better understand your business to rank your business higher in the search results. It is also an opportunity to give your potential customers more useful information about your company. Please refer to the screenshot below: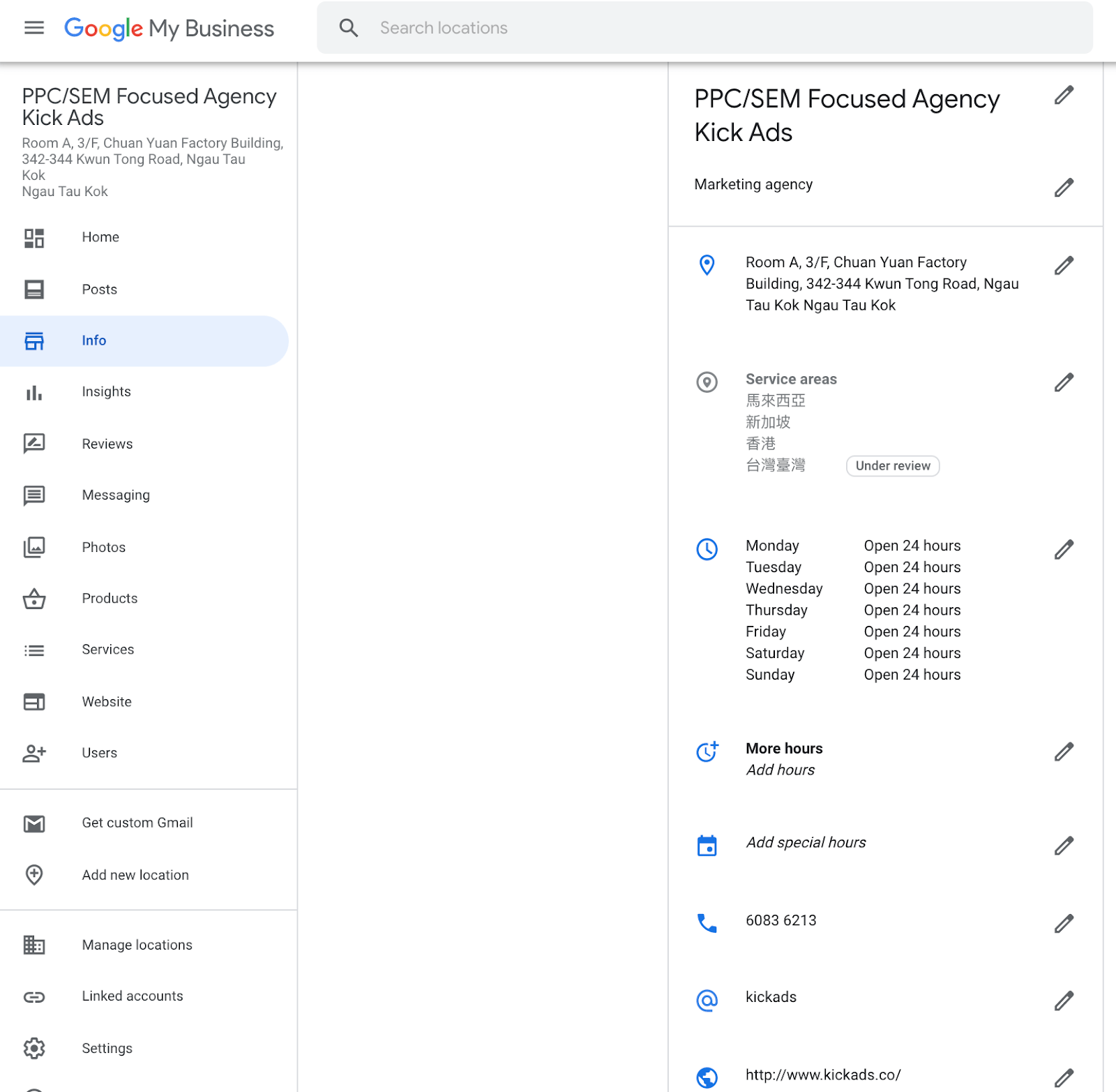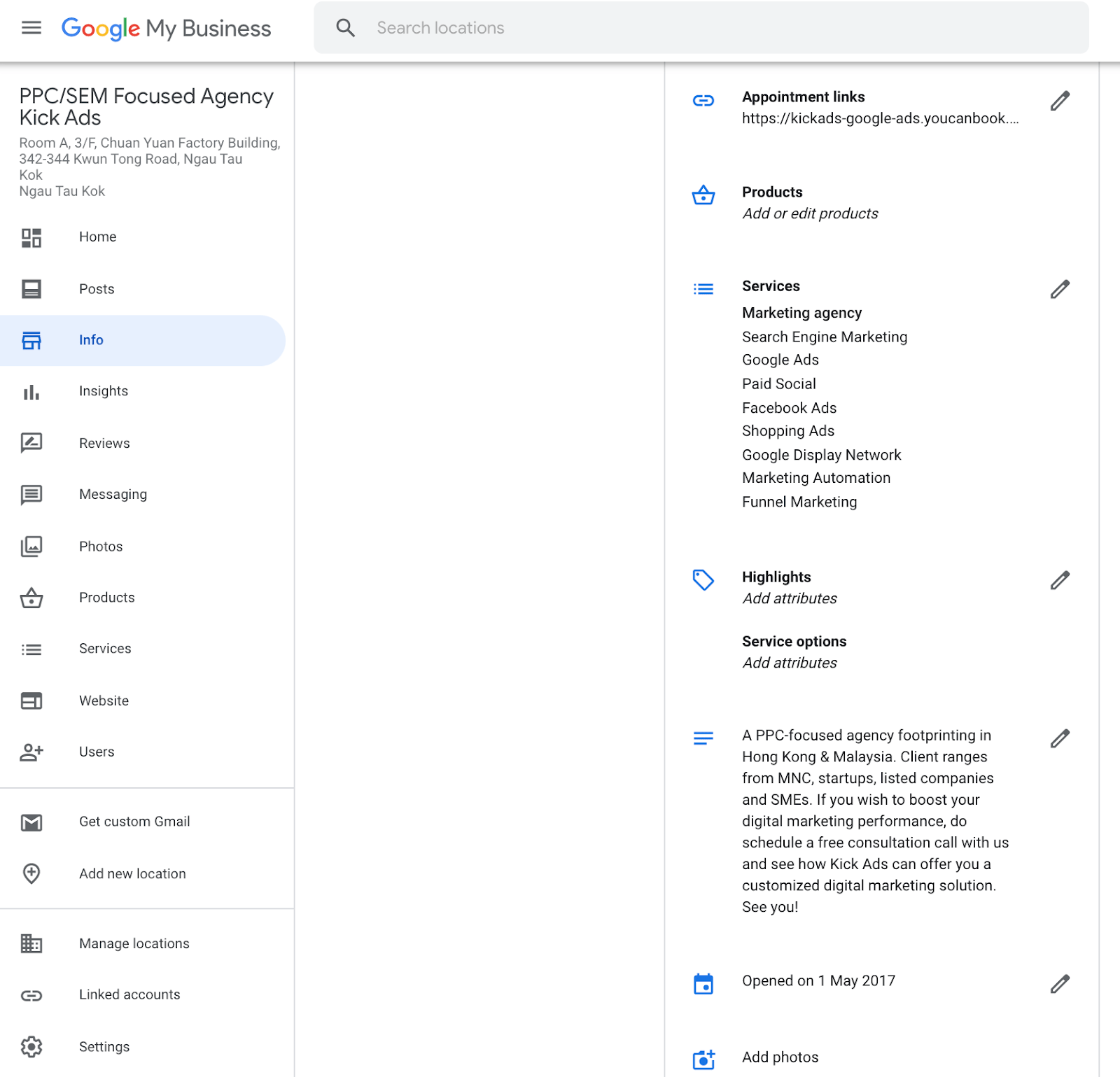 Try filling in all the information on the homepage of Google My Business, including category (marketing agency), company web page, products or services, company profile, and even company opening date, so that Google and your customers can know more about your company.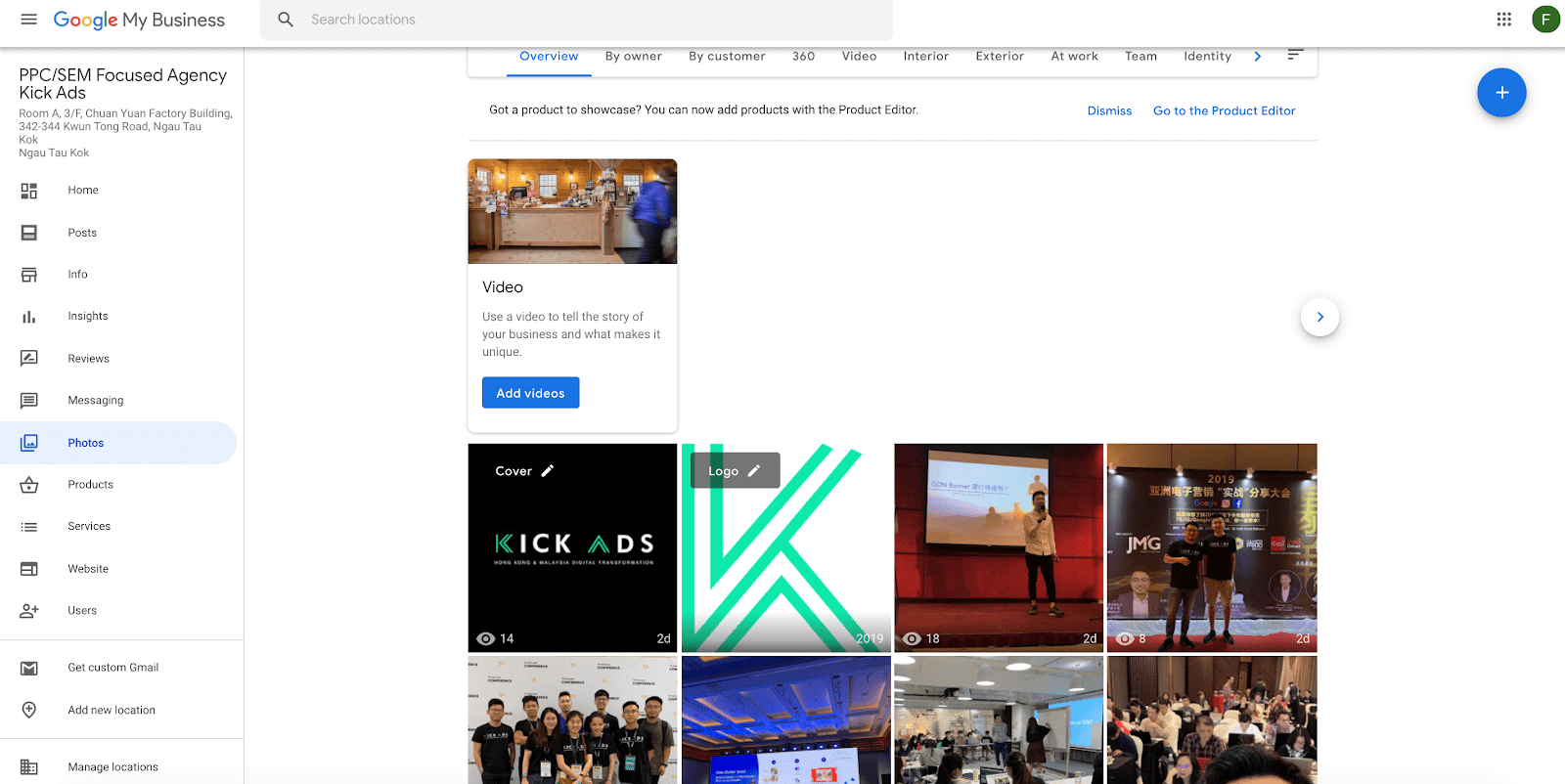 And don't forget to upload the relevant photos or videos to your Google My Business account as well. Kick Ads uploaded the company logo, team members, lessons and talks we gave in the past to enhance the trust in customers. If your company is in the retail industry or is a restaurant, you can upload your products, menus, food and other related images.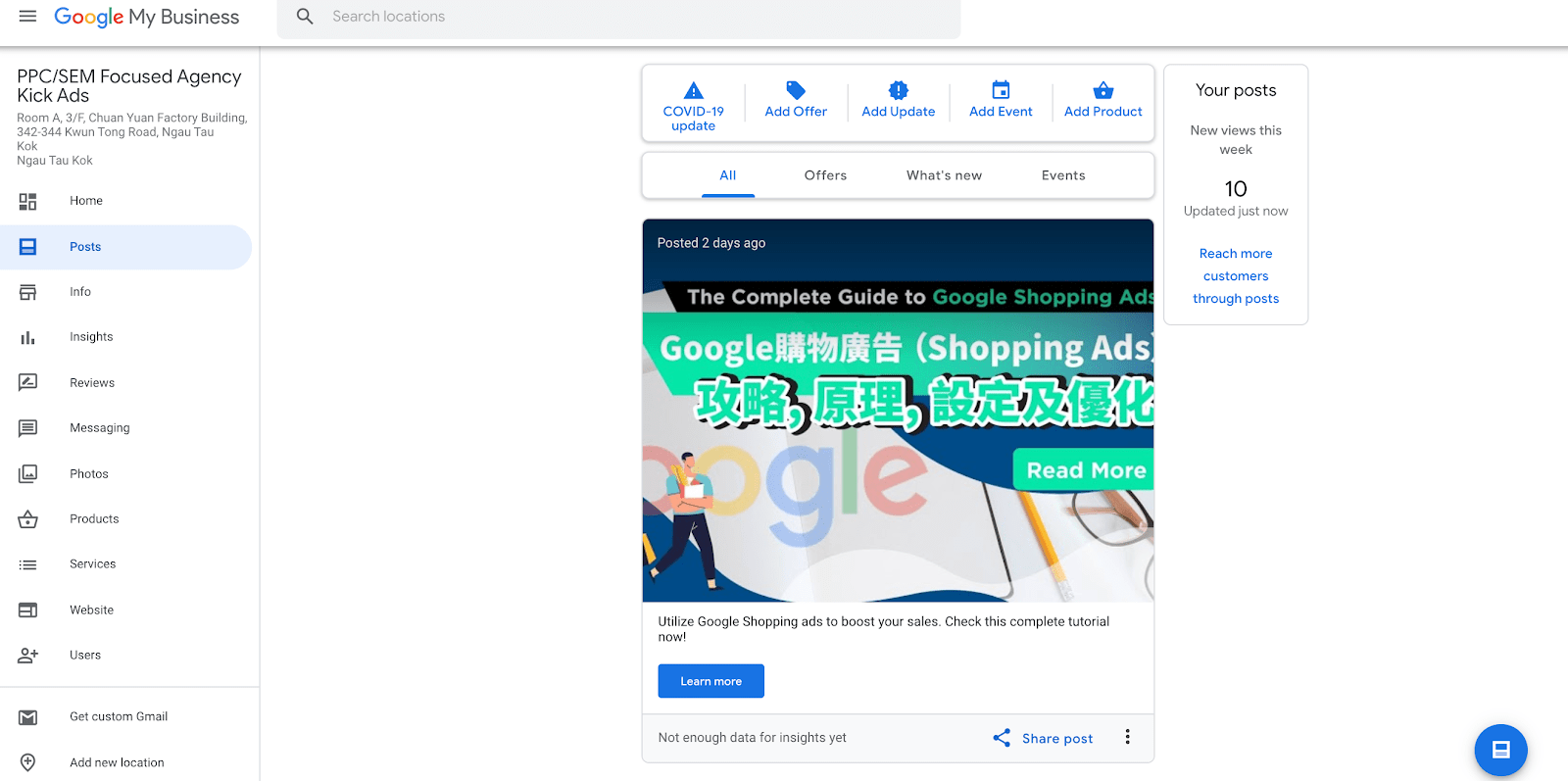 Another important note to take is to update your post. If you have new offers, new products, new company updates or any new arrangements due to COVID-19, you can write the updates in this section. They will be shown in the Google Search Results Page as the screenshot below.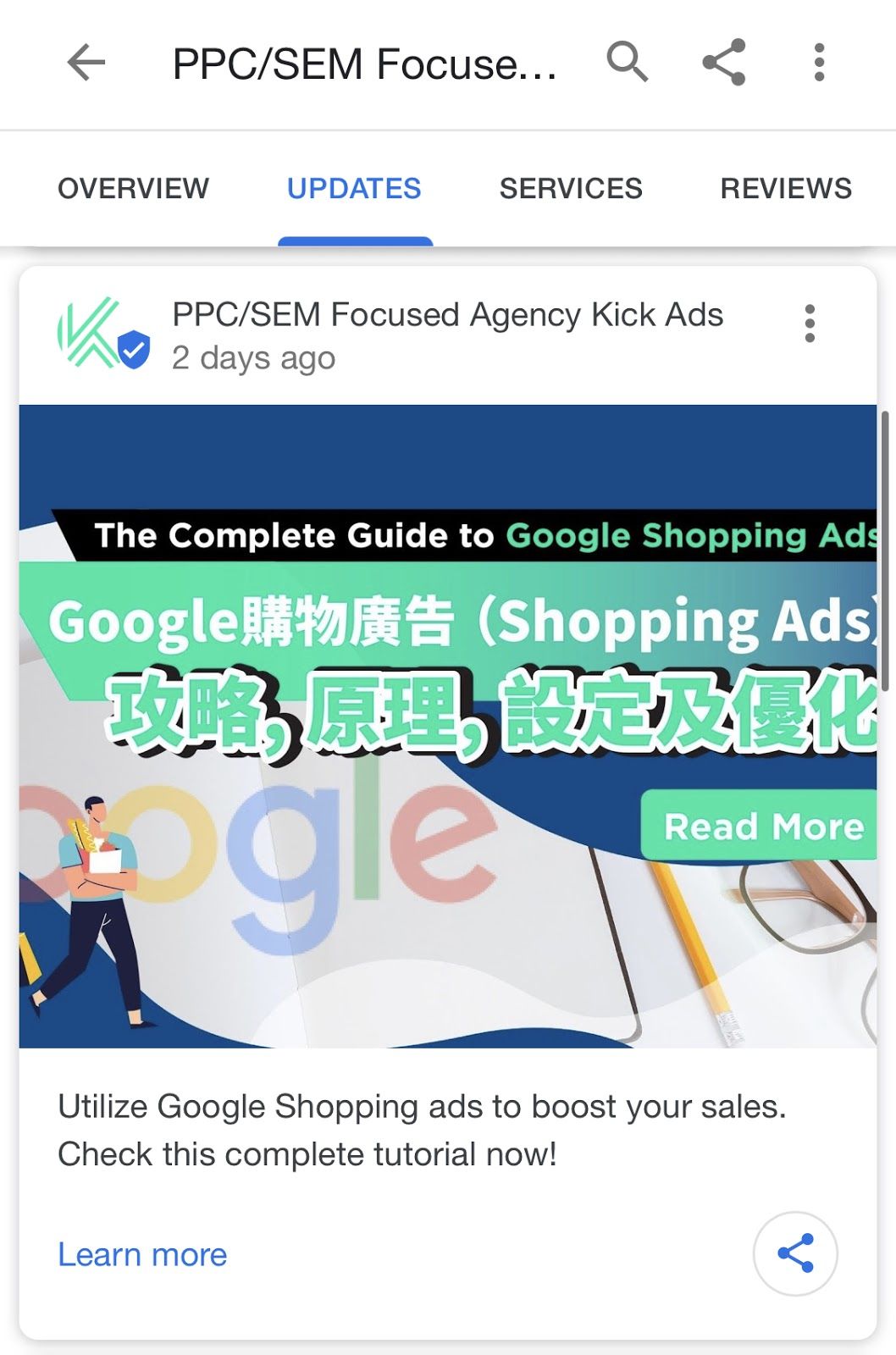 3.Ask your customers to write a good Google review
The last thing we need to know is that Google review is a must-have and powerful element! Many restaurants encourage customers to write a review in their Facebook Page and Google Map. However, the service industry should also make good use of Google reviews by encouraging customers to write a good review on their business page as Google ranks the companies with more and good reviews in the search results page at top. For example, there are numbers of barber shops in Kowloon. When I googled "barber Kowloon", three barber shops with high ratings and good reviews were shown in the search results. It shows the importance of the reviews so don't forget!