Google Ads Trend in 2022 – Setting Up Profitable Google Ads Campaigns
It is a wrap for the year. Google Ads obviously was changing so fast in 2021 that it may be difficult to catch up. Based on what happened in the past year, we can conclude that the main Google Ads trend in 2022 is going to be 2 words – machine learning. From taking down expanded text ads, simplifying bidding strategies, to introducing performance max campaigns & prioritizing smart shopping over standard shopping (Smart Shopping is going to be replaced by Performance Max Campaign in April 2022,), we can see that automation is what Google Ads is advocating. Regrettably, it is getting more black box under Google Ads' control and it means manual operation is not helping much. In this article, we are going to share some Google Ads trends in 2022 — how to set up a profitable campaign with help from Google Ads machine learning.
1. Smart bidding strategy rules the world
In 2017, when Googlers first pitched the automated bidding strategy (maximize clicks / maximize conversions), we were reluctant to risk our clients. We still remember that we trusted Googlers to adopt "maximize conversion" for one of our clients. The cost per acquisition went up 5 to 6 times and eventually, it cost a business. That is the reason why we refused to use smart bidding until last year.
As we have mentioned in our ebook, Google Ads simplified the bidding strategies to 5 strategies only in July 2021. They are manual CPC, maximize clicks, maximize conversions, maximize conversion values, and target impression share. After 1 year of observation and testing, we have found out the formula below works the best for us.
First of all, when you consider automated or manual bidding strategy, it is a no-brainer. We did mention before that manual bidding is no longer outperforming automated bidding. Now the question should be which smart bidding approach we should adopt. We suggest choosing "maximize clicks" first. Remember to set a BID CAP. You can find out how much you should set on Keyword Planner.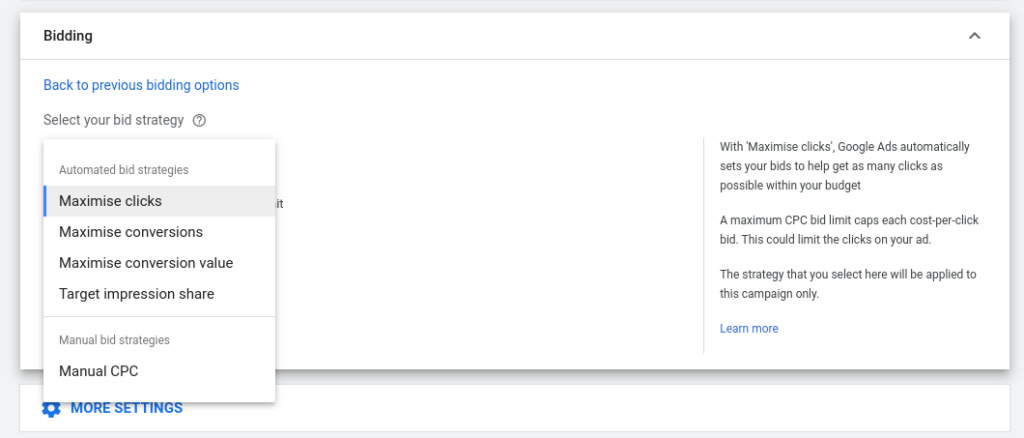 After getting 10-15 conversions for 1 campaign in a month, we could switch to smart bidding. If you are running an E-commerce campaign, you could change to maximise conversion value with target ROAS. The system will show the suggested target ROAS and you can key that in first.
If you are running a lead generation campaign, you could change to maximize conversions with target CPA. The system will show the suggested target CPA and you can also key that in first.
Let's see an example below.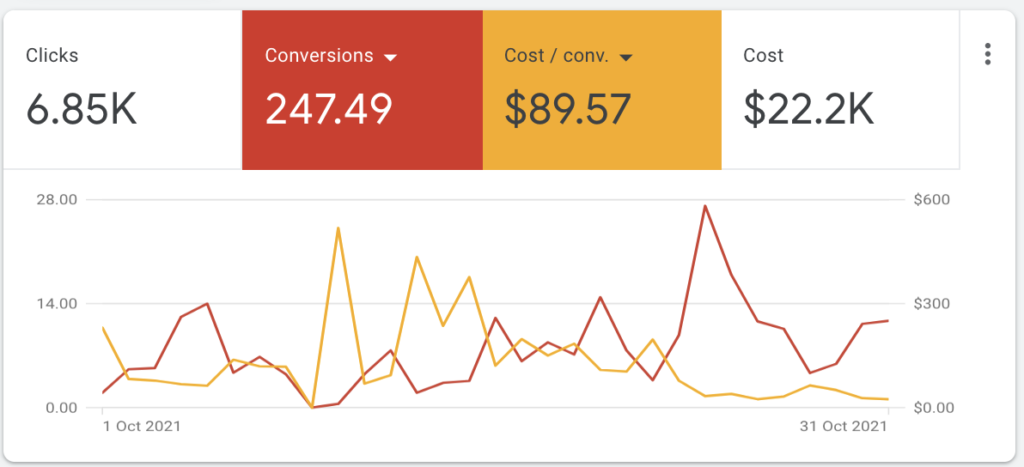 First month using Maximize Click and we have enough conversion data
Second month we switch to Maximize Conversion Value
We can see both conversion number and cost per conversion are improving greatly. It seems like smart bidding is getting more and more trustworthy. However, a side note here is the CPC is something we cannot control under smart bidding, so don't be too panicked when you see the CPC skyrocketing a bit.
2. Structure for Search Campaign is KING, FOREVER
The golden rule of having a successful search campaign is to have an organized structure. We have an ultimate search campaign setup guide and it is still solid. We group the same category of keywords under the same ad group. Under this ad group, we have the same message of ad copy to have a better ad relevance and hence, a better quality score and a lower CPC. At the same time, based on the budget, we categorize them into campaigns. Sounds easy right? But imagine when you have 20 services or 500 products, it is getting a lot more complicated. Bear in mind that if you don't have a good structure, you are going to lose a lot of money.
Still SKAG (Single Keyword Ad Group)?
Back in those days, we were advocating for a single keyword ad group (1 keyword 1 ad group). The reason is to have a highly relevant ad copy, which is fully customized based on that keyword in the ad group and we add that keyword in the ad copy. However, we have observed that Google degrades SKAG. They would prefer to have more keywords under the same ad group so that Google has more data to learn. In the world that Google advocates AI & machine learning, the structure is important but SKAG limits its "learning". Plus, Google promoting responsive search ads and fading out expanded text ads means the importance of super highly relevant ads is decreasing. They prefer you to rely on them instead of spending loads of time on ad copy creation.
In this situation, we suggest putting the same keyword theme into the same ad group that shares the same message. Google Ads is going to do the rest, given that we have a solid campaign structure, plus adopting correct bidding strategies.
3. Campaign Objective Does Not Matter for Video Ads
Pretty sure that you have acknowledged that we could choose campaign objectives lately when we create campaigns on the Google Ads panel. One of the most frequently asked questions is, do these objectives really matter?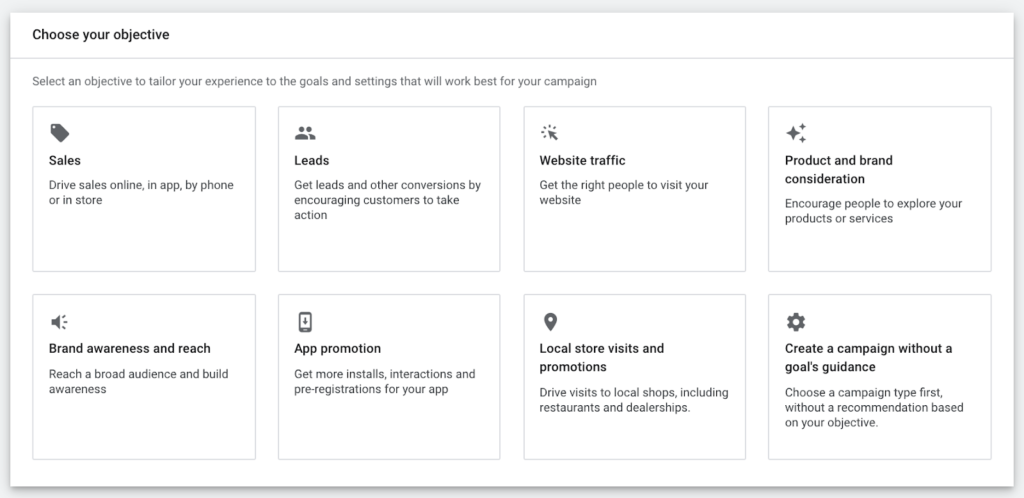 Recap of campaign objectives when we are the first step of creating campaigns
We have no conclusion for search campaigns. However, we have spotted a huge difference in video ads. Our conclusion is: do not choose any goal. Choose "Create a campaign without a goal's guidance". Let's take a look at the example below and you will understand the difference.

The screenshot above is a case that we experienced with a client. We were testing the same video campaign, same creative, and targeting. We found out the campaign without any goal performed a lot better on view rate and CPC. We do think that the major reason is bidding strategy. The campaign without any goal is using manual CPV while the one with website traffic is using maximize conversion (our conversion is correctly set). It skyrocketed the CPV and the CTR could not catch up. Hence, the CPC became super expensive.
We also found out that the ad is appearing so weird for website traffic / maximize conversion. We are not sure if this is the case but the screenshot below shocked me.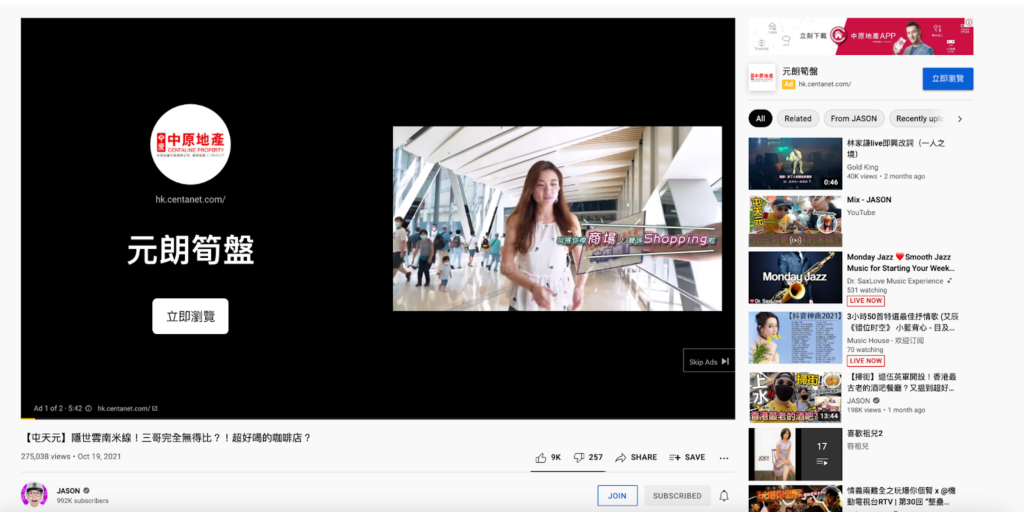 This is the video ad on desktop and the video is super small while the call-to-action section is the same size as the video. Although we could not confirm if the website traffic objective drives to this ad format, it makes absolute sense. The larger the button, the easier it is to get more traffic. To play safe, let's stick to no goal. Putting your effort into the video content and offer is a better approach than playing around with the Google Ads settings.
4. Discovery Campaign has great placements. Utilize it!
We all know that there are no more Gmail campaigns, plus the demand for masthead is getting lower. Discovery campaigns are a great way to expose your brand and get conversions. If you have not tried a discovery campaign, go ahead and invest some money in it. In case you have never ever heard of a discovery campaign, it is a consolidated campaign that places your ads on Gmail, YouTube homepage, and Discover app on Android. The image below from Think With Google shows where you can place your ad.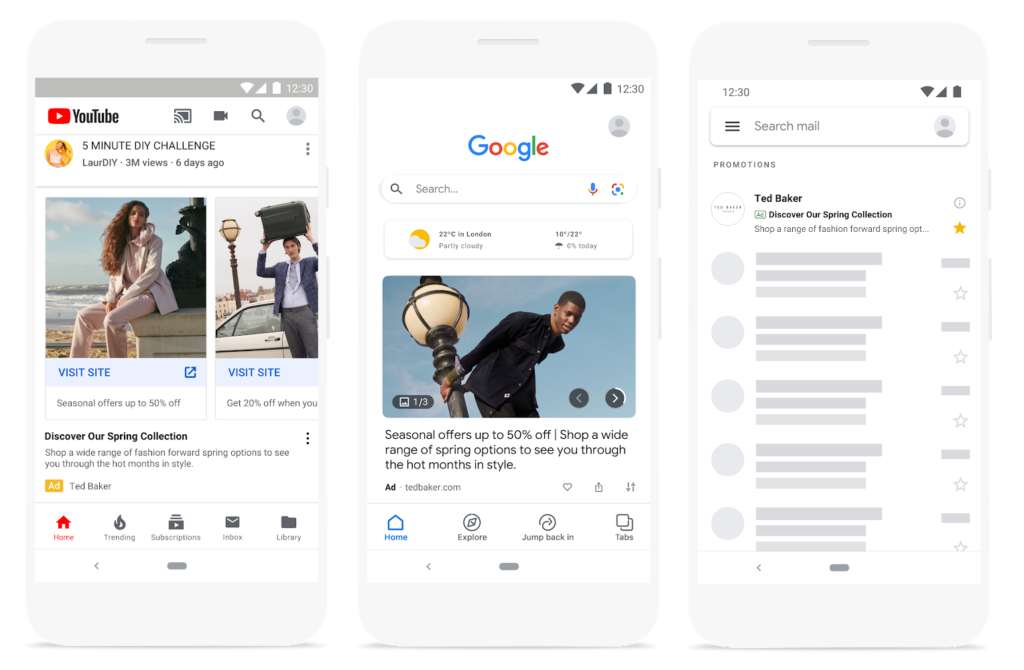 If you are familiar with Google Ads policy, buying a masthead on YouTube is going to be expensive. However, with the Discovery campaign, you can show your ad on the YouTube homepage, which looks very premium. Price? You must be shocked by the CPC. Given that your offers and creatives are great, the CPC can go lower to HK$1.20. Targeting is similar to display and video campaigns and you can have the same audience targeting as the rest of the campaign types. Let's take a look at the campaign from our client for the Double 11 campaign.

Yes! It could go as low as HK$1.20. And the best thing is, you could also retarget your audience with the discovery campaign. It could help you to get conversions without a doubt. If you were hesitating about this, let's do it now before your competitor starts. Check out our Google Ads free ebook to understand the specs and setup process.
5. Is Performance Max Campaign The Digital Marketing Agency Killer?
Performance max campaign is actually the latest campaign type that Google Ads has launched. Most of you could be pretty new about it because it is just rolled out in the second half of 2021. What it means is that Google utilizes your assets and maximizes the campaign performance across Google inventory using machine learning. Yes, again, it is machine learning.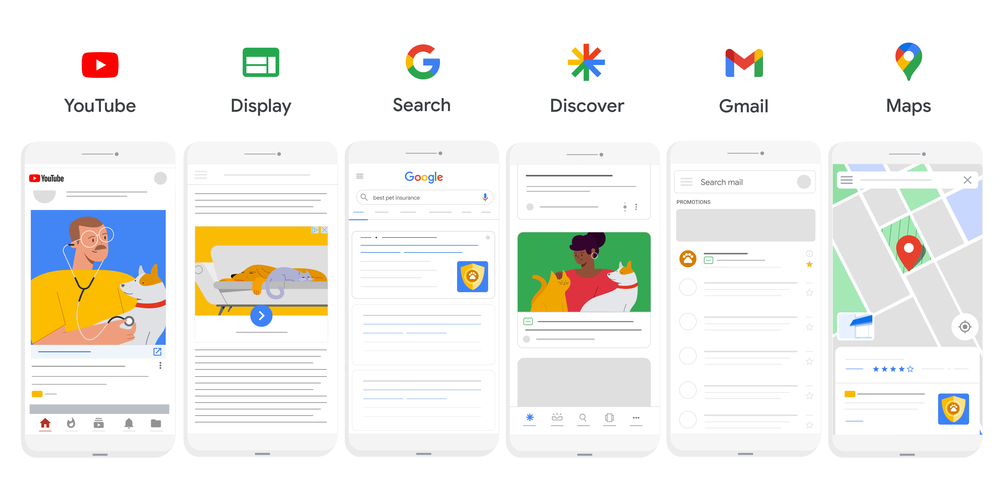 Your ads are going to be shown on YouTube, Display, Search, Discover app, Gmail & Google Maps.
Building Up a Performance Max Campaign – Asset Group
Very similar to responsive display ads, what you need to do is to input as many assets as you can. Headlines, long headlines, descriptions, call to action, business name, few images and videos will do. Do remember to put some unique selling points on your headlines and descriptions to outperform your competitors. The screenshot below is the full list of creatives that you have to key in. You can have a real-time preview on the right side.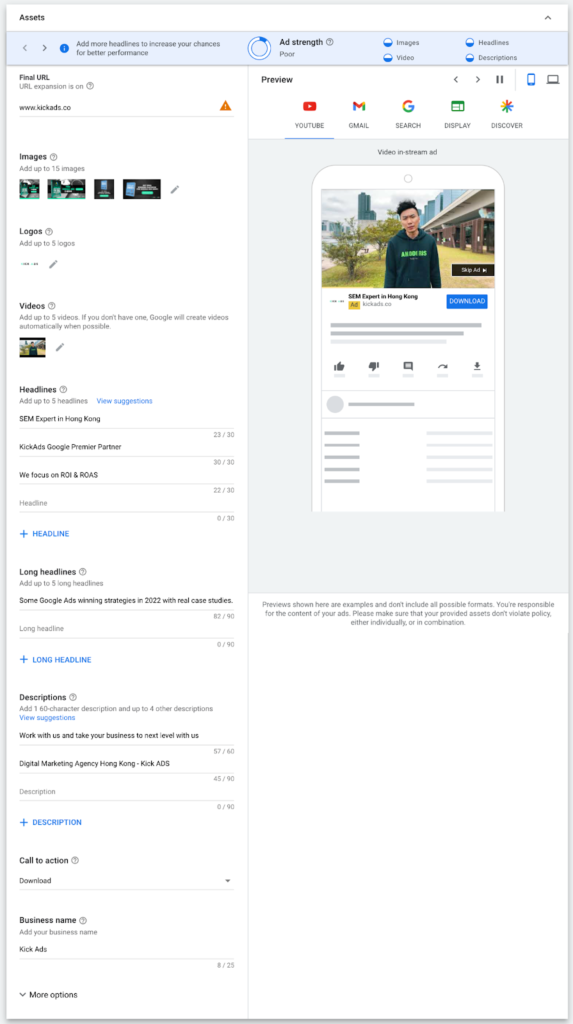 Building Up a Performance Max Campaign – Audience Signal
Unlike normal search or display campaigns, we cannot bid on any keywords, select a particular placement or choose some kind of topic. (You can only view where the ads are placed. Check here). Luckily, we can still pick our audience by creating an audience signal and letting Google Ads do the rest. In an audience signal, we can create our own custom segment (formerly named custom intent), select affinity / in-market / life events, and of course, demographics also. A plus here is we can retarget our custom audiences and we are able to include the audience lists and customer lists. Let's take a quick look below.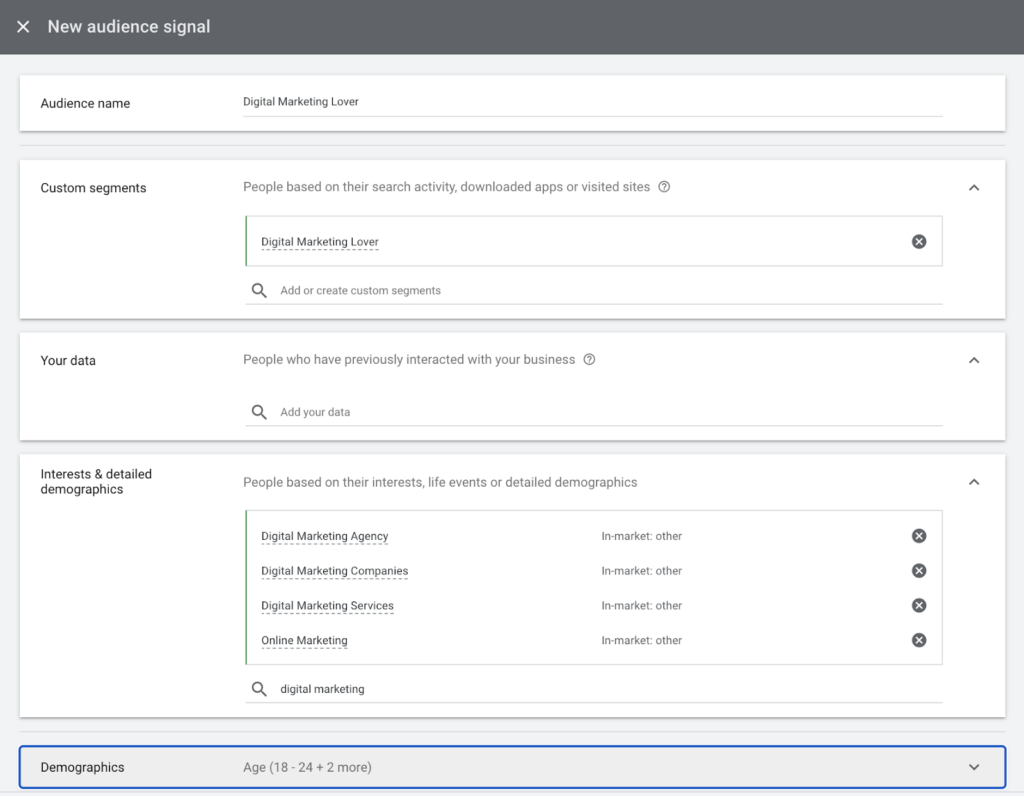 Performance Max Campaign – Pros vs Cons
I have a very strong statement here that this type of campaign type kills digital marketing agencies. Let's take a deep dive into the pros and cons, without using some fancy words.
Pro
1. One stop solution where you do not have to think of the setup of complicated campaigns. Advertisers only have to focus on creatives and offers. Google helps you to maximize the performance with machine learning. It is very suitable for small to medium enterprises that are short of hands-on digital marketing.
2. Likely to have great conversion numbers. Performance Max campaign only allows "maximize conversion" or "maximize conversion value". If the conversion is correctly set up, Google will pursue the conversion for you. Easy peasy! We have tested performance max campaigns for foreign regions (Japan & Indonesia) and we could see there was a great number of conversions, given that we didn't have to optimize much. However, there was no significant impact for Hong Kong, probably because of the COVID-19?
3. Because of automation, you save your time on fine-tuning the campaign set up. No need to worry about search impression share, dayparting, or even budget allocation across campaigns. You do not need to do optimization because it will do it automatically.
Cons
1. You have minimal control of advertising channels and placement. Let's say if you wish to show more on Google's search engine, you have no control. If you don't want your ads to show on Gmail or a particular website, you have no control either. We can only provide an audience and assets. Because of machine learning and AI, you cannot do anything. It ends up with a trust issue with Google.

So to play safe, if you are an experienced advertiser, organisation, or business, we will not recommend you try it because a planned and sophisticated advertising strategy is a better option here. Talk to Kick Ads if you want to hear more.
2. Another disadvantage is definitely a nightmare for agencies. Right now, we can see the trends of automation and machine learning. The contribution from agency teams is getting smaller and it looks like it's going to continue this way. What we can predict is that SMEs are able to handle the campaigns by themselves. So guys, let's equip ourselves with a better marketing strategy.
Like it or not, Performance Max campaign is here!
6. Start to Collect First-Party Data Now
We all know that people are concerned about their own privacy and Google & Facebook are limiting access to data for advertisers. We cannot rely on 3rd party data. To keep accuracy up, we suggest advertisers collect first-party data now.
Any suggestions for collecting first-party data?
Since 2019, Kick Ads have been trying to collect first-party data by sharing free ebooks in exchange for the audience's names and email addresses. We believe that paid ads are the only channels to amplify your message. We always suggest creating a funnel in order to get a better lead quality. Talk to us if you want to know more.
Collecting first-party data is the first step so that we are free from relying too much on advertising platforms. First-party data is our own ASSETS. Therefore, you can have free ebook download, free webinar sign-up, or free video tutorial to get their data. Below is our example.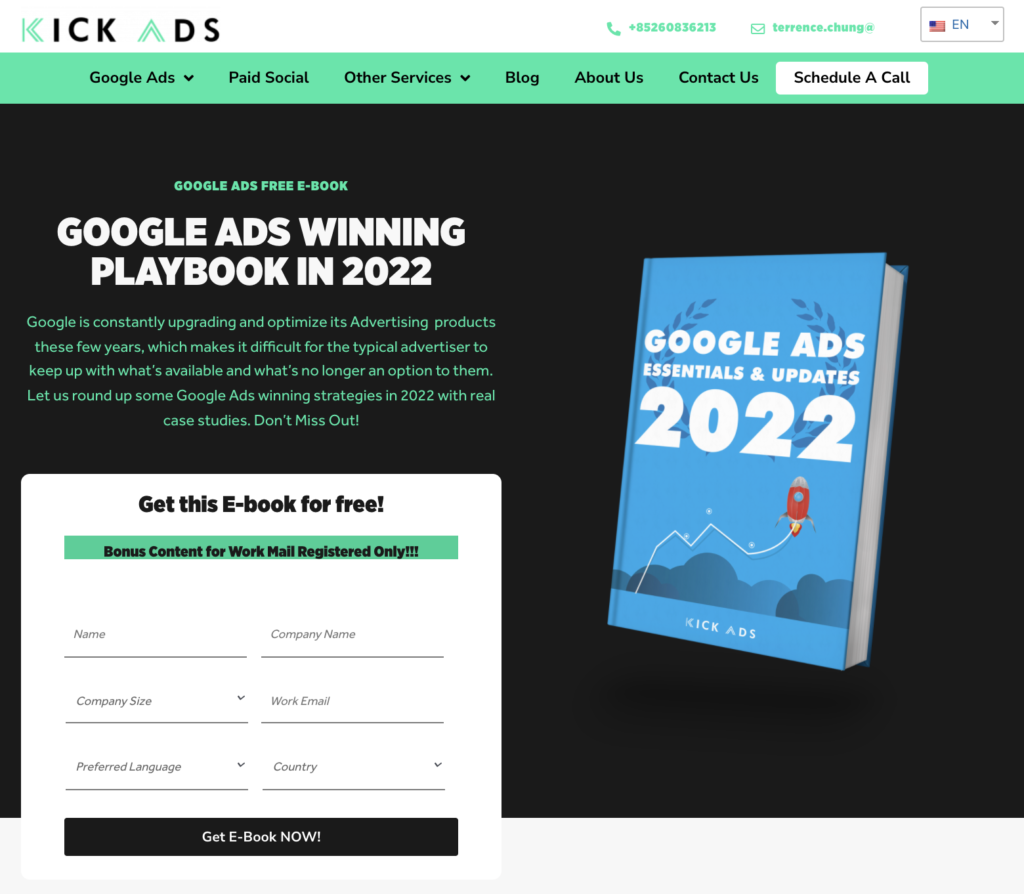 Of course, when you have their personal information, you can do your email marketing or any activities for CRM. But in this article, we focus on Google Ads.
Applying First-party Data into Google Ads
Once we have collected our email addresses, we can import them into the Google Ads audience manager. Later, we can add these audience lists into our campaigns accordingly. Let's say if you run an E-commerce store and you have 3 audience lists, newsletter signup, registered members & purchased members. If you run a "First Order Discount" campaign, you will include the list of newsletter signup & registered members and exclude purchased members. It can guarantee our ads are targeting only the audience we want and it does not show to the audience that we do not want.
Below is the screenshot of what it looks like when uploading the customer list.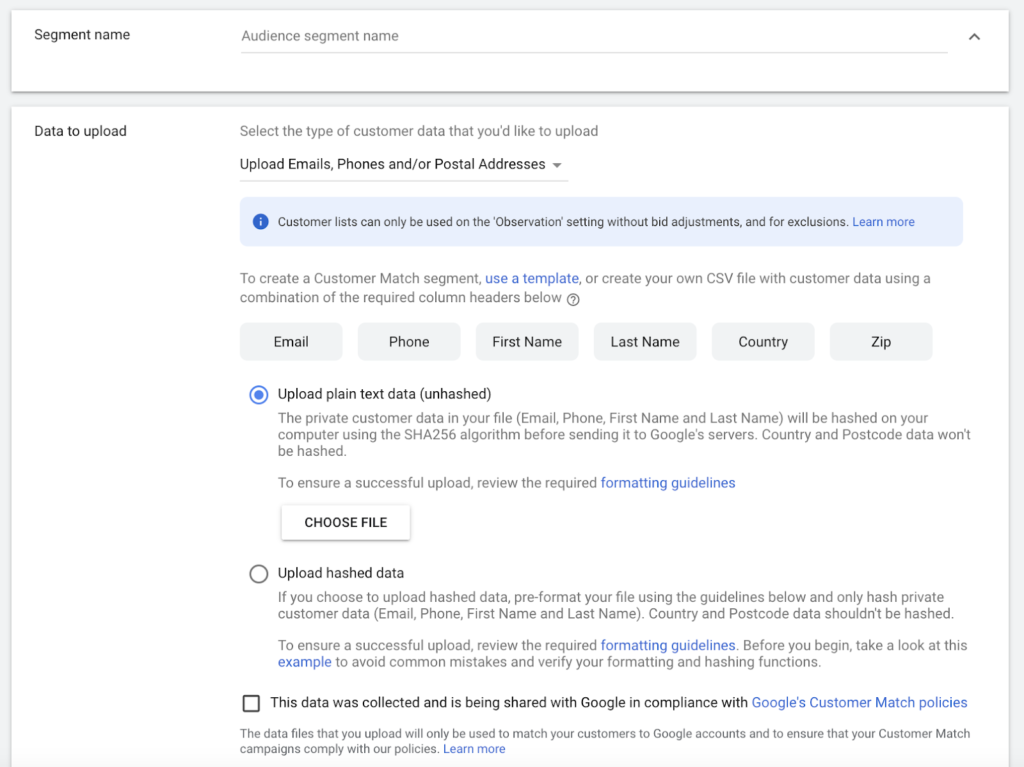 Another great feature is we can have similar audiences for these first-party data. Believe me, these similar audiences are far better than the affinity interest or similar audience of your website visitors. Do utilize them when you are about to run a prospecting campaign.
Power up and boost your ROI in 2022, Marketers!

Take a look at the 6 points that we have covered today. You might feel like machine learning, AI, and automation are very fancy but helpful. They do give you a helping hand but they won't turn shit into gold. Offer, creatives, and landing page optimization are still key. It is all about people. Let's work together and have even more successful digital campaigns!
Speak to Kick Ads if you're looking for more inspiration!