For Google Ads updates in February, mostly related to the experiments on search ads including the bullet point format of the ad description and the new ad label in the search result. Let's take a look together and prepare ourselves ahead before those tests roll out.
Google Ads Update 1:
Bullet Point Format Experiment in Search Ads

If you have used Google ads before, I believe that you will not be too unfamiliar with the format of search ads. Simply put, search ads are composed of headlines, paths (display URL)and descriptions (as shown in the figure below). Feel free to check here if you would like to know more about the elements and the tips on writing killer search ads.

Source: Google Ad Manager
The description part has always been presented in the form of paragraph text, but recently Google has tested the display method of the ad description. As you can see in the experiment screenshot below, the description part below the ad headlines is changed to a bulleted list and we can see that an ad can display up to three bullet points.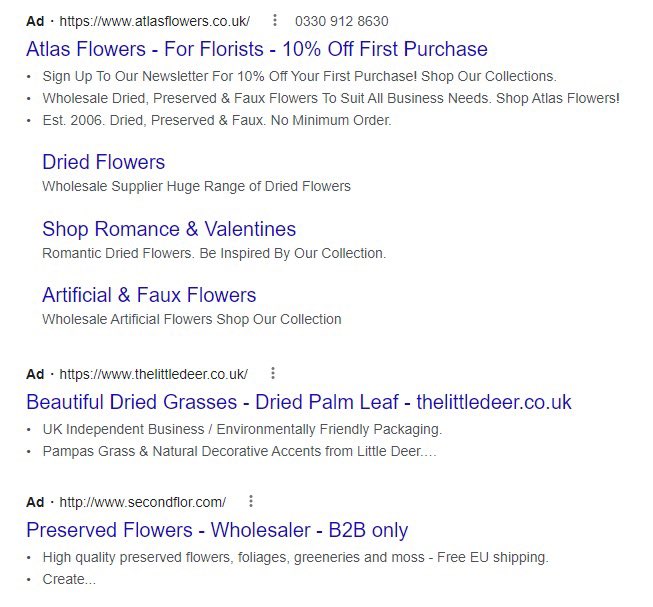 Source: Twitter
By using the bulleted list, the unique selling points and features of your business/product can be shown more concisely. Adding more relevant information such as a call to action and business information could help your audience to understand more about your company and messages, thereby enhancing your credibility and driving more engagement.
Google has been testing new features and ad formats, and this is just one of them. In the past few weeks, Google has also tested favicons in text ads, and global site tags with automatic collection. We'll share more details with you when these features are tested and officially rolled out. Stay tuned.
Google Ads Update 2:
New Ad Label Experiment

On Google's search results page, paid search results will have an "Ad" advertising label. Recently, Google is conducting a small experiment for this advertising label to help users more easily distinguish it from organic search results. The picture below shows the comparison of the experimental label (Left) and the current label.

Source: Twitter
We can see that Google has added a green curved outline to the solid black "Ad" tag, which is more eye-catching than the current "Ad" tag, and there is no text or graphic behind the "Ad" tag. According to a Google spokesperson, this was just part of a series of small experiments designed to help users more easily identify brands or advertisers associated with search ads.
We were a little surprised by this experiment, given that Google's design over the years has revolved around making paid results more indistinguishable from organic results, using less prominent ad labels, but this move seems a bit against the current trend.
Every time Google changes the design of the ad label, the click-through rate of the ad will be affected. If this experiment is officially launched in the future, advertisers should be prepared for the chance that the click-through rate might drop.