Drafts and Campaign experiments let you propose and test changes to your Search and Display Network campaigns. You can use drafts to prepare multiple changes to a campaign. From there, you can either apply your draft's changes back to the original campaign or use your draft to create an experiment. Experiments help you measure your results to understand the impact of your changes before you apply them to a campaign.
In short, Draft & Campaign means that you can test out some desirable changes in settings through a designated amount of traffic.

Below are some of the settings that Search Campaign usually tests:
Bidding Strategies

Device Bid Adjustment

Targeted CPA

CPC Bidding
If you are having a hard time comprehending the terms mentioned above, feel free to refer to the following article:
<<成為專家的第一步-認識Digital Marketing必須要懂的術語和專稱>>
My favorite testing subject is to determine the change of CPC towards the variation of CTR (Click-through Rate), Average Position and CPA (Cost per Acquisition). Any personnel who is serious in managing a SEM account would most definitely raise the following questions:
1. Is there a minimal CPA (Cost per Action) for the regular first-Position account?
2. If not, then what sort of Average Position is needed to reach the lowest CPA (Cost per Action)? 1.5?1.8?2.2?2.5?
If you noticed that one of your campaign performance is remarkable, and you feel like elevating the CPC Bidding to 20% to determine whether the campaign performance could be better, yet you are intimidated by the possibility that this change would affect the campaign negatively. This is precisely the time that Campaign Experiment would be useful. You can conduct your experiment by selecting 30% of Search traffic with the proposed increased 20% of CPC Bidding to compare the statistics of both the original and altered performance. Next, I will try to showcase exactly how we can do this:

Now I would like to increase the Cost Per Click Bidding (All Keywords of this Campaign) by 20% and conduct the experiment using 30% of search traffic
1. Click Drafts —> Create New at the upper right corner of the layout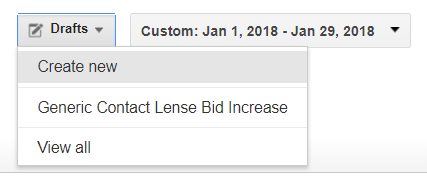 2. Name your draft, and click Create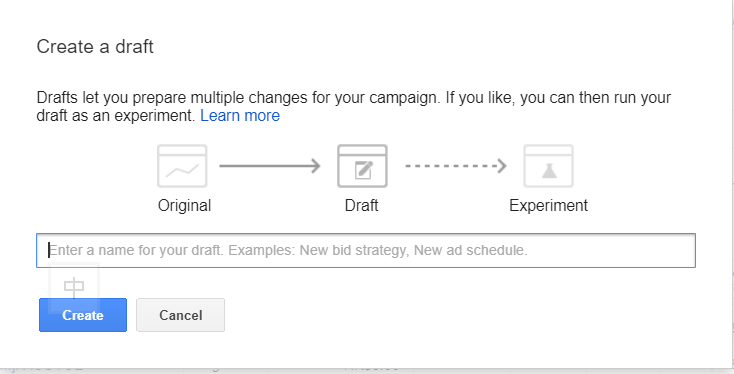 The steps mentioned in 2 is a simple demonstration process, I only demonstrated on how to alter the bid for one keyword (In fact you can use the Bulk Edit feature to increase all Keywords CPC Bid by 20%)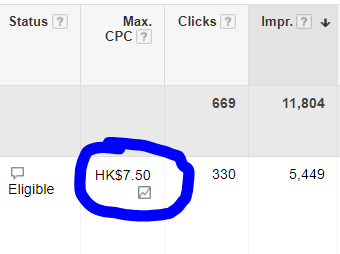 3. After the change, click on Apply

4. Click on Run an experiment

5. Fill in the relevant details and you are almost there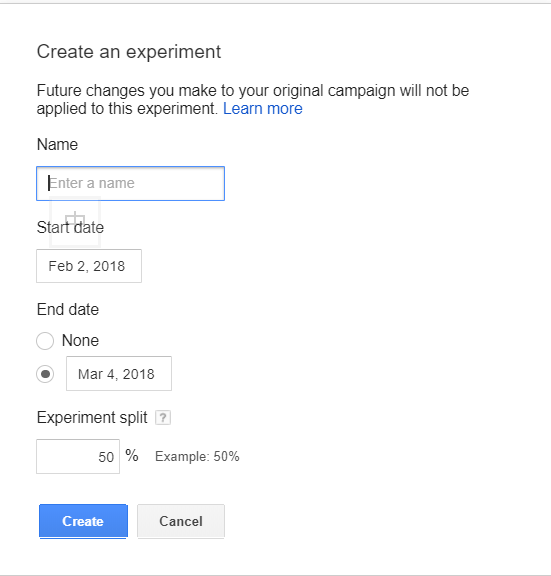 6. Choose that particular campaign you conducted, and press on view (as indicated by the above photo)

7. There will be a table showcasing the comparison between the original data and the experimental data (Bear in mind don't come to any conclusion too early as the experiment was only conducted for about 7 days)

The SEM Campaign Experiment is truly a remarkable feature; however, I do have a few gentle suggestions for those who plan to use this feature:

:
The recommended minimum duration for the campaign experiment is one week (a small cycle for normal businesses in general), up to one month. (Prolonged testing is meaningless as it won't change a made-up mind)

Choose campaigns with relatively high volume as experimental subject, direct alter the settings for campaigns with too little volume. (less to lose, come on) Please do not spend too much time nor energy on low volume campaigns.

Only run 1 campaign for each draft or campaign experiments so it's easier to administer an insightful comparison.


Do not change your Draft Setting during the experiment.
In response to the two questions raised earlier and to the best of my experienced-backed knowledge, ROI and CPA with generic keywords average position ranking from 1.7- 2.2 would be most ideal. Of course, each industry is different with varying intensity of competition, hence resulting in different ideal ranking. As time goes by, competitors tend to come and go, indicating that the ideal ranking will gradually change with time, which is why everyone is encouraged to conduct more frequent testing and experiment! (It's been a while since I have written, please forgive me for the relatively short article!)
[mailerlite_form form_id=1]