Gmail Ads, previously known as Google Sponsored Promotion, has been one of the most effective channels for Advertisers. Though it can't bring you huge volume of traffic, it can give you conversion with lower CPA, when compared with traditional GDN Display Banner. If you have followed Kickads since Day 1 or have read all our articles, I have put sort of a statement in my Chinese article 《GMAIL ADS 完全設定手冊》  which was published in 2016. However, it has been 3 years since 2016 and quite honestly, not many advertisers, especially SMB ones, have tried this format so far.
It is 2019 and it's a fact that the interface, the format and even the settings of Google Ads/Gmail Ads have changed quite a lot. That's the reason, I would like to write a more elaborative, ultimate and an updated  guide for Gmail Ads and we'll go over EVERYTHING you need to understand so that you can equip it on one of the Google's most popular platforms. (Current Number: 1.2 billion users for Gmail)
WHAT ARE GMAIL ADS?
In this rapidly growing modern era where internet surfing is even more important than eating, it is very common to have at least one Gmail Account for your personal use. Knowing that you must be having one, let's work on the details. Starting with the description, notice that there are three main tabs on your Gmail, namely "Primary", "Social" and "Promotion". 
I believe I don't have to elaborate too much as you guys should be able to understand what these three tabs represent from their own naming, right?

Desktop View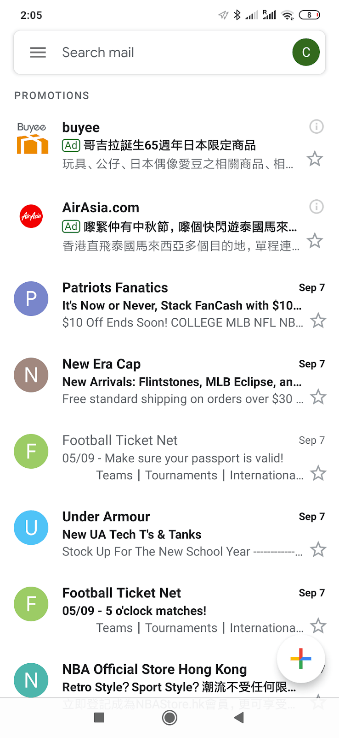 Mobile View
The Gmail ads are placed at the top of the Gmail inbox. They have a Green Color Ad Box which indicates that it's an ad and not an actual email but is visible as a normal Email.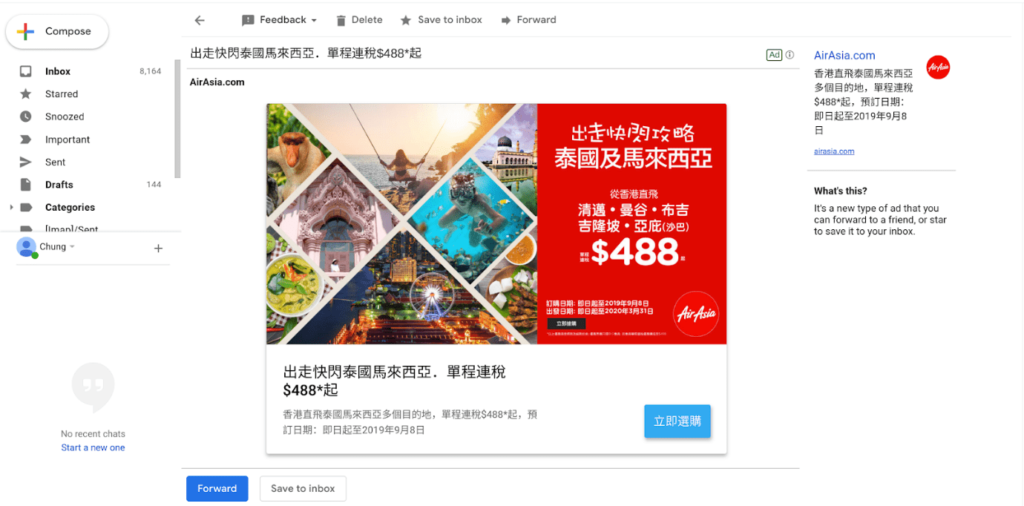 Desktop View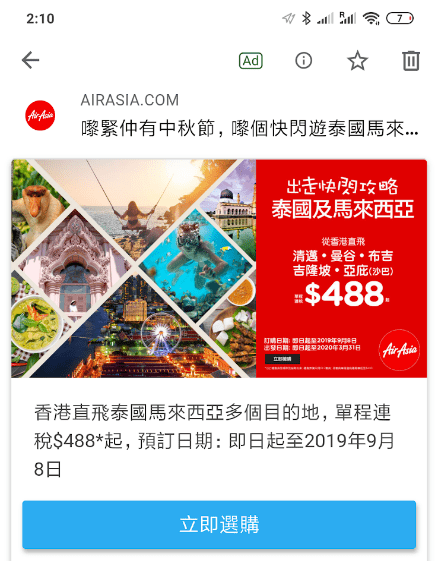 Mobile View
What are the upsides of Gmail Ads?
Less Competitive
Analysing the latest market trends, it is hard to not notice that  most of the advertisers, if not all, are well-aware of SEM, Facebook Ads and GDN Banner Ads.Even though they may not master the optimization of those channels, they know those are essential channels when it comes to online advertising.  The competition in this arena is fierce on those channels. However, my experience tells me that not many advertisers have made use of or are using Gmail Ads which in benefit offers the Cost per Click at much cheaper rates comparatively.
More-Ready-to-buy-customers
We can agree that both Banner and Pop-Up ads are somehow Disruptive. The reason is that these Ads show up at the moment when you are unlikely to look for Advertisement (Maybe you are reading News, Video or doing research for your homework or Work Project). There at most of the situations, you will be at a certain level, reluctant to view Ad.
However, you can only view Gmail Ads when you move to "Promotion Tab". When you do, ask yourself, I am pretty sure you expect to view Ad and even better, you may actually look for Advertisement. I am not kidding, in this circumstance, your ad is not disrupting user , you are providing what the actually want. So it's no wonder under this occasion, Gmail Ads Click Through Rate (Gmail Open Rate) can be high up to 25- 30 and Conversion Rate is even quite Good!
Native Ad Format
Display Banners sometimes are too disruptive to look at or maybe you just get so used to it that your eyeballs automatically feel like skipping it? Talking about Gmail Ads, they cannot be blocked by Adblock. It is also prudent to mention that Native ads have the power to influence online users at a subconscious level. 
Recommended Reading about Native Ads: https://www.columnfivemedia.com/the-science-behind-why-native-ads-work
How to create Gmail Ads?
Choose "Create a campaign without a goal's guidance, then choose "Display" then Pick "Gmail Campaign"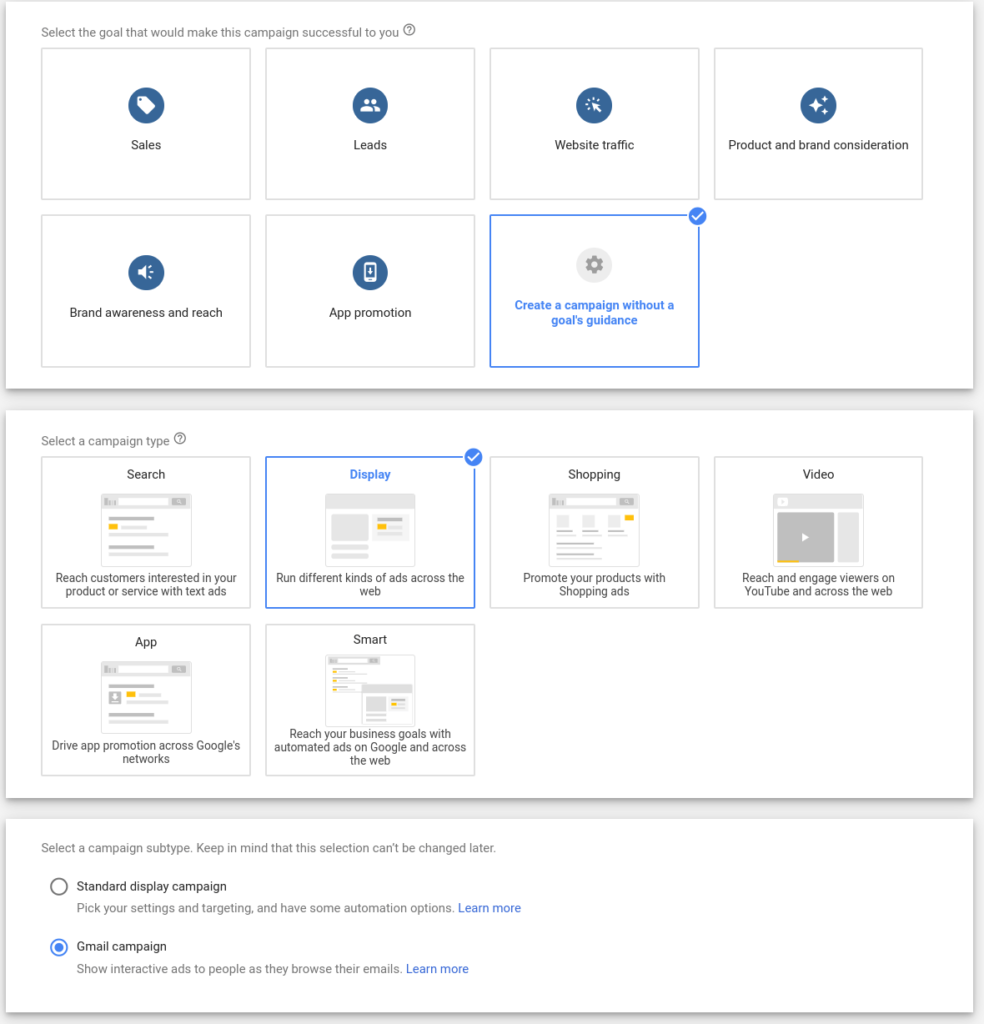 For Basic Display Campaign Setting, we will help you get most of the ideas through this article《The Complete Guide to the Google Display Network (GDN)》. The GDN Article will benefit you to easily understand how to set Targeting, how to Set Budget and Bid. Compared to the Standard Display Campaign, the format followed in Gmail Campaign is a bit different, especially at the part of "Create Ads"
Three formats to create Gmail Ads
Closed Ads/Opened Ads
I absolutely love this format as it enables you to include diverse elements like different images, catalog images, and even videos on the format which makes it more sophisticated to look at, which can draw the attention of users. Adding on, the setup is super easy and takes only a few minutes to get the ad done! Sounds Great right?
Specification:
Business Name: 20 Character Limits
Headline :25 Character Limits
Description: 90 Character Limits
Final URL: No Restriction
Logo Image:144 x 144 px to 1200 x 1200; 1:1 ratio; 150KB
Header Image: 1200×400 (minimum size required: 600×200)
Marketing Image: Landscape (1.91:1)1200×628 (minimum size required: 600×314) or Square(1:1): 1200×1200 (minimum size required: 300×300)
Image Ads
These are even much easier to set up when compared with closed/opened Ads, but unfortunately, on the Gmail display, it does not really appear to be appealing. It's basically only an image where you can add any items on it. Basically, No Customized Call-to-Action Button, No Videos and No Text Elements inside.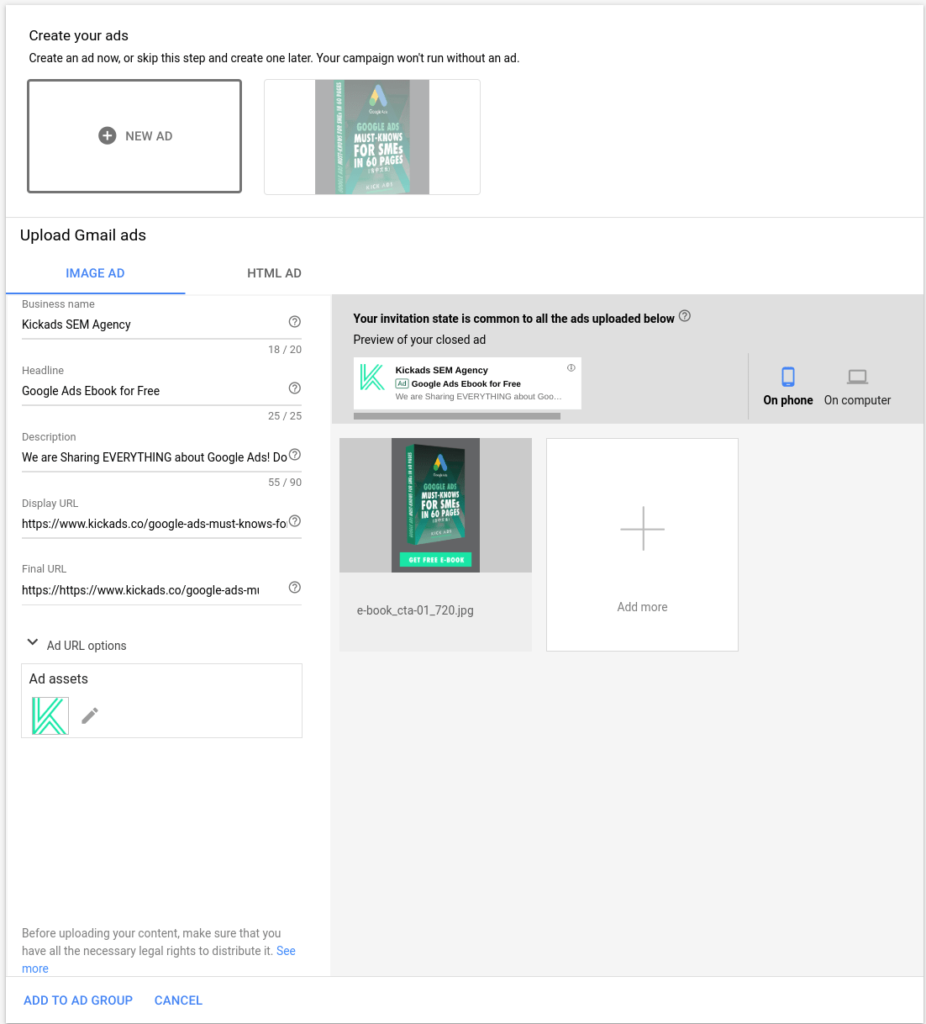 Specification:
Business Name: 20 Character Limits
Headline :25 Character Limits
Description: 90 Character Limits
Display URL: No Restriction
Final URL: No Restriction
Logo Image:144 x 144 px to 1200 x 1200; 1:1 ratio; 150KB
Image: 300px to 650px] x [300px to 1000px], less than 1024KB
Accepted image formats: JPG, JPEG, GIF,PNG (non-animated)
HTML5 Ads
HTML5 Ads enables you to fully customize your ads! You can easily make your Gmail ads more precise by including numerous CTAs, descriptive videos, images, and buttons. You can design what you want, creating a unique Gmail Ad to stand out in the Market! However, when compared with the other two Gmail Formats, it is a bit more difficult to create. Normally, you need to have a guy capable of basic Coding to get this done!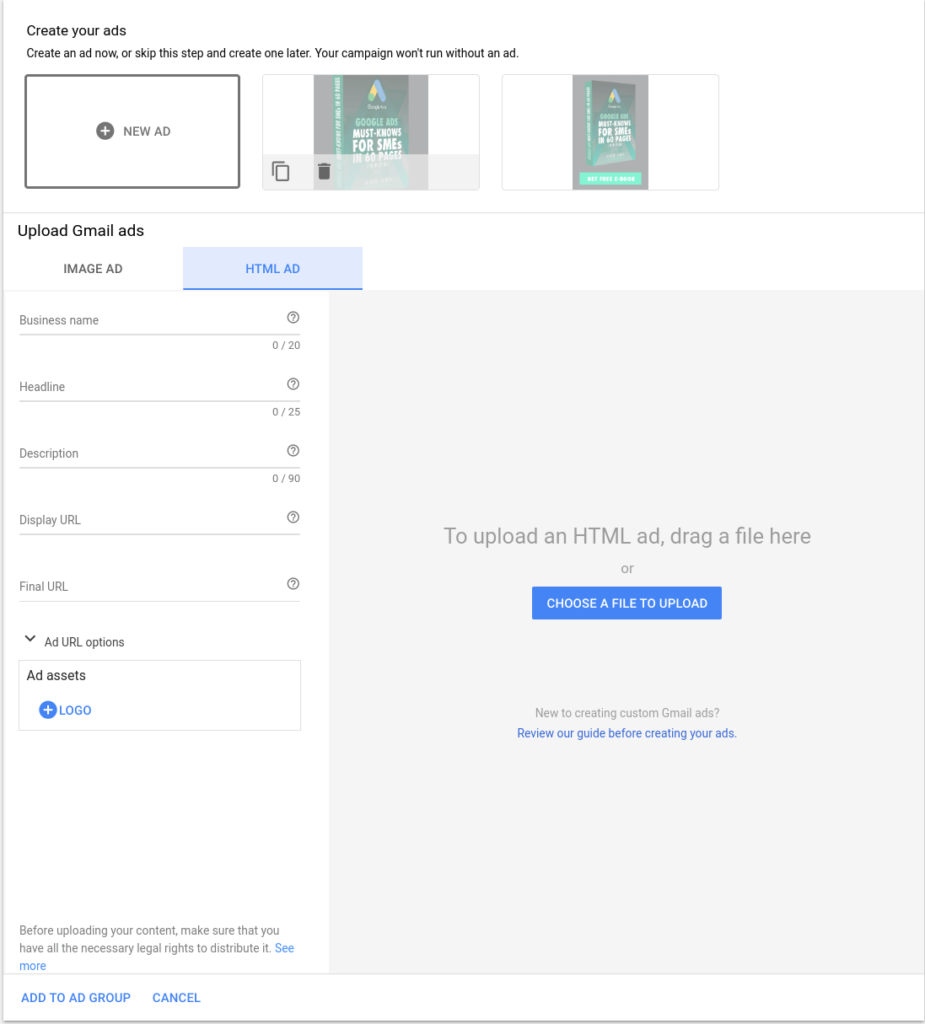 But before you go all-out, there are some guidelines which you must adhere to: 
You must compress your files into a ZIP folder which takes up less than 1.25 MB.

You can upload up to 100 total files.

The file has a max size of 500KB.

Further Reading on HTML5 Ad Creation: 《Which Display Ads File Format You Should Adopt?》
Targeting Method
Targeting on Gmail Campaign is pretty similar to what is followed on the Standard Display Campaign, to know more about you can refer to my previous Article《The Complete Guide to the Google Display Network (GDN)》.
It is very prudent to mention that by making use of Gmail Campaign, you can effectively make use of life event targeting which is not available on the normal/standard campaign.
What is life event targeting?
At each pivotal life moment, there are numerous businesses who can benefit people to make the most of it. Gmail provides advertising options that target individuals who undergo (or who Google thinks will undergo) meaningful life moments, which enables advertisers to capture the right people at the right time. Here are some life events you can target: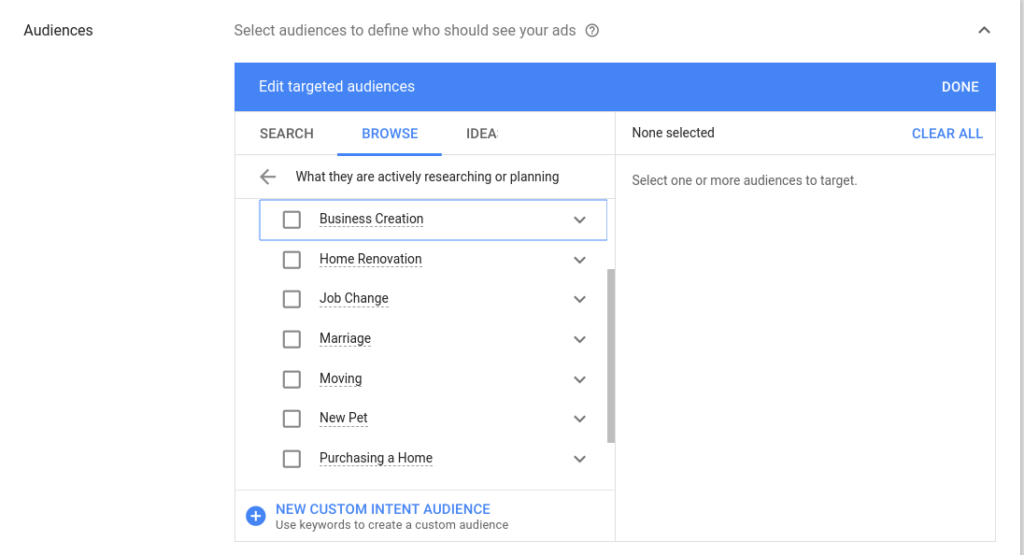 There are varieties of options to select from. B2B service ads can select "Business Creation", Furniture Ads can make use of "Home Renovation" and Pet Food Ads can select "New Pet"! You can make the most of your creativity and imagination here!

Three Things you need to pay attention to Gmail Ads
Three Essential Metrics
The three Gmail measurement metrics provided on Google Ads are Gmail Forwards, Gmail Saves, and Gmail Clicks to Website. This enables you to rotate your ads indefinitely for 3 months in order to gather enough data to optimize. If you cannot optimize regularly,  then go for the 'optimize' ad rotation option to let Google do the work for you. We do not only focus on impressions, clicks and ctr on Gmail Ads. These 3 metrics are also needed to be observed and improved to reach the target audience. 

Clicks on Gmail Ads is not the same as Clicks on the Display Banner
"Gmail Clicks to Website" is the most relevant metric of how well your ad is performing on the market. It is because "clicks" count all the Gmail ads which are opened, including those which are bounced back without clicking through to your website. We are charged at that moment when we click on the Gmail ad. However, "Gmail clicks to website" measures how much website traffic is generated from the Gmail Ad, and how many times your audience is clicking twice (the ad and the call to action button when the ad expands). This traffic talks a lot more about quality.
That's why it is vital that at the same time there is a need to calculate the cost per Gmail clicks to the website as well. You may find out that cost per Gmail ad clicks to the website is more expensive than normal GDN campaign. Below is the figure leaving it up to you to justify whether it is a worthwhile decision or is it best to get a lower CPA.

A/B Testing (Try to compare different Creative Performances)
Like all other ad formats, it is essential to A B test 2 creatives at the same time. No matter how it's done, whether on texts or visuals, it is essential to do 2 versions of ads and then permit the Google Ads to run it in order to see which one performs better online. Always remember that what we have to check is something more than clicks. When it comes to reviewing the performances of A/B ads, it's best to check the "Gmail clicks to website" as well. This enables you to optimize and come up with new visuals or descriptions.
Conclusion
Quite Honestly, due to Traffic Volume, it is not realistic to say that Gmail Ads are able to become you main source of conversion. However,  I will say that in quite a number of cases, their CPA and Conversion Rate is quite good, if not satisfactory. Most Importantly, Gmail Ads Setup is quite easy and you don't have to spend a lot to test this channel. So, why not give it a shot?